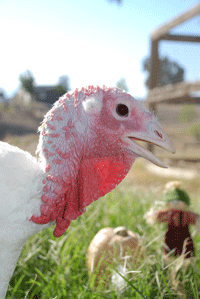 I've adopted a beautiful little girl named Luna– a redhead with dark eyes, pale skin, and a yellow beak.
Wait, Katie, did you just say "beak"?!
Yes; you see, Luna is a turkey ;o). But don't be jealous of my new baby (pictured below), for you, too, can adopt a turkey this Thanksgiving season! Yes, you! Just click on the following link:
Happy Turkey Day– let's keep them alive!