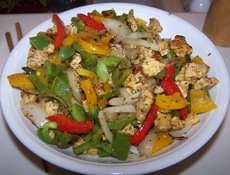 When I became a vegetarian, it was at a time in my life when my mom still prepared most of my meals (I was in middle school). Therefore, Mom was NOT too happy to hear me announce I would no longer be eating her barbecue chicken, roast beef, or smoked ham. "What on earth am I going to cook for you?!" she exclaimed, perplexed.
Surprisingly, my Italian grandmother shared none of this bewilderment, upon hearing of my vegetarianism. "Much of the Italian cuisine is naturally vegetarian anyway," she informed me. And so, whenever my grandmother comes to visit, I eat like a queen! Pasta e fagioli, Minestrone, Caponata, polenta, ratatouille, pesto, Primavera, gnocci, zeppoli (doughnuts!), etc.
One of the dishes my grandmother likes to prepare for my family is called "Sausage and Peppers". But when she makes it for me, she simply substitutes beans—or even tempeh—for the sausages. My grandmother doesn't follow recipes, but here's the gist of what she does to make this simple but delicious meal:

Italian Tempeh and Peppers
Over medium heat, sauté onion and garlic (I like A LOT of garlic) in a little olive oil, then add some cut-up bell peppers and continue sautéing for a few minutes longer. Add cut-up tempeh, oregano, pepper, and salt, and cook until the peppers are soft. It truly is so simple, but it tastes so good.
Last week, I made these vegan sausages (with a few modifications) that many other bloggers have tried. I knew just what to do with them!
I'm running off to a party (for which I made a cake!!! More details in a later post). But, at the risk of being annoyingly redundant, I must say "thank you" once more for all the amazing comments I received on my last post! I'll check out all your blogs later today and write comments. Happy Tuesday to all :o).