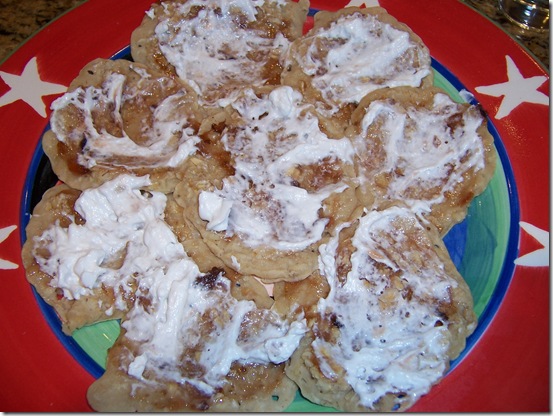 You can keep your Grapefruit Diet.
And you can keep your No-White-Foods Diet. I'm opting for something much better!
An ode to my "Oatmeal Cookie" Crepe Cakes
Above, with creamy, sweet Everything Nice Banana Spice Pudding
Or, below, with soyatoo dots and homemade jam.
Finally got around to posting the recipe: "Oatmeal Cookie" Crepe Cakes
Oh, and another recipe for you: Here's the recipe for that simpler-than-simple cashew milk I mentioned the other day:
CCKashew Milk
(Get it,CCK?? Okay, bad joke)
3 cups cold water
2/3 cup raw cashews
2 or 3 dates, soaked
dash salt
Blend the cashews, then cover with 1 cup of the water and re-blend. Add the dates, and blend again. Puree, puree, puree! When it's a paste, add the rest of the water and blend a final time. Makes 4 delicious cups!
Question of the Day: What's the most ridiculous diet you've ever heard of?
Those Cayenne-type detoxes sound silly to me, and then there's the aforementioned No-White-Foods diet .
Have you heard of the Tapeworm diet, where people at the turn of the century ingested tapeworms in the hopes that the worms'd help them eat excess food? Oh, then there's the Sleeping Beauty Diet, which tells people to sedate themselves for days and days because you're not eating if you're sleeping. Umm yeah, but you're not living either. Sounds like what I used to do to my Tomadachis. I figured out a way to gt them to sleep 24/7 so I wouldn't have to feed and change them… but then I finally realized: what was the point of having them at all?!