You've seen Mary Poppins, right?  It's such an adorable movie!
After I wrote this title, I realized that I haven't seen it in years. It's been entirely too long since I watched Dick Van Dyke dancing on rooftops, Julie Andrews singing about funny words, children jumping into chalk drawings (I wanted the ability to do that!)… and how cute is the scene where they're all floating on the ceiling?!
Sometimes, a girl's gotta have her sweets. And as long as there's no medical reason to stay away, I believe that a little real sugar in one's diet is perfectly fine and healthy.
Here are some of my favorite sugar-containing foods:
Dark Chocolate Dreams peanut butter, especially good for making Chocolate Banana Butter.
Freshman year of college, when I lived in Philadelphia, there was an amazing bakery, filled with vegan cakes (such as the cookie dough cake below).  I usually went with cheesecake or coconut cake.  It was always hard to choose!
Speaking of coconut…
Nada Moo makes coconut ice cream.
As does Soyatoo (especially when stirred into Choco-licious Chocolate Pudding)
Then there is Endangered Species chocolate: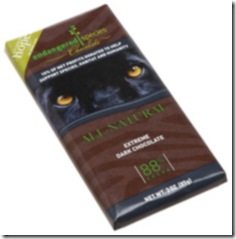 And of course, vegan cheesecake.
Question of the Day:
What are some of your favorite foods with real sugar?
***Last-minute addition: I just wanted to highlight Ruby Red's comment in yesterday's post, because it brought up an interesting point about how so-called "calorie-free" artificial sweeteners might actually not be calorie-free (i.e. maybe you should think twice if your sole reason for using them is to save calories). Just one more reason to stick with the real stuff (in moderation) and train your body to simply crave less sugar in the first place, instead of trying to trick it with fakes. The body's a smart machine, not so easily fooled.