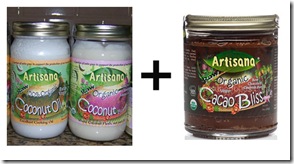 Thanks for all your meaningful comments on yesterday's soldier post (aside from the one anonymous comment that questioned my patriotism—the first anon, not the second, which was very respectful and insightful).
In response to that comment: I believe that it is one's patriotic duty to think for oneself and not blindly follow the leader. If we simply went along with everything our president might say—never questioning—America would become a dictatorship. As I wrote in yesterday's post, I very much support the lives of the men and women who have been put in the line of harm. I believe that their lives are sacred and therefore we should send them to protect our country only as a last resort.
I hope everyone had a terrific Memorial Day (or Monday). Mine started out like this:
Patriotic Pancakes!
Soyatoo, blueberries, and strawberries atop a variation of Oatmeal Cookie Crepe Cakes
I needed a nourishing breakfast after being attacked during my run this morning! I was minding my own business, when suddenly this big, black crow nose-dived at me! Then he (she?) did it again. And again. And again… The bird followed me for about a five-minute stretch. I don't think I've ever run so fast in my life! 😕 I think I'm going to have to give up one of my favorite running routes, at least for the next few months (until the baby birds hatch and leave the nest).
Question of the Day:
Have you ever been attacked by an animal?
Mine: mosquitoes, spider webs, wasps, overprotective bird mothers, and yappy little dogs that want to run with me (lol).
Oh yeah, and Molly and Henry at dinnertime! Attack!!