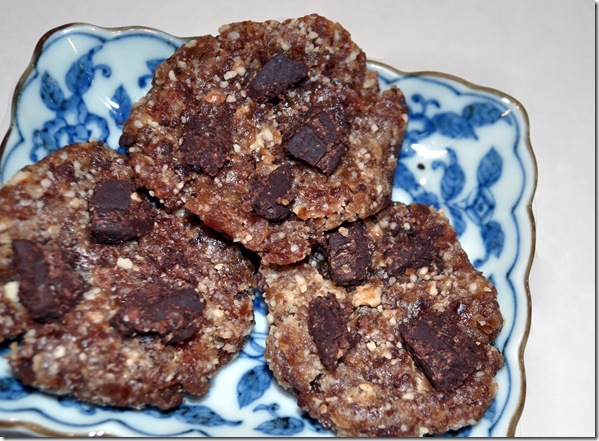 Redefining cookies and milk.
Just your basic nighttime snack at the Chocolate-Covered house, proving that healthy food can taste sinful.
.
Especially healthy food in the form of raw chocolate chip cookies:

Above, homemade Chocolate Chip Cookie Dough Babies.
To make the cookies, I simply smushed the babies, as opposed to rolling them into balls. Voila! Raw chocolate chip cookies!
Are you a nighttime snacker?
The media cautions against eating late, but we know the "Don't eat after 8PM" rule is ridiculous, right? 😉 About 2 hours or so after dinner, I usually find myself getting hungry again. Enter the nighttime snack.
The three little pigs Cookie Dough Babies
(formed into regular cookie shapes)
.
.Question of the Day:
What's your favorite nighttime snack (or do you not eat one)? I have many different favorites. One of them is a bowl of honeydew, followed by a Wild Bar. But anything with fudge babies ranks right up there. I normally save my oatmeal or pudding concoctions for earlier in the day, as I don't want to go to bed with a too-full tummy!