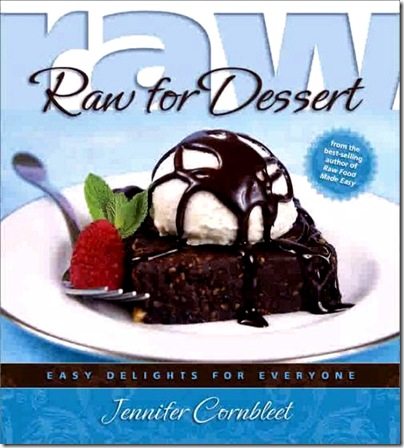 Top o' the chocolate-covered day to ya!
.
So glad you all had fun with yesterday's shennanigans. 😉
Now, time for some raw fun.
.
'Cause who doesn't love raw desserts??
.Giveaway time! A few months ago, I received an email message from Rick, with the Book Publishing Company, asking me if he could send me some of the books they publish.
Um, free vegan cookbooks? Yes please!! I didn't know he'd send me so many: Speed Vegan, More Great Good Dairy-Free Desserts Naturally, Nonna's Italian Kitchen, Sweet Utopia, and—my favorite—Raw for Dessert. So far, I've made two desserts from the Raw for Dessert cookbook (err, un-cookbook, since nothing's actually cooked). What I like most about this cookbook is that many of the recipes—although raw—are simple to whip up (i.e. no dehydrators or laundry lists of ingredients). Early next week, I'll highlight one of the desserts I made from the cookbook. But today is your lucky day. The people at BPC are offering:
.
A free copy of Raw for Dessert to a lucky reader.
How to enter: If you have a blog, simply link back to my blog (any post).
If you don't have a blog, leave a comment on the raw cheesecake post, answering the question of the day.
.
The giveaway is open to everyone, and it ends one week from today.
Stay tuned, because BPC is allowing me to publish one of the raw-dessert recipes in the cookbook :).