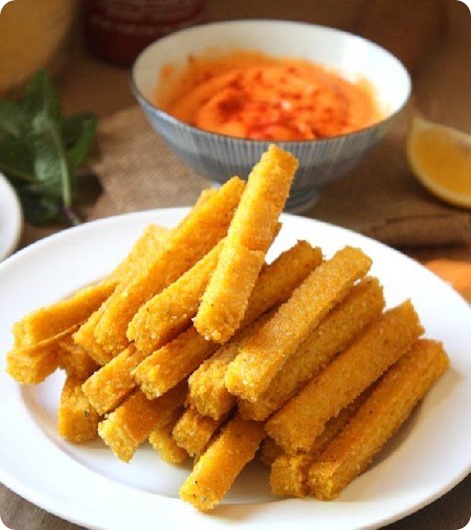 The Ultimate Non-Fast-Food Meal:
Cook up some of my favorite Portobello Mushroom Burgers and serve with grilled onion rings on the side. Maybe grill slices of zucchini or red peppers while you're at it. And, of course, you will want fries with that, right?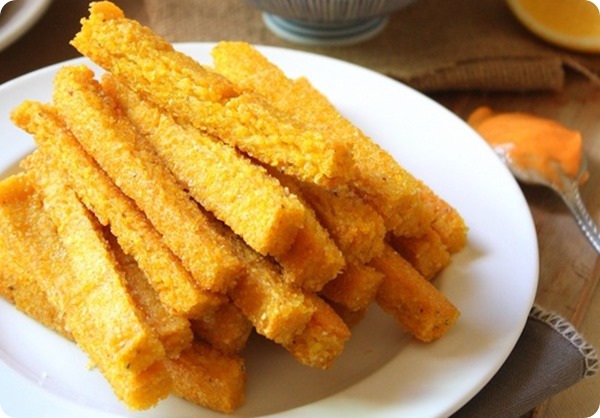 Today's Polenta Fries photos and recipe are courtesy of a talented and compassionate friend, Amber, author of a beautiful blog called Fettle Vegan. On her site, you will find vegan and mostly-gluten-free recipes, and I'm honored to have her as a guest on the site today.
I've been a long time fan of Chocolate Covered Katie. When I first went vegan, she was my go-to for navigating the world of chocolatey, better-for-you desserts. So when she asked me to share a recipe with you guys (her AMAZING fans) I was THRILLED! Katie is at the forefront of healthy dessert blogging and always have such YUMMY looking recipes. I was honored to have been asked! I hope you love these crispy, crunchy, POTATO-FREE polenta fries- they are one of my favorites. Great on their own with a spicy dip or ketchup, but even better under a pile of Mexican toppings in place of tortilla chips, they're just as full of flavor as the original, but crunchier. And crunchy fries are my favorite!
This recipe started as an attempt to use up a jar of polenta grits we'd had in the pantry for too long. We moved from Maine to California and the polenta made the trip. It was time for it to get eaten, but we were sick of the typical polenta-veggie-sauce mixture we normally whip up, and started thinking of better uses.
Turning them into fries was the right choice. The flavor is a little corn-y, the crunch is unbeatable, and the cheezy flavor takes the whole dish up a notch. Plus, polenta fills you up and is a seriously cheap kitchen staple that is great to keep on hand. The dough can easily be made ahead and refrigerated overnight, so you can make the dough tonight and enjoy it for dinner tomorrow night- just set the timer and walk away! And who doesn't love a meal like that?
One last note: I have never actually used pre-made polenta that comes in a sausage-like roll from the grocery store. That being said, if thats what you have on hand, skip straight to the step where you mix in the spices and butter, and continue with the recipe. Let's eat!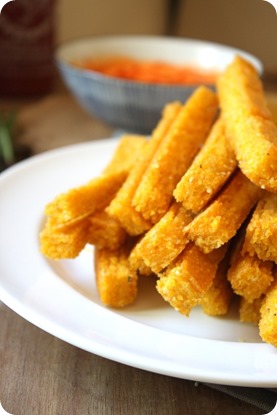 Cheezy Baked Polenta Fries

3 cups water
1 tsp salt
1 1/2 cups uncooked instant polenta (bramata)
1/2 cup nutritional yeast
1/4 cup butter spread, such as Earth Balance
1/4 tsp salt
1/2 tsp cracked black pepper
Bring water and the 1 tsp salt to a boil in a large pot. Once boiling, reduce heat to low and pour in polenta, stirring to combine. Continue to cook over low heat, stirring constantly, until the mixture thickens and begins to pull away from the sides of the pot, about 5 minutes. Remove from the heat and stir in the nutritional yeast, buttery spread, salt, and pepper. Stir until the butter has completely melted and the mixture is smooth. Pour onto a large, greased baking sheet or two smaller baking sheets, and spread with a rubber spatula to about a 1/2 inch thickness. Let sit 30-50 minutes, until polenta becomes solid and is no longer hot. While waiting, preheat the oven to 400 degrees. Once polenta has cooled, gently move it from the pan to a cutting board (best done in sections). Alternatively, you can leave the mixture on the baking sheet and use a pizza cutter to cut. Otherwise, use a large knife to cut the slab in half, and then into 1/4 – 1/-2 inch strips. Transfer the cut fries to a greased baking sheet (coconut oil is a great option for high heat), and bake for 45-50 minutes, flipping once, until polenta fries are crispy and golden. Remove from the oven and serve with ketchup, sriracha, or ranch. Enjoy! The fries can be reheated in the oven at 400 degrees for around 10 minutes. Overcooking will result in uber- crunchy fries, so be careful. *Dough can be made ahead of time, wrapped in plastic, and refrigerated overnight or until ready to bake. (K note: For any recipe or substitution questions, please feel free to ask the recipe creator, Amber.)
Click for: Polenta Fries Calories & Nutrition Facts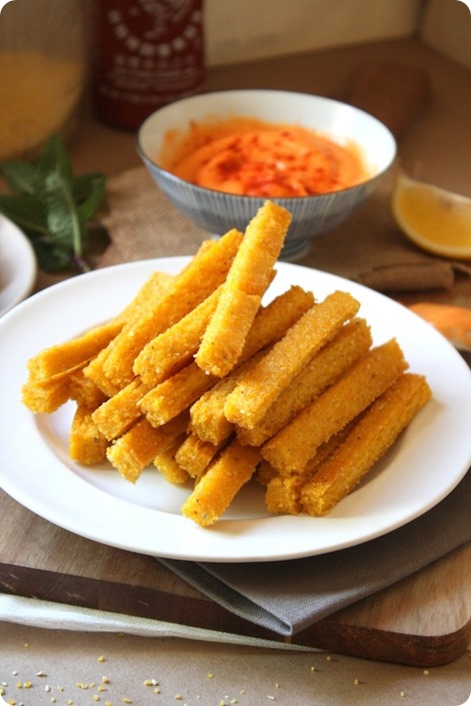 Other French Fry recipes on the site:
**I try not to get political on the blog or mention anything non-food-related, but there's no way I can end this post without taking a moment to thank all of the brave men and women who have given their lives–as well as those who put themselves in harm's way each day–for our freedom. If you are a soldier or former soldier and are reading this, please know that there aren't words powerful enough to express my gratitude. A small paragraph at the end of a blog post is certainly not enough.
No matter your political affiliations, please remember to support those who risk their lives for you–by writing letters, sending care packages, donating to rehabilitation causes, and by thanking the soldiers in your lives; not only today, but every day.**