Nutrition Facts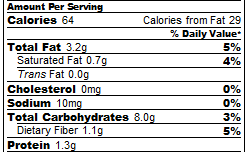 WW Points (new system): 2 points
Nutrition facts, calculated using gram measurements (via caloriecount.com) are based on 13 stuffed cookies. According to caloriecount, these cookies are also low in sugar, high in manganese, and high in selenium… who knew? Nutrition information is meant as a general guideline.
Substitutions:
For the oil: I definitely can't vouch for the results if you cut back on—or omit—the oil called for in any of my recipes. Do it at your own risk.
For the filling: I haven't tried this with any low-fat cream-cheese-type spread, so I can't vouch for that. But as mentioned in the recipe, you can omit the filling if you desire. Or you can experiment and try stuffing the cookies with something else entirely! Peanut butter would be fun.
For the flour: I haven't tried a gluten-free version of this recipe; but if anyone does try it and reports back, I'll update this page with his or her experience. For now, I can only vouch for the results of these cookies (and any of my recipes, for that matter) if you use one of the flours listed in the recipe.
Gluten-Free Experiments:
Amy's gf experiment: I made them GF using Bob's Red Mill all purpose gf mix. I felt like i needed to add a little more milk, but the end product was super yum. yay!
Karen: I just made these gluten free by substituting 3/4 cup sorghum flour plus 1/4 teaspoon xanthan gum for the flour. Used 2 Tablespoons of plain unsweetened soy milk ( I find most gf flours are drier than wheat flour). Otherwise followed your recipe. The dough was soft and a little crumbly. I got 18 small balls of dough, flattened them and added the cream cheese filling, they did not roll into a ball very well so I pinched the edges together as well as I could and sprinkled the cookies with the cinnamon sugar.  Baked for 15 minutes ( at an altitude of 5 thousand feet most things take longer to bake here).  A couple are very crackled on top with the filling showing through, so had to eat the worst looking one. Very tasty and worth the trouble of forming them. Thanks for the recipe.
Tina: I made these using Jukes Gluten free flour, worked well, but quite dry and crumbly. I had to add more milk, probably about a tablespoon more, could have used a bit more, but still very yummy. 
Troubleshooting
 If you're not using a food scale, be careful when measuring the flour. You want a loosely-packed 3/4 cup, not a packed 3/4 cup. (I can't recommend a food scale highly enough for precision when baking. You can get one pretty cheaply; BedBathBeyond even sends out 20%-off coupons quite often if you sign up for their mailing list.) 
Step-by-Step Photos: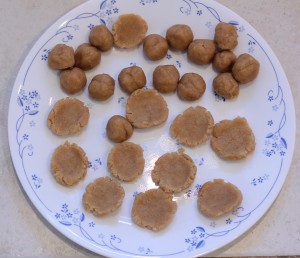 Shown above: some are mini balls, and some have already been flattened into the curved discs.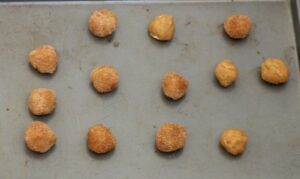 Above, post-stuffed cookie balls. Some have been rolled in cinnamon-sugar and some are left plain. Sorry for the ugly photos… Now do you know why I don't include step-by-step photos in my original posts? 😉
Click to go back to the recipe.