(The jokes on this site get lamer every day.)
Thanks to my friend, Near East Falafel Mix (pictured below), I've enjoyed quite a few yummy meals in the past few months. It's fun to make the burgers, as you get to use your hands to form patties. Gives new meaning to the phrase "finger food." The box claims to yield ten patties, but we (my family members) like to make lotsa mini patties (30ish?). The more the merrier!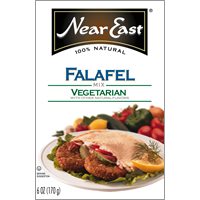 To transform the mushy mix into hearty burgers, all you do is put them on a baking sheet and stick them in the oven to broil. A few minutes later, you're greeted with a subtly-spicy Middle Eastern feast in your kitchen.