Walk on water, perhaps?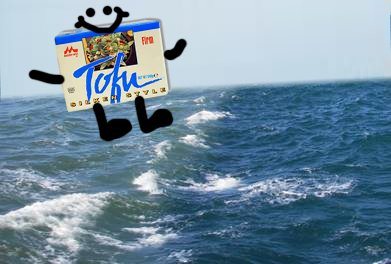 Nope; got that down. Seriously, though, tofu must be the most versatile ingredient ever. Gone is the bland, eerily-smushy gunk you find in your Chinese takeout. It's been replaced by treats such as:
…and now tofu can add something else to its already-impressive resume: Perfect Pudding! Hopefully you're ready for a super-long post. I tried to make it as succinct as possible, but I just kept dreamin' up more and more pudding flavors.
Tofulicious Pudding!
You can change this up to make an unlimited variety of pudding flavors. Hot Chocolate Fudge, Pina Colada, Cookies-n-Cream; these are just a few of the millions of puddings you can concoct using mori nu tofu. Let your imagination run away with you (preferably to somewhere warm and beachy). Start with a base of silken firm tofu (such as Mori-Nu), then add in whatever ingredients strike your fancy. Blend it all together using your blending-gadget of choice.
Add-In Ideas:
1. Add pureed pumpkin, roasted winter squash, or sweet potato, and also add some cinnamon or pumpkin pie spice for pumpkin pie pudding.
2. Before blending, add carrots and vanilla extract (and pineapple or pineapple juice if you want). After blending, add raisins and walnuts. Now you have Carrot Cake Pudding!
3. How about adding dried fruits, such as dates, for a Larabar Pudding? Throw in some cocoa powder and you've got Jocalat Pudding!
4. Mix in some Tofutti Cream Cheese and pineapple tidbits for a Cheezecake Pudding.
5. Add maple syrup, blend, then add walnuts– Pancake Pudding!
6. Add a fruit cup, pureed fruit, or even a jar of baby food.
7. Add some coffee for a coffee-flavored pudding.
8. Add a splash of a flavored beverage such as Silk Coffee, Silk Eggnog or Pumpkin Spice, Chai Latte, etc. and don't add any other fruit… or do! It's up to you!
9. Mix in some protein powder or cocoa powder and/or banana.
10. Add coconut milk and coconut shavings (and maybe even chocolate chips!). Put it in a pie crust and call it Coconut Cream Pie!
11. Mix in some nut butter, and jelly, fruit, or chocolate chips(!) for PB&J, PB-Banana, or Chocolate-Peanut-Butter-Cup Pudding.
12. Blend with rice (or another grain) and vanilla extract, then add raisins– Creamy Rice Pudding!
13. My friend Jodye told me that she used Ricemallow Creme and chocolate chips to make a Rocky Road Pudding! Add some graham crackers and ya get S'mores Pudding.
14. Mix in some vegan ice cream for a truly decadent delight.
15. Look to energy bars, ice creams, and candy bars for pudding-flavor inspiration.