Dining at an Italian restaurant in America, it's often quite difficult to locate a vegan dish among the meat and cheese-laden offerings.  However, in Italy, menus abound with naturally-vegan foods.  Minestrone, Bruschetta, Penne Arrabbiata, Spaghetti Pomodoro, Insalata, Pizza Marinara… it's oft been said that one cannot eat a bad meal in Italy!
One of my Italian grandmother's favorite dishes—which just so happens to be vegan—is Pasta e Fagioli.
From the internet: Pasta fagioli or Pasta e fagioli, meaning "pasta and beans", is a traditional meatless Italian peasant dish that is now a frequent menu item throughout the world. Like many other Italian favorites, the dish started as a peasant dish due to cheaply available beans and pasta. Today it can be widely found, even in restaurants that don't feature Italian cuisine. The base is generally olive oil, garlic, minced onion, and spices, along with stewed tomatoes or tomato paste.  The consistency of the dish can vary. Depending on the dialect of Italian being used, the word fagioli may be pronounced as it is spelled, or closer to fazul. A 1927 song by Van and Schenck capitalizes on this latter pronunciation in the rhyme, "Don't be a fool, eat pasta fazool."
For this CCK "Raw" Pasta e Fagioli, it's a far cry from the true Italian version—let's face it; authenticity went out the window when I wanted to make the recipe raw.  (Of course I completely forgot that canned beans aren't raw, so it isn't truly a raw recipe anyway.  Oh well, I tried!)
Zucchini Noodles with Creamy Tomato Sauce
(serves 1)
1/2 cup canned beans, drained (The beans in the picture are kidney beans, but I also love Cannellini)
1 large zucchini, spiralized with a spiralizer or a vegetable peeler (or you can use regular pasta)
2 1/2 tablespoons tomato paste (For a sweeter sauce, try using ketchup)
Salt to taste
2 tablespoons water
Optional ingredients: olive oil, chopped garlic, and/or spices (I like to add Italian seasonings)
Procedure: Blend all of the ingredients (except the noodles), using your blending gadget-of-choice (I use the Magic Bullet).  Pour over the noodles.  As my Italian Mimi would say: "Mangia Mangia, Bambino!"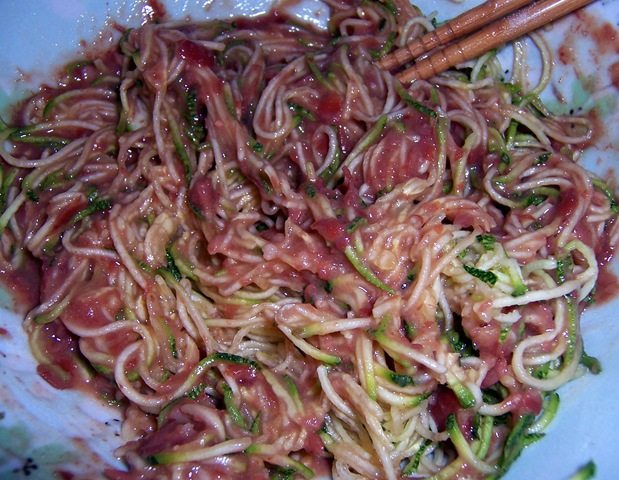 Above, after mixing the sauce with the noodles.