In the post with my Vegan Rice Pudding recipe, I mentioned I made an oatmeal version of the pudding that tasted so out-of-this-world delicious it rivaled the famed Kozy Shack rice pudding. I feel like I should write this oatmeal pudding a love letter; would that be weird? Yes? Okay, I'll refrain. What I will do, though, is share the recipe.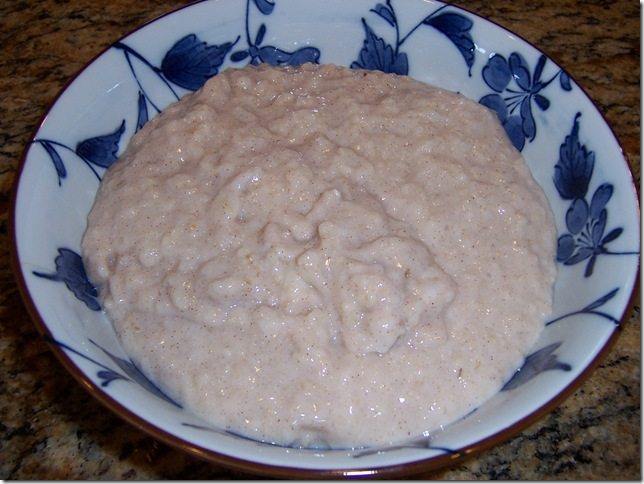 Better-n-Kozyshack Oatmeal Pudding
60 grams rolled oats (1 and 1/2 servings)
90 grams firm-silken tofu (about 1/4 of a package of Mori-Nu)
1/2 tsp vanilla extract
1/4 tsp to 1/2 tsp cinnamon
sweetener (sugar, stevia, agave, etc.)
salt
optional: raisins
1. Measure your oats into a pyrex-type measuring cup (such as the one pictured below) with 2 and 1/2 cups water and some salt (I use 1/4 tsp plus 1/8 tsp—it's important to add some salt now, as it yields a different taste if you add it at the end).  If you wish to add raisins, add them at this point.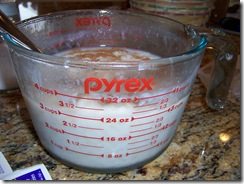 2. Microwave about 5 minutes, checking to make sure it doesn't spill over the top.  (Not fun to clean!!)
3. Stir and partially cover with cling wrap (do not fully cover) or leave uncovered.  Put in the fridge, and don't add the following mixture until it is completely cool and no longer watery-looking (at least four hours, but it's best to let it sit overnight).  This gives the oatmeal time to puff up and absorb all the water, making for pillowy-soft oats.
4. Blend the tofu with 2-3 tablespoons water and the vanilla (I use a Magic Bullet short cup).
5. After the oatmeal is cooled (see Step #3), mix the tofu into the oats, stir, and cover the pyrex completely.
6. The next day (or whenever you want to eat it), add the cinnamon, sweetener, more salt (if you wish), and enough water or milk to make it creamy (but not watery).  Stir and microwave.  Cold or hot– it's good either way!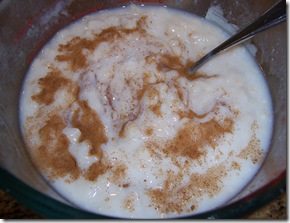 7. Reminisce about your childhood days of eating cartons of Kozy Shackafter school… And click if you're in the mood for real vegan rice pudding, not oatmeal.
Side note: When I make "overnight oats," I always use:
The "Voluminous Oatmeal" Trick:
Basically, the idea is to add 1 and 1/2 times the recommended liquid to the oats.  For example, if you're using 1 serving of oats (40g), add 1 and 1/2 cups liquid (I add about 380g when measured on the food scale).  So: I microwave 1 serving oats with a little salt and 380g water for 4 minutes. I leave it in the microwave for 5 more minutes, then transfer it–uncovered–to the fridge to sit overnight. It looks watery… but come back the next day and all the liquid has been absorbed, leaving you with the most voluminous oats ever!
This trick works for all my Healthy Oatmeal Recipes.