What's the longest amount of time you've gone without food?
Aside from a few "required-to-fast" doctor appointments, I don't think I've ever even skipped a meal. I never understood how some of my friends could concentrate in school without having eaten breakfast.  And the kids who did those 30-hour Famines were so inspirational… but I never wanted to do it.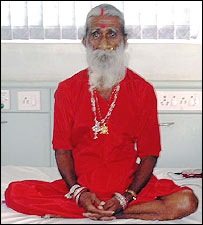 Have you heard about the yogi in India who says he hasn't eaten for 70 years?
What do you make of the story? At first, I thought it was ridiculous and most-definitely not true.  But apparently, they've gotten doctors to watch him 24/7; so now I don't know what to think!  It seems impossible, and yet, how can he be pulling the wool over the eyes of an entire team of doctors? (Unless they're all in collusion…)
In any case, just imagine how many yummy things this guy has missed out on eating if his claim really is true!
Questions of the Day:
What's the longest you've ever gone without food? What are your thoughts on the yogi story? And if you could go without food for the rest of your life, would you?
It'd be cheaper, and one would have more time to spend on other things (no grocery shopping, nor time allotted for meals).  But I'd never want to do it!  For me, food is not simply fuel: it's something that gives so much enjoyment; something that can be shared with others.  Delicious recipes, comforting memories, bonding over the table, all of this would be lost if we had no need to eat.  But I know that many others subscribe to the notion of "eat to live" so I'd love to hear other opinions.