Only better.
In middle and high school, it was always difficult for me to fathom when one of my friends would say, "Oh I never eat breakfast."
Wha?? How on earth did they find the energy to churn out essays, listen to interminable lectures, and just function in general? I ate breakfast every day, yet was still always excited for lunch. (Perhaps part of that excitement was because it afforded us a break from the aforementioned interminable lectures!) I guess my friends, who complained they didn't have enough time for breakfast, weren't alone; that's why products such as Carnation Instant Breakfast exist.
.Today's post is related to Carnation Instant Breakfast in that it's also about a chocolate powder you mix up and drink to get some quick nutrition into your body: Vega's "Choc-a-Lot shake and go" powder.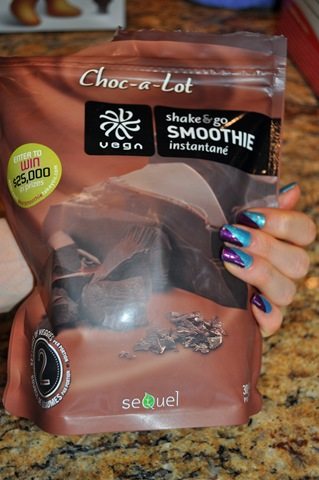 The powder also comes in tropical peach, vanilla almond, and berry. But let's face it: nothing ever beats chocolate :). (Kudos to coconut for putting up a good fight.)
Each serving of Vega Shake & Go Smoothie includes:
Two servings of veggies
2500 mg Omega-3-6-9
11 g complete protein
Only 100 calories
1 billion probiotics cultures
1 billion probiotic cultures?  Yikes bikes! Sounds impressive to me.  But then again, I have no idea what number one is supposed to consume in the average day. The smoothie powder is also high in protein, with 12 grams.
In any case, I tried the smoothie according to the directions: Put the powder in a glass with water, shake, and go.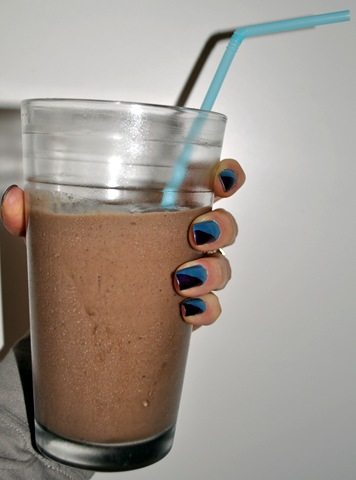 How did it work?
Hopefully by now y'all know that I will never lie about my true thoughts on a product even if it was given to me for free. On that note, I did not like this powder when made with water. It tasted like watered-down chocolate milk. And as for the "shake" part, it didn't do a very good job of dissolving, when simply stirred with a spoon.
But, I decided to give the Choc-a-Lot a second chance. Ignoring the package directions this time, I added the powder to almond milk and used a Magic Bullet short cup to blend. The verdict? Much, much better!