Boysenberries, that is 🙂
Chocolate-Covered Snack: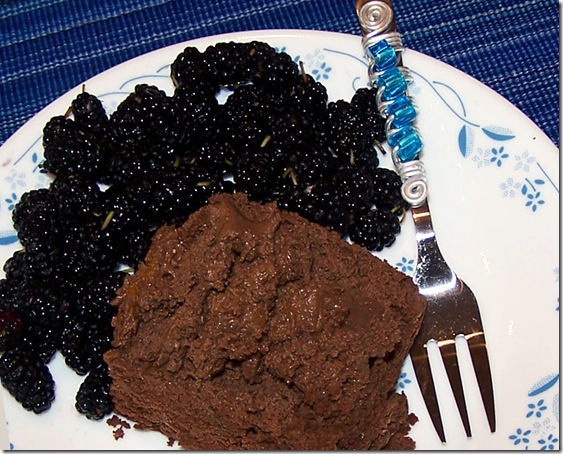 Fresh-from-the-garden boysenberries and High-Protein Chocolate Cake
Every year since I can remember, we've grown a few fruits and veggies. Tomatoes, strawberries, peppers, and zucchini are favorites. But I definitely wouldn't say I have a "green thumb." Once, a cactus even died on me. How do you kill a cactus?!
And often, wild critters that visit our backyard will eat the garden veggies before they're fit for human consumption. (Those greedy guys owe me a cantaloupe and a butternut squash, among other things. Pay up!)
Luckily, my very sweet neighbors do possess the elusive green thumb I lack. A few days ago, their little boy rang the doorbell and presented me with an overflowing container of dark purple boysenberries. He chattered away, informing me that soon he'd be back with zucchini, blueberries, and tomatoes! With neighbors like that, why even bother to plant my own garden?!