Yup, the boy and I had another date!
This one didn't involve a meal, unlike our first date.
SSH usually works all day. (It's a summer job. More about that later.) But he took off a few hours (just for me!!), and we went down to the beach. Don't worry, y'all: as romantic as it was, there were other people around. I'm not dumb enough to go down to a deserted beach with a guy I've only seen a few times, no matter how much I like him!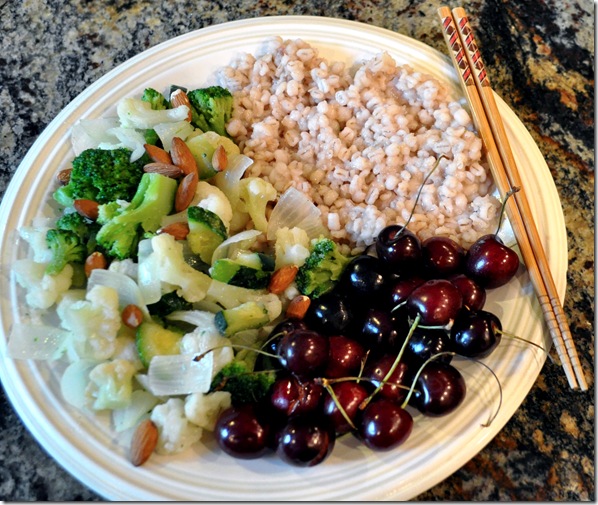 Spending the afternoon at the beach left little time to cook dinner. I came home to make something lightening-quick: leftover barley salad (cooked the night before), a succulent bunch of mighty-cold cherries, and sautéed veggies with almonds. Before anyone asks this time, if I sauté with oil or water, read: my thoughts on "cooking with oil."
Back to the boy for a sec: I'm in  quandary regarding SSH. I so want to tell y'all more about him (and especially post a photo!!). But the fact of the matter is that while it's ok for me to get personal about myself on my blog, I don't feel right sharing personal details about someone else who didn't choose to put his own information out there publicly. I have to respect his privacy by not talking as much about him as I'd love to do. (This is also why I don't post many blog photos of my friends, in general. Unless I've explicitly asked for their permission, I just don't feel right sending their photos out into the world without their knowledge.)
Plus, how creepy would SSH think I am if he accidentally stumbled upon my blog and discovered I'd been sharing all the details of his life with thousands of strangers?! I don't want to lose his trust like that. It'd be easier if I knew we were in this for the long haul; then I'd probably suck it up and just tell him about the blog. But my feelings right now are: Why bother, since we're going to be saying goodbye soon anyway? Other bloggers: Do you ever feel awkward posting photos, on your blogs, of your friends who don't know about your blogs?
Ok, end rant about boy. Now about this barley salad… Like I said, I cooked a big pot of barley the night before. Then, for dinner, I added a dash of salt, a squirt of lemon, and about a tablespoon of  a secret ingredient: vegan Nayonaise. The nayo reeeeaally makes it creamy!
Question of the Day:
Do you ever feel awkward posting photos, on your blogs, of your friends who don't know about your blogs?
OR: Have you ever had a summer fling? OR: What's your favorite way to use mayo/nayo? I'm betting my mom's answer would probably be Mayonnaise cake! 😕
Ewwwwww!