I've met SO MANY amazing people thanks to blogging. I'm sure most of you feel the same way. Some of y'all are more like me than anyone I know in the real world. It's sad to think that, even just a few years ago, people could go through their entire lives with no way to connect to others who had similar interests (or even to know such others existed). Imagine going through life thinking you were the only crazy person who got excited over pretty food, over a new nut butter, or over a trip to the grocery store. Ah, but thanks to the powers of the internet, I know I'm not crazy… or at least I'm not the only one! And, a few days ago, I received a very special gift from one such online friend.
.
This gift was an early birthday present from Caitlin, a super sweetie: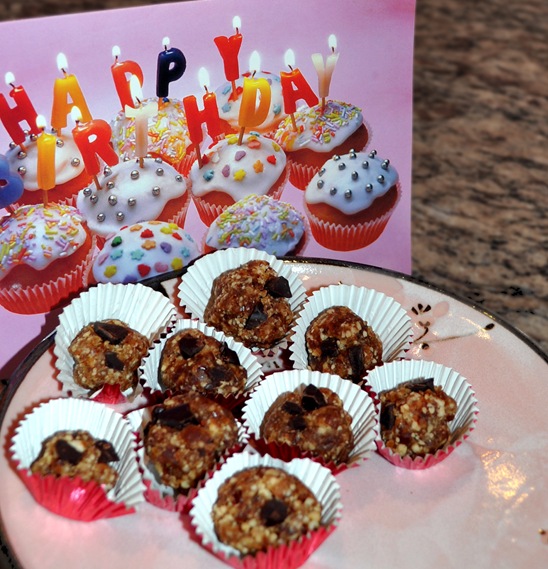 Above, a card filled with such kind words, and raw cookie dough bites!
.
In the card (she said I could share):
Hi Katie, I hope you have the most delicious birthday anyone's ever had. I know we've never met, but you put so much love into your blog that I feel like we're best friends. Maybe it's wishful thinking. Your blog gives me so much happiness every day when I log on and see another sweet post from you that I wanted to return the favor. I know you make fudge babies a lot, but I'm betting no one has ever made them for you! So today, I am! And of course I've made a chocolate variety, with the darkest chocolate I could find, Ghirardelli 100%, as the chips. Ingredients: dates, cashews, salt, and chocolate.
Hope you enjoy these raw cookie dough bites. They're my faves!
Caitlin, how on earth can I ever thank you?? Your gift was so sweet (literally!). And I think I'll use 100% chocolate in all my chocolate chip cookie dough babies from now on!
.
Question of the Day:
Do you ever think about how strange it is that some of the people you've never met in person happen to be your best friends who are most like you?
And miss Caitlin, I would totally love to be best friends with you. Come on over; I'll save you a piece of raw Carrot Cake! 😉
.
.
.