Last night was guys' night!
Wait a sec, Katie. You're not a guy. Yeah, yeah. But sometimes I feel more comfortable hanging with the guys.
Does anyone else feel this way?
My sister's like that too: we sometimes joke that we have more guy friends than girls. Guys are much more easy-going! So, last night, I pretended that I was easygoing too. (Ha! This is so not the case!) I watched the baseball game, cursed at the tv, ate chili, and burped. (Well, not really. But I tolerated their burping! That counts for something, right?)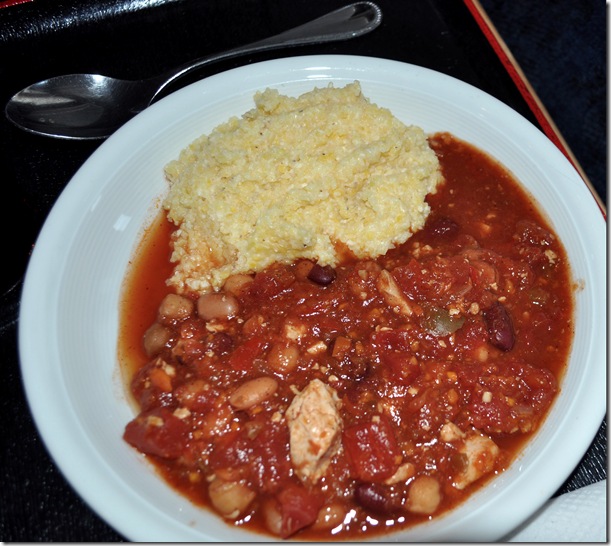 Pictured above: a buttery mountain of polenta, surrounded by Wally's Vegan Chili
How brave am I to serve tofu to a bunch of college guys?
I snapped a really quick photo of my plate. 'Cause let's face it: how many 20-something guys do you know who would understand the food blogging thing? Although I don't go out of my way to hide it (My posts even publish to my facebook page), very few of my guy friends know about my blog. Or, at least, they haven't ever told me that they know about it!
In any case, we had lots of fun (burping aside). The guys gobbled up Wally's Vegan Chili, leaving me no leftovers. If there's one good thing about school starting up again, it's that I get to see some friends I hadn't seen all summer. Henry loves it when the guys come over, too, because it means he's not completely outnumbered by girls. (Oh heck, let's be honest: Henry just likes it when anyone pays attention to him.) Below, he cuddles up to one of the five guys who came over. There was definitely no shortage of male-ness last night!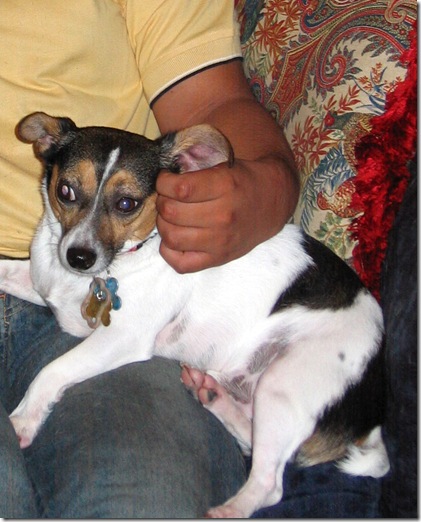 Btw, yes I am still in school. I owe you one follow-up to the CCK Goes to College post.
Expect that next week. Tomorrow: Girls' night, with my mommy… And Gossip Girl! No boys allowed!
.