And I can't even go! 🙁
About a month ago, I received a really cool email from the Pom Wonderful people, inviting me to visit their factory in California, all expenses paid. In my mind, my bags were packed and I was already there… Until I remembered school. Darn school. My mom kept saying, "Katie, talk to your professors. I'm sure you can do your homework in the hotel." Yeah, but did I really want to go all the way out to Cali just to sit in a hotel and do homework? No so much. Someday, though, I am going to have to go to California. (I've been to California once before. But at that time in my life, the highlight of the trip was a visit to the Barbie Museum!) For now: if you can't go to the Pom, bring Pom to you… in the form of an Alm-Pom sandwich, that is.
Rounding out my lunch, I also had a spinach salad and a cup of "Magic" Soup. Finally, it's soup weather again! Not that I don't eat soup in the summer…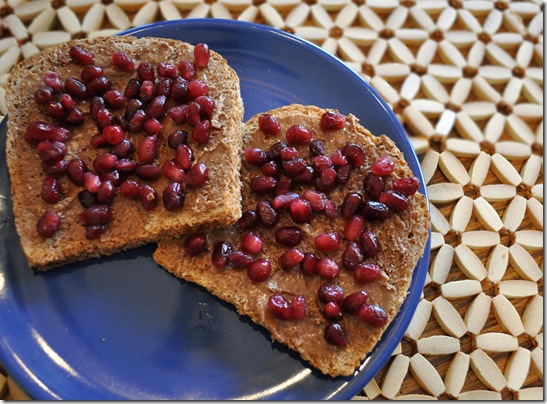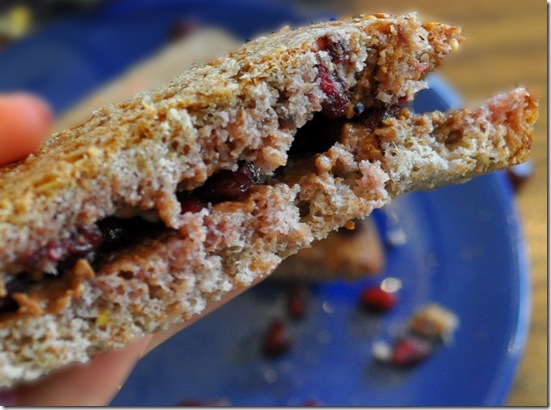 Above, my almond butter and pom sandwich. The seeds add a fun crunch to the sandwich. I adore Pom seeds and am so excited they're back in stores!
Someone else is crazy for Pom juice: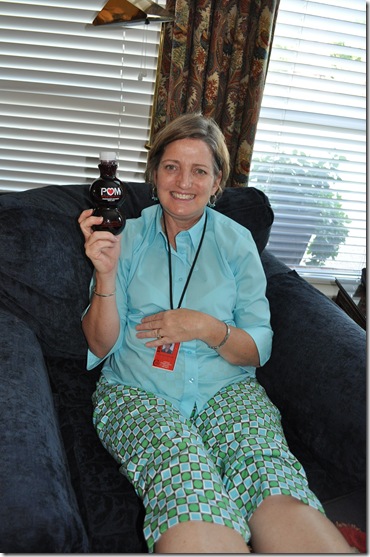 If you could be anywhere right now, where would it be?
I would say California, but I hear they're having crazy hot weather lately. Surprisingly enough, I might just have to stick with Texas… for now. Happy October, y'all! (Gotta love Texas; we get to say "y'all.")