My mother wouldn't buy them for me.  She said they were Satan's panties.
Quick: Who knows the source of this quote?
.
I'm so glad you liked yesterday's Single Serving  Cupcake recipe.
Today, I might have to make a pumpkin cupcake. Pumpkins are still on my mind, and that probably won't change til at least Thanksgiving hehe. Speaking of pumpkins, I need to share my frustration (in jest) with y'all: Yesterday, on my morning run, I passed no fewer than three houses with big kabocha squashes outside as decoration. People, people, people, kabochas are not meant to sit outside your porch. They're meant for one place, and one place only: INSIDE YOUR BELLY!!! Don't make me knock on doors…
Kabochas are, however, meant to be turned into Pumpkin Pie Soup.
If you cannot locate a kabocha, I will totally support any act of stealing one off your neighbor's porch. (And by support, I mean I'll visit you in jail.) But before you resort to pumpkin-pilfering, try looking at your local pumpkin patch: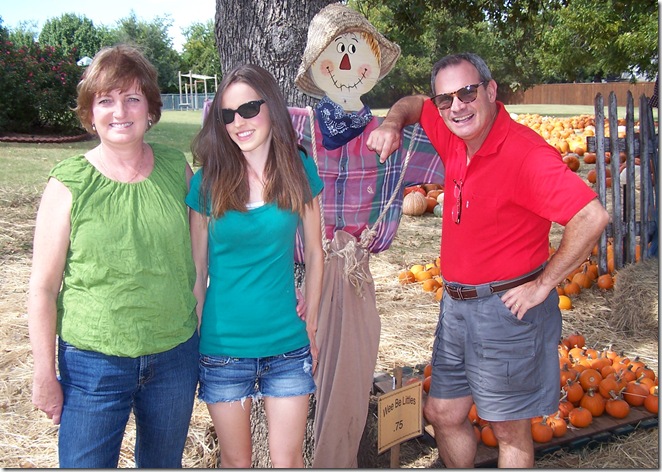 Family Portrait!
I think this was the only photo in which Daddy Dearest behaved himself (i.e. he wasn't strangling the scarecrow like he did in another photo!)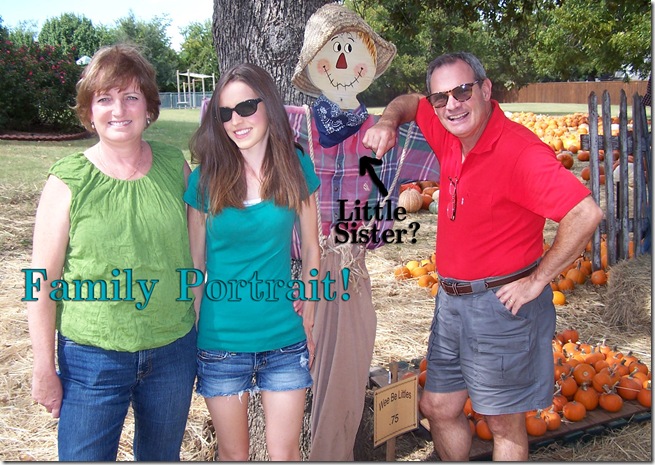 But wait. Where's the little sister? When the little sister's away, the big sister will be horribly mean. *Evil laugh*
Have you ever stolen something?
Or do you know someone who has? (Seriously, she's asking this?) Yeah, I am. And I'll go first, admitting that I stole a toy pig in preschool. I loved that pig so much, and when no one was looking… into my pocket it went! Unfortunately, the teachers were aware of my love for the pig. As soon as they realized it was missing, they knew who to ask. I also stole a toy sword from my best guy friend. (Sheesh, I was a little kid with no morals!) I was intrigued by his "guy toys" since none of the girls I knew owned such things. But let's face it: a sword isn't exactly easy to hide. Mommy discovered it under my bed and was not pleased.
Oh, and last year I stole a bunny-eared headband… but I didn't even know it! I walked out of the store with it on! LOL obviously I brought it back (feeling mucho embarrassed!). In high school, I knew a girl who wasn't poor but liked to shoplift for the buzz, and I always wondered, "Why? It's not hard to get away with it, so what exactly are you trying to prove?"
Other question (for you little angels who don't have my criminal record): Have you ever been to a pumpkin patch? And have you ever tried kabocha?