I really wanted to thank you for sharing, the other day.
Every single one of your heartfelt Body Image comments was awesome. I hope your comments lifted your spirits as much as they did mine. It's way better to hear people say nice things about themselves than negative ones. I always cringe when I hear a young girl say, "Oh I'm so fat, ugly, stupid, etc." because it either means she truly believes what she's saying, or she has low self-esteem and is fishing for someone to tell her how great she is. Either way, it's horrible to hear. So thanks for all the positivity in your comments.
And now, it's once again time to talk Halloween ('cause I am behind with my posts like that). For Saturday night's party, which consisted of a bunch of college kids, I just didn't feel like dressing up. So I threw on my pink cowgirl hat and called it good. If anything, I was more dressed up than everyone else, who came as—gasp!—lazy college kids. (Creative much?) But Sunday's party (a kid-friendly party made up of neighbors and family friends) was a different story. I went all-out! Result? Utter ridiculousness:
I would've been an easy-to-spot Waldo, that's for sure. As I mentioned in a previous post, I went as "Indecisive" or "What the Dress-Up Box threw up." Basically, with only about a 1/2-hour until the party started, I ran upstairs and threw together as much randomness as I could find: devil horns, cowgirl hat, fingerless glove, monster hand, Hawaiian lei, Dracula cape, parasol, stiletto, and fuzzy slipper.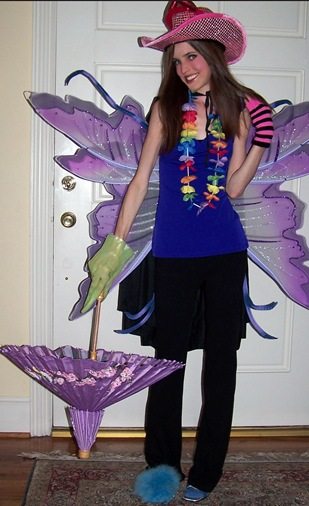 Yes,I know it's silly. But how often do college students and adults get the chance to let loose and channel our inner child? It's always: study, homework, find a job, work, clean. What happened to play? What happened to have fun?
What do you do for fun, to stay in touch with your inner child?
I'm talkink fun that's unrelated to work or school. For me, "kid-like" activities include having theme parties with my friends (where dressing up is required), singing karaoke, watching Disney movies(!), and going out dancing on Friday nights. Oh yeah, and reading Harry Potter… and is anyone else excited that Toy Story Three just came out?!