Around this time, last year, I posted a photo of myself without make-up. Today, I thought it'd be fun to do so again and invite you all to post your own make-up-less photos on your blogs.
Below: This is me, going off to the brunch mini muffin pajama party, sans make-up.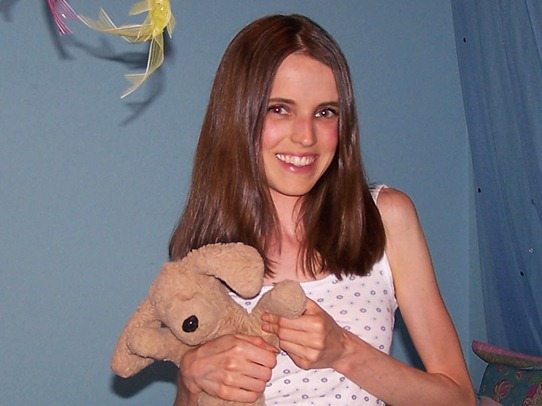 (For the record, Muttsee's not wearing make-up either.)
Post your own makeup-less photos on your blogs. Bonus points for sweaty post-workout pics like this photo.
This is meant to be fun, but there's an important message behind it: Society expects women to maintain a certain image; to put on make-up, paint our nails, curl our hair, shave our legs, pluck our eyebrows, wear high heels… Did I miss anything? How is this fair when men aren't expected to do any of these things? (Somewhere, my mom is saying: Life's not fair. Get over it.")
There's nothing wrong if you want to wear make-up for you. It's an art form, after all. However, none of us should be made to feel ugly if we choose not to wear make-up. Regardless of what society tries to tell us, women (all women, not just Gisele Bundchen) are beautiful in our natural state. The whole idea of concealer to hide our imperfections is ridiculous. How dare someone else try to tell us what's less-than-perfect about our skin! These so-called "imperfections" are what make us unique.
That's not to say I haven't, at times, fallen victim to society's message. I've griped about my "too pale" skin or the red dot at the top of my nose. (For the record, I named him "Ned the nose dot." I've learned to accept him; he gives my face personality.) And although I often go bare-faced in public—even in front of my friends—there's still no way I'm not wearing make-up on a date!
Do you wear make-up?
Normally, I don't, simply because I'm too busy to put any on. When I do wear it, I mainly stick to blush and mascara. I never wear concealer because I hate the way it feels on my skin.