Baby, you're a firework
Over the years, the task of "dessert-maker" for our annual neighborhood 4th-of-July party has somehow fallen to me. I think it all started when I was still in high school and brought a vegan coconut cream pie recipe I'd adapted from one of my very-first vegan cookbooks: How it all Vegan.
After that, I was put in charge of desserts permanently. You won't be hearing me complain about this any time soon!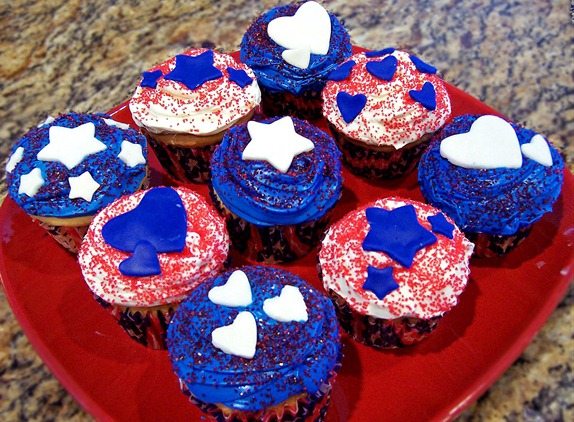 One year, I brought vegan vanilla cupcakes.
No cupcakes this year. Just lots of bars. My neighbor asked me to make my white-bean blondies for their party today, but I also wanted to try something new. I figured they wouldn't protest if I brought two desserts. So I also made a modified version of my Raspberry Cobbler Bars. But I changed the recipe to get a more buttery, crumbly bar, reminiscent of berry crumble. If everyone at the party likes it, I'll get the recipe up tomorrow!
Upcoming Posts:
Peanut Butter and Jelly Fudge (!)
My go-to chocolate cupcake recipe
Strawberry Shortcake Pancakes
A new oatmeal technique
And I want to make a new cookie pie recipe… would you rather see a peanut butter cookie pie or a sugar cookie pie?
Or another flavor entirely?
Finally, I wanted to apologize for being a tease on Twitter.
It really wasn't my intent to be a tease, bringing up my big decision before I was ready to elaborate.  I will tell y'all my news in a few weeks. Honestly, I meant to write about it earlier, but last-minute travel plans got in the way!
Happy Fourth of July! (Now if only I could get that Katy Perry song out of my head…)