I hate stereotypes…
But every now and then they ring true! Last night I went to watch the Rangers' game at some friends' apartment, and I ended up falling asleep on the couch. When I looked for breakfast this morning, do you know what I found in the guys' fridge?
A lot of beer.
And not much else! They also have a pinball machine in their living room. As Chandler Bing might say, "Could it be more of a bachelor pad?" (Although I must admit… I kinda want a pinball machine for my new place now.)
The moving process is going along well. I think we're finally done with the boring part of unpacking boxes, which means we get to focus on more fun things, like decorating. It's always difficult for me to imagine how "big" decorations—wallpaper, furniture, curtains, etc.—will look in a room, but I love adding little touches of flair.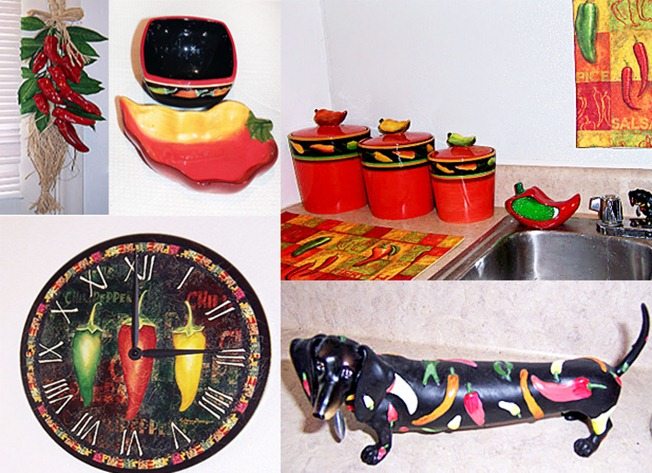 For the kitchen, I'm bringing back all the red pepper stuff I bought the last time I lived on my own. My roommate says that as long as I continue to make desserts and give her samples, she couldn't care less what I do to decorate the kitchen!
Foodie Decorating:
Later today, I get to put my decorating skills to another use. My friend is a kindergarten teacher, and she asked if I'd like to make a special treat for her kids' Halloween party. She still raves about last year's Funfetti Blondies. I'm not sure what I want to make. Cupcakes? Cookies? Definitely something with chocolate.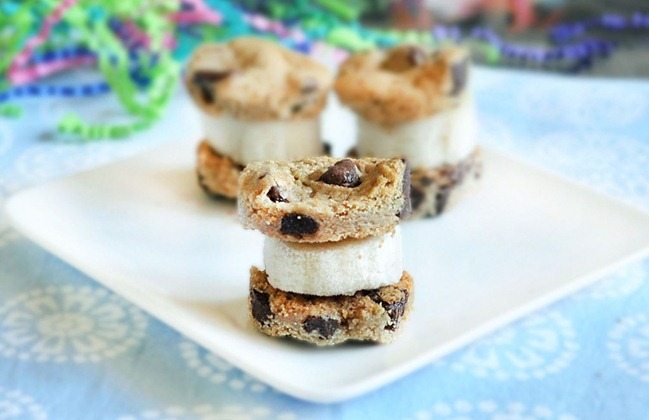 Maybe Chocolate-Chip Banana Bites.
But the banana part probably wouldn't hold up very well, so I'm trying to brainstorm something else to put in the middle of the mini cookies. Ideally, I'd like to tie the dessert in to Halloween, too. Maybe spider cookies? With pretzel legs… Or maybe I should abandon the cookie idea and just go with cupcakes. Kids seem to love cupcakes above all else.
Do you think stereotypes are sometimes true?
I think that some are based on truth. Like Asians being smart? I've been blessed to know many amazing Asian friends, especially when I lived in China, and they are all very smart. My one friend—who ended up at MIT and now works for the government—actually fell asleep during the English AP test and still got a 5! (EDIT: Please read my responses to some of the comments below. Your comments made me realize that my words above–although meant as a compliment–were misguided.)
However, I don't understand other stereotypes at all. I think the "Mexicans are lazy" stereotype is the most ridiculous and offensive one out there, because I have never met a more hard-working ethnic group. And I would like to go back in time and clock the person who first uttered the phrase, "You hit/throw/run like a girl."
And now, since I know you've all been wondering only one thing throughout this entire post, I'll answer the important question: No, I did not have beer for breakfast

. I managed to find an apple hiding in my friends' kitchen, to tide me over until I drove home.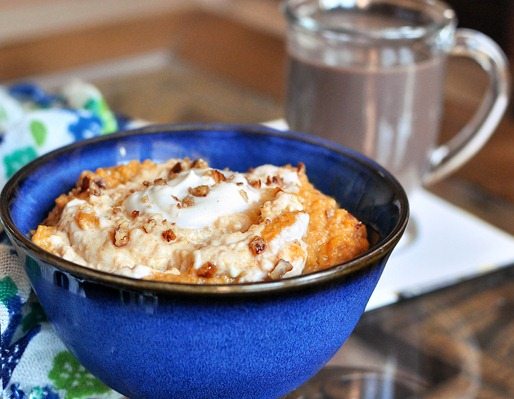 Then I threw together my favorite Pumpkin Breakfast Cereal.
How lovely to see a well-stocked fridge!