Sleep? What's that?
Please forgive me if this post makes no sense. I went out dancing with a few friends last night, and we didn't get home until after two in the morning. But, of course, my body decides it's a great idea to wake up at 6. So here I am, full of energy… and I have no idea where it's coming from.
Maybe it's coming from breakfast this morning: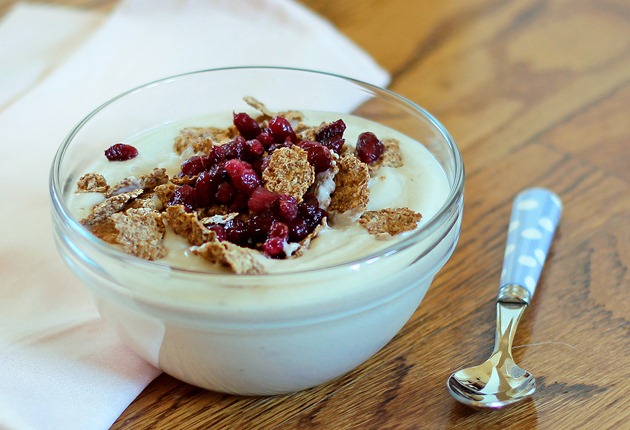 Pouring this cream over cereal is so much better than milk!
It makes the bowl incredibly thick and creamy… I could eat a million of these bowls and still love them. (Side note: I usually add way more fruit and cereal than is shown in the photo.)
Those are Whole Foods' bran flakes in the picture, but I often use uncooked quick oats instead. And I also like to add things like cacao nibs or sliced almonds. As for the cream, I posted the recipe awhile back, but I'll re-post it below to save you the trouble of clicking links:
Whipped Cream Bowl
(Serves 1-2)
This is a Soy-Free Recipe.
sweetener of choice
1/16th tsp salt
1 1/2 T water (20g)
1/2 serving agar base (see below)
3 drops coconut extract (Optional, but highly recommended)
optional: cocoa or fruit (for flavored cream)
First, make the agar base (see instructions: here). When it's cooled, put half of it in a blender (I use a Magic Bullet) with all the other ingredients, and blend away. Whip very well, so it's completely smooth. I like to put it in the freezer for a few minutes prior to eating, so it's super-cold, but it's not necessary. Optional: add fruit, cacao nibs, cocoa powder, or other add-ins.
See the original post for the Calories and Nutrition Info.
As stated above, I love to pour this cream over fruit and cereal or quick oats. You could also sprinkle granola, or even a crumbled energy bar, on top. Speaking of which…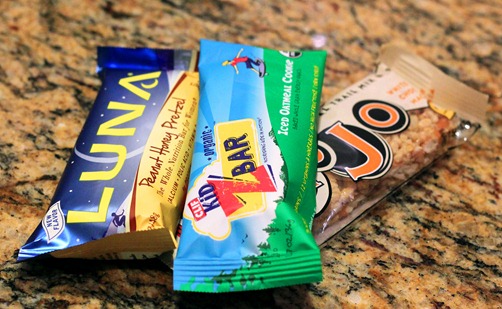 I updated the following page: New Product Alerts.
Question of the Day:
Do you get enough sleep?
I'm pretty consistent and normally get around 7 hours. In high school, I had the worst time falling asleep—it would take me up to an hour! Thankfully, I grew out of that and can fall asleep pretty quickly now. The only problem is my body doesn't seem to understand it's ok to not wake up at six on those rare nights I go to bed at three!
But for some reason, I feel like I have more energy on the days I'm sleep-deprived.
Weird…