Healthy homemade Reeses peanut butter eggs that are vegan and gluten-free?!?!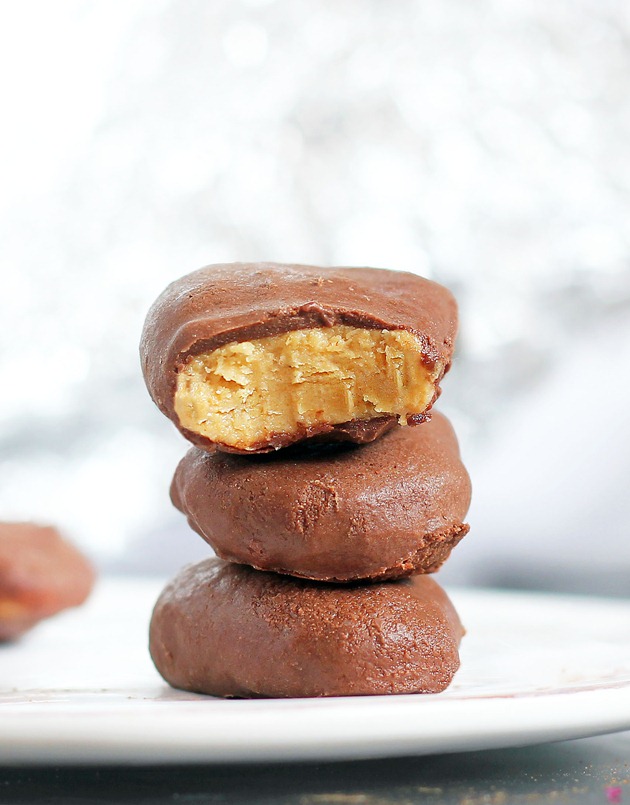 Dear Easter Bunny,
I want just one thing for Easter: a basket filled sky-high with these chocolate peanut butter eggs. Do you think you can do this for me? Pretty pretty please? I'll be your best friend.
In return, I will make you never-ending Healthy Carrot Cake Cupcakes.
I will do your laundry for a week month forever. You can keep all the other candy.
Peeps shmeeps.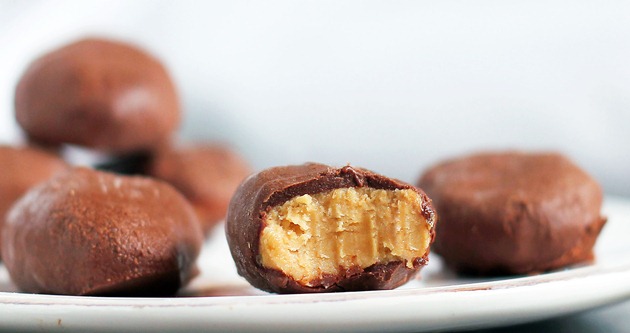 What would you rather eat: candy or chocolate?
I'm a chocolate girl all the way.
Growing up, you could always tell my sister's Easter basket apart from mine. Hers would have marshmallow Peeps, Sour Patch Kids, and jelly beans.
Mine was the one with the chocolate: chocolate bars, chocolate coins, chocolate bunnies, chocolate Reeses eggs…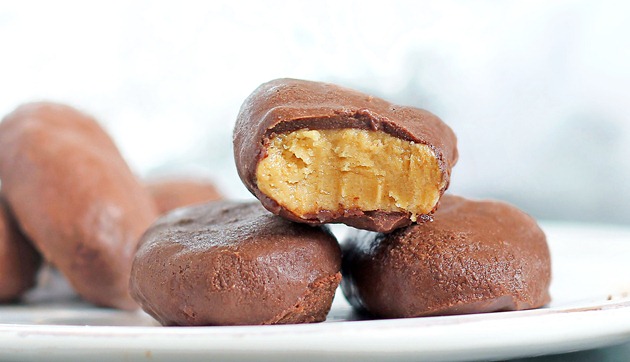 This past month, I received many requests for a healthy Reeses eggs makeover.
My first thought was to just freeze a blob of peanut butter, shape it into eggs, and cover in chocolate.
Voilà; healthy Reeses eggs! But that seemed too easy.
I was up for a challenge.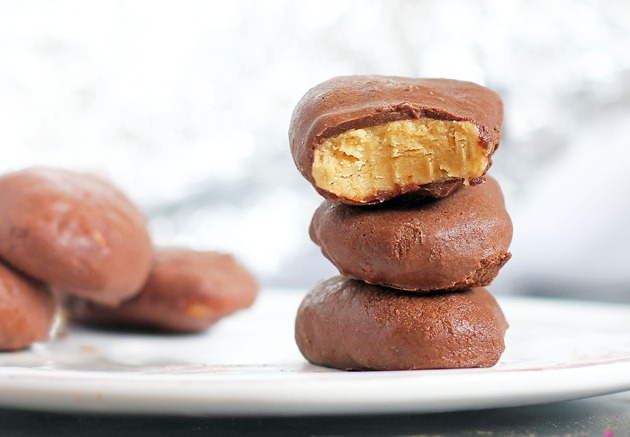 And so, without a clue if it would work, I tried out my sugar-free powdered sugar recipe to make more authentic chocolate Reeses peanut butter eggs.
It did work, and these irresistible chocolate eggs taste just like the real thing.
No, seriously, they really do.
Homemade Reeses Peanut Butter Eggs
Reeses Peanut Butter Eggs
Print This Recipe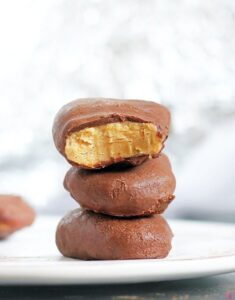 Ingredients
1/4 cup peanut butter or allergy-friendly sub
optional dash salt - I add it and also use pb with salt
1/4 cup powdered sugar or Sugar-Free Powdered Sugar
2 tbsp cocoa powder
2 tbsp virgin coconut oil (for substitutions, see note below)
Liquid stevia to taste, or 2 tbsp pure maple syrup, honey, or agave
2 additional tbsp powdered sugar, if needed
Instructions
Mix the first three ingredients together in a bowl until it becomes a crumbly dough. (If your nut butter is from the fridge, let it sit awhile—or microwave it—so it's easier to mix. Also, I put the dough into a plastic bag to shape into a ball with less mess.) Add the extra 2 tbsp sugar/sf sugar if it's too gooey, and add a little more pb if it's too dry, as different brands of peanut butter will yield different results. Taste the dough and add a little more salt if desired. Form dough into flat little ovals (or egg shapes, but real Reeses eggs are flat). Freeze the dough for an hour or so, until it's hard.
Meanwhile, mix the cocoa and coconut oil (melt the oil if it's not already melted) in a shallow dish. Add the agave/maple or stevia drops. If you use the stevia option, also add a scant 2 tbsp. water or extra oil. Mix until it looks like chocolate sauce, and then take one "egg" out of the freezer at a time (so the rest stay cold) and cover in chocolate. (I used a corn-cob skewer. No idea why I even have those, but they worked really well! A fork would also be fine.) Immediately return covered egg to the freezer and let harden. Best to store these in the freezer as well. You can thaw a little before eating, or eat when frozen–either way, they're awesome!
*Substitution notes:* If you don't have virgin coconut oil, or if you want "eggs" that don't need to be stored in the freezer, you can melt chocolate chips and dip the pb eggs in that instead. As mentioned above, you could also opt to simply freeze a blob of nut butter until it's shapeable, shape it into eggs, and dip in chocolate. Or, if you have egg-shaped molds, just pour in a little chocolate, then the pb, then more chocolate. Freeze.
New Updated Page: About Chocolate Covered Katie