Homemade butternut squash soup – comforting deliciousness in a bowl!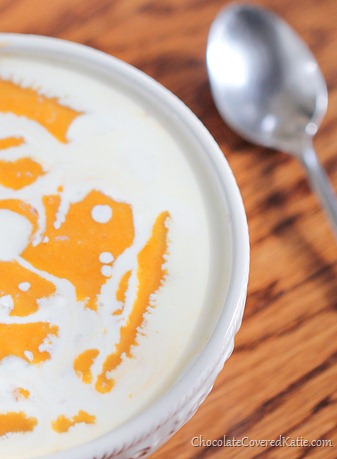 The summer before my junior year of high school (it seems so long ago), I took a road trip to visit colleges along the East Coast of the United States. One of the stops was Cornell University, located in the small town of Ithaca, New York. I fell instantly in love with the rolling hills, the cascading waterfalls, the quaint shops… and with Moosewood, a popular vegetarian establishment named one of the thirteen most influential restaurants of the 20th century by Bon Appétìt magazine. Although I did not fall in love with Ithaca's brutal winters, and I eventually decided against applying to the school, I ate at Moosewood twice during the overnight trip and left the restaurant with a cookbook in each hand. (To date, Moosewood Restaurant has published an impressive thirteen cookbooks.)
The following Thai Butternut Squash Soup recipe, part of my Thanksgiving dinner, was inspired by a butternut squash soup recipe found in the Moosewood Restaurant Favorites cookbook. Using their recipe as a starting point, I made up my own butternut squash soup and was really happy with the results: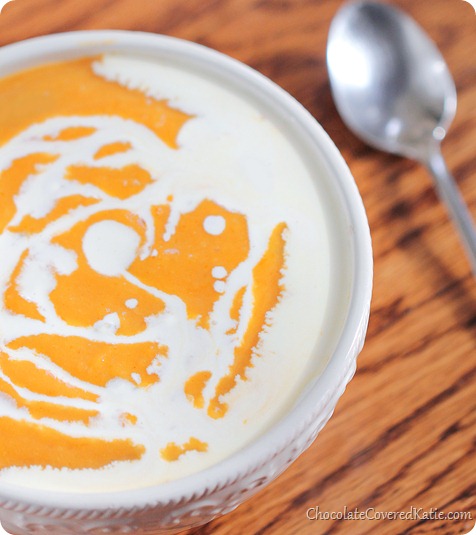 Butternut Squash Soup Recipe
2 cups red onion, chopped (360g)
2 tbsp minced garlic
3 cups coconut milk (not lite or cartoned – Use cashew cream for a coconut-free version)
1 cup water
1 1/2 tbsp Thai red curry paste
3 1/2 tbsp fresh ginger, chopped
1 tsp salt
2 1/2 lbs peeled butternut squash or sweet potato, chopped (6 cups)
2 tsp lime zest
2 tbsp lime juice
3 tbsp pure maple syrup (or sweetener of choice, to taste)
up to 5 oz raw spinach, optional
coconut milk or vegetable broth as desired for a thinner soup
Butternut Squash Soup Recipe: Heat the onion and garlic in a large soup pot with some oil or oil spray until the onion is soft, about 10 minutes. Add the coconut milk, water, curry paste, ginger, salt, squash, lime zest, lime juice, and pure maple syrup, and bring to a boil. Continue boiling (a low boil, uncovered) until the squash is soft, about 10-15 minutes. Turn off the heat. Either transfer to a blender or use a hand blender to completely puree the soup. If using a blender, do it in two batches. If using the optional spinach, return the soup to the pot and add the spinach. Bring back to a boil and cook just until the spinach wilts. Serve either hot or cold.
Click on the following link for: Nutrition Facts + Lower-Calorie Version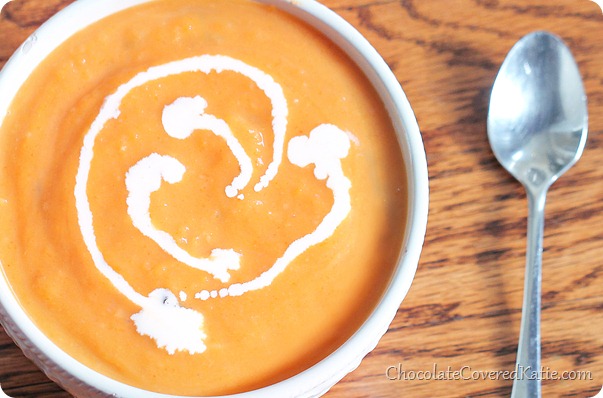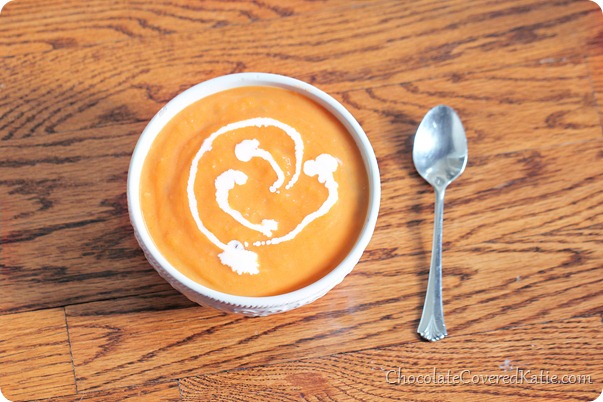 Question of the Day: Do you enjoy taking road trips?
I think I like the idea of a road trip better than the actual trip. It's fun to stock up on snacks, create a music playlist, and pack everything up into the car… but an hour or so into the journey, you will probably hear me asking, "Are we there yet?!"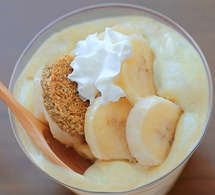 LINK OF THE DAY: Banana Pudding Recipe