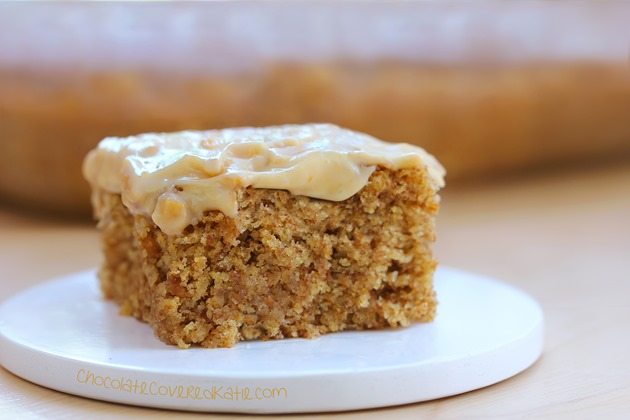 Frosted Peanut Butter Snack Cake
Can be oil-free / low-fat / vegan / sugar-free / soy-free / and gluten-free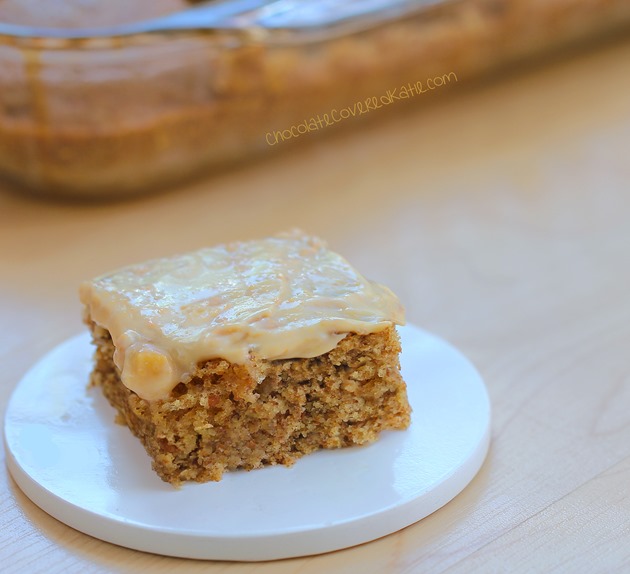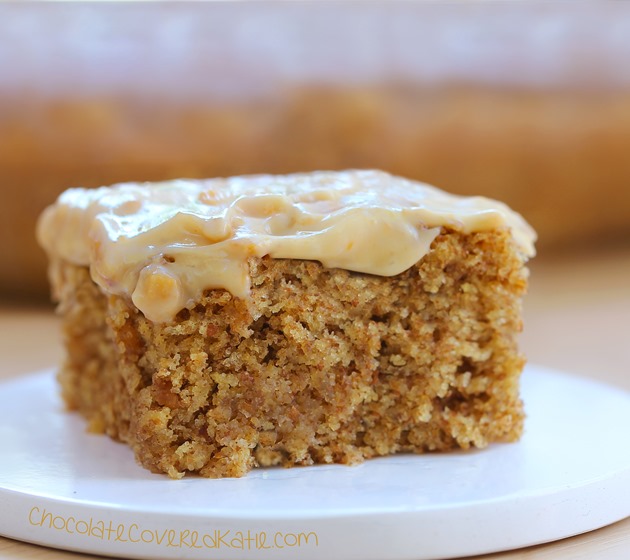 The yogurt keeps this cake soft, and the peanut butter adds richness… you'd never believe there isn't any oil in here at all!
Frosted Peanut Butter Snack Cake
2 cups spelt, white, or Bob's gf flour (265g)
3/4 tsp baking soda
3/4 tsp salt
1 cup granulated sugar of choice OR xylitol (200g)
1/4 cup plus 2 tbsp yogurt (such as So Delicious coconutmilk yogurt) (90g)
1 cup plus 2 tbsp water (270g)
1/4 cup plus 2 tbsp peanut butter or almond butter, OR allergy-friendly alternative (90g)
1 tbsp pure vanilla extract (15g)
Preheat oven to 350 degrees F, grease a 9×13-in baking pan, and set aside. In a large bowl, combine the flour, baking soda, salt, and sweetener, and stir very well. Set aside. If your nut butter is not stir-able, gently heat it until stir-able. In a new bowl, whisk together the nut butter, yogurt, water, and vanilla. Pour wet into dry and stir until just combined (don't over-mix), then pour into the greased pan. Bake 25 minutes or until batter has risen and a toothpick inserted into the center of the cake comes out mostly clean. If you can wait, I highly recommend not taking a taste until the next day… this cake is much sweeter after sitting for a day. Trust me!
I chose to frost my cake with Peanut Butter Lite Frosting. Or you could use your favorite frosting recipe, any of the healthy frosting recipes on my site, or omit the frosting altogether and eat the cake plain… or with jam! Nutrition facts for the peanut butter cake are linked at the top of this page.
COOKBOOK UPDATE: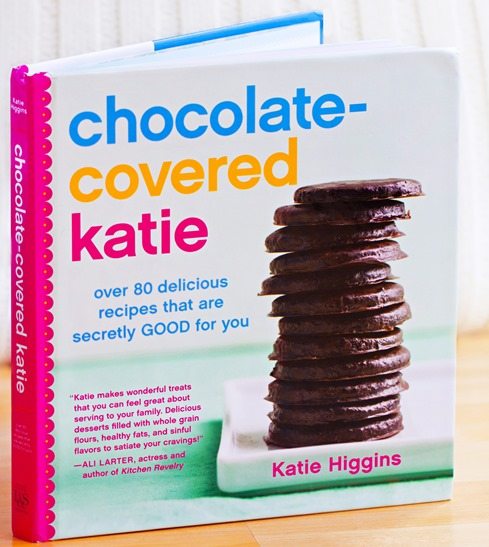 Today marks the Chocolate-Covered Katie Cookbook's 12th week in a row as an Amazon #1 bestseller, and it still continues to sell out at Costco and WalMart locations across the country… I can't even begin to tell you how exciting this whole process has been or how grateful I am that so many people are getting copies for themselves or friends. Seriously, thank you so much!
In time for Mother's Day, Amazon is offering an incredible sale of 30% off the cover price today, so if you haven't yet bought a copy of the book but would like one, I'd recommend acting fast before the price goes back up!