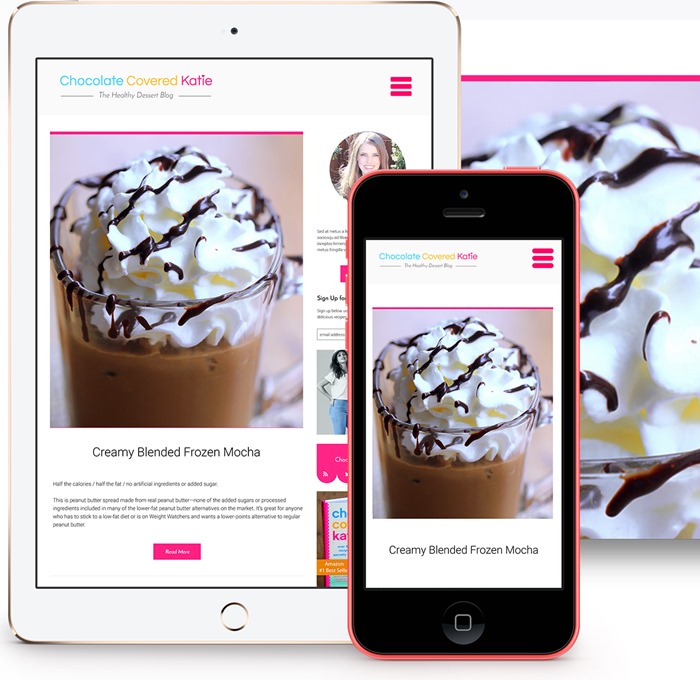 Can you tell I am seriously excited?????????!!!!!!!!!
Feel free to click around and check out the new recipe pages.
The blog has been growing so rapidly over the past year that it's been almost impossible to keep up, and while too much traffic is usually a good thing, it's not so great when pages begin loading slowly or crashing.
I was constantly relying on plugins and stopgaps to keep things up and running, and this complete redesign for Chocolate-Covered Katie has been in the works for almost a year now! We took your suggestions into account, streamlining the site to make it as clean and user-friendly as possible.
I hope you love it as much as I do!!!!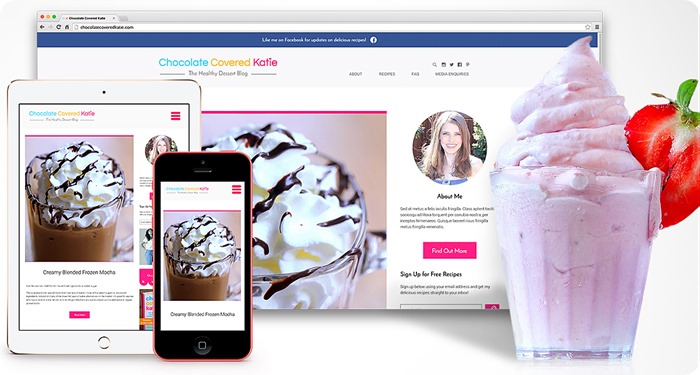 The New

Chocolate-Covered Katie
♥ Most importantly, the site is now equipped to handle the traffic it receives, meaning you get a much faster and smoother experience. Pages will load more quickly, your comments will show up without delay, there will be fewer site crashes, and the blog will display perfectly on tablets, ipads, and iphones—without having to pinch the screen.
♥ Now you can print, pin images just by clicking on them, and you can rate recipes too!
♥ The look and feel of the site are hopefully much more professional, with an updated header and sidebar, as well as space for bigger pictures of the recipes. Translation: larger-than-life chocolate desserts. That is never a bad thing, right?
Although I know way more about web design and coding than I once did (which isn't saying much, because I used to know nothing!), my knowledge wouldn't be anywhere near enough for all the changes I wanted to make. I needed to hire a team of professionals to completely revamp the blog, elevating the user experience to a much higher level, which is why I hired Verb to help. This was a collaborative effort, and it has been a long time coming! Please feel free to let me know what you think or if there are changes you still wish to see, as the site is still a work in progress.
There is still much more to come!
If you want to keep up-to-date with all of the new reveals these next few months, be sure to join 72,000 other subscribers to get free healthy recipe emails each week. The site is currently growing by about 60 new email subscribers every single day, which is crazy!!!

Just by reading my blog, you are helping me get to do what I love for a living, and I don't want to take that for granted for a second. I don't say it enough how much I appreciate you. I really, really, really appreciate you. THANK YOU!!!!