Say hello to the ultimate smooth and luxuriously creamy healthy cheesecake recipe.
This. is. what. dreams. are. made. of.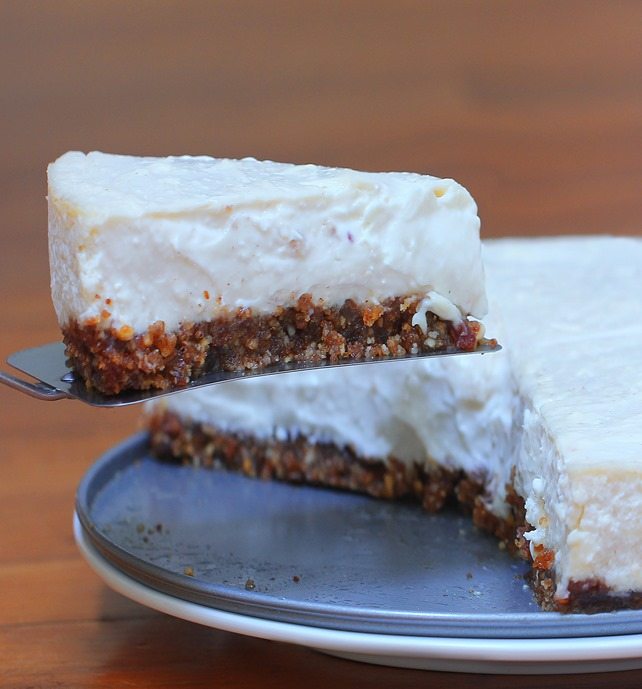 Lighter and creamier than Cheesecake Factory – with a third of the calories and sugar!
I figured today—my birthday—is the perfect time to share one of my own personal favorite recipes. When I say this healthy cheesecake is good, you know it has to be really good… because I do not take my cheesecake lightly.
I'm exceedingly selective when it comes to good cheesecake.
So many cheesecake recipes out there are not only way too sweet (seriously, a cup and a half of sugar in a cheesecake is too much!) but also too firm. The perfect cheesecake should never be overpowered by sugar, and every creamy bite should absolutely MELT in your mouth.
2018 Edit – There's now a Brownie Cheesecake Recipe too, because of course there had to be a chocolate version!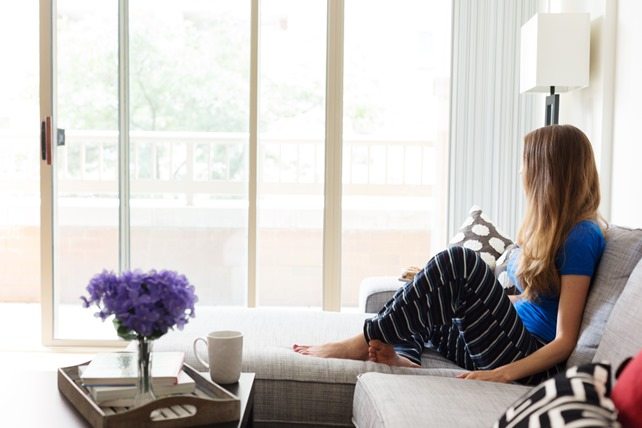 I ate my birthday cheesecake in my pajamas.
For breakfast.
Happy birthday, indeed!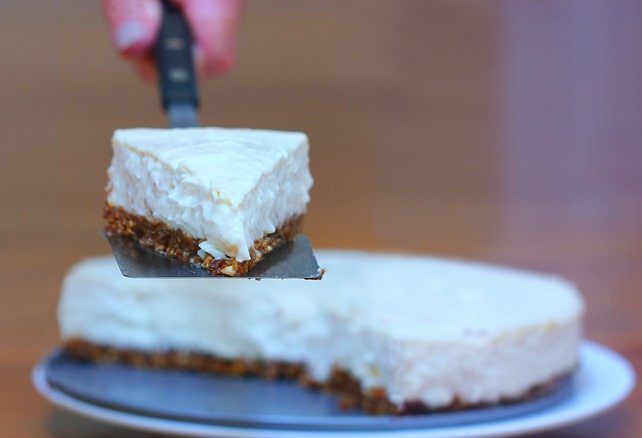 Can we talk about the sugar for a minute?
It's called cheese cake for a reason.
Many cheesecake recipes call for such a large quantity of sugar that the bold and savory cheese flavor is lost and sugar ends up being the only thing you taste. If I wanted to eat something that tasted like sugar, I would skip the cheesecake and eat a bowl of frosting.
(Not that eating a bowl of frosting isn't also delicious in its own right…)
Sugar was the first thing I knew I could slash when it came to creating a healthier cheesecake recipe. I started by researching traditional cheesecake recipes to get a feel for how much sugar, cream cheese, vanilla, and other basic ingredients usually go into cheesecake. And then I played around quite a bit.
A lot goes into my recipe creations!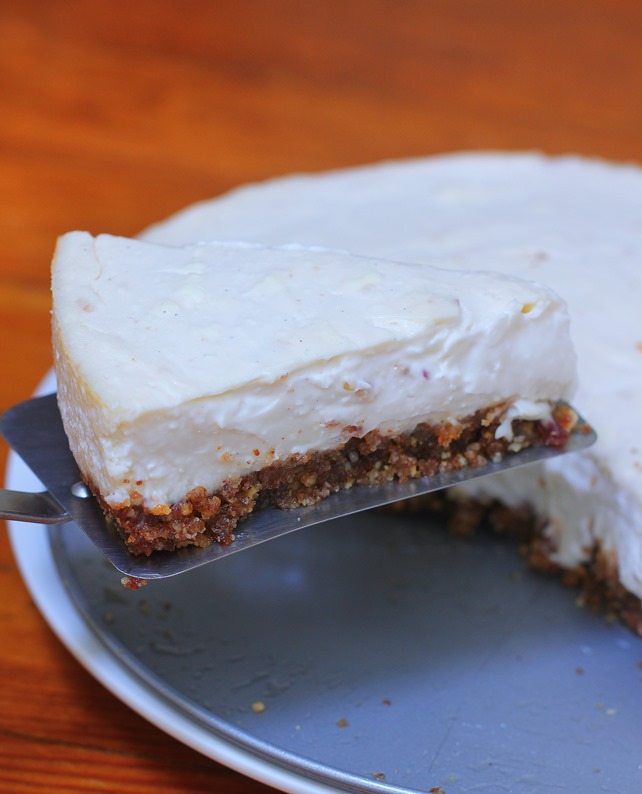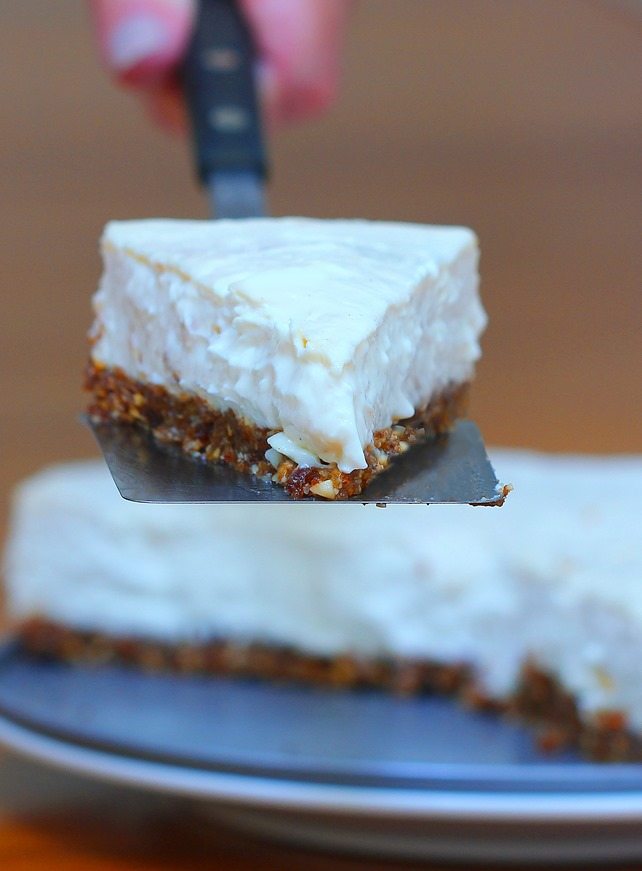 With this particular cheesecake recipe, I also knew I wanted to omit all the heavy cream called for in traditional cheesecake recipes and replace it with something much healthier.
Since cheesecake should have a subtle tang to begin with, I came up with the idea to use yogurt, and it worked perfectly!
Also left out were the eggs normally found in cheesecake recipes, which took a bit of trial to find the perfect replacement since eggs add moisture and bind recipes together.
Since there's nothing more frustrating than having to visit multiple health food stores to locate all the ingredients in a recipe, I knew I wanted this healthy cheesecake to call only for ingredients you can find at a regular grocery store. 


Healthy Cheesecake Recipe Of Dreams
*Crust is the recipe from this post: Vegan Cheesecake Recipe
Healthy Cheesecake Of Your Dreams
Print This Recipe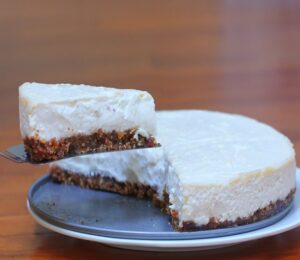 Ingredients
24 oz cream cheese, such as tj vegan
2 cups plain yogurt, such as coconutmilk yogurt
2 1/2 tsp pure vanilla extract
1 tbsp lemon juice
1 tbsp cornstarch - or here's a Keto Cheesecake Recipe
1/2 cup sugar or maple syrup, honey, or xylitol for sugar-free
pinch uncut stevia OR 2 additional tbsp sugar
Instructions
Preheat oven to 350 F. Fill a 9×13 pan about halfway with water and place it on your oven's lower rack. Bring cream cheese to room temperature. Using a blender or hand blender, beat all cheesecake ingredients just until smooth. (Do not overbeat, as this would introduce air bubbles that would burst in the oven and thus cause cracking.) Smooth into a 9-inch springform pan, either lined with a crust or without. Place on the middle rack above the other pan. Bake 30 minutes, and do not open the oven during this time. When the time is up, leave the oven door closed and turn off the heat. Leave in the closed oven for an additional 5 minutes. Then remove—it will still look underdone—and let cool 20 minutes before placing the still-underdone cheesecake in the refrigerator. It's important not to put the cheesecake right from the oven to the fridge, because you want it to cool gradually so it doesn't crack. Chill at least 6 hours, during which time it will firm up to the proper texture. Leftovers covered in the fridge will last around 3-4 days. That is… if you don't eat it all first!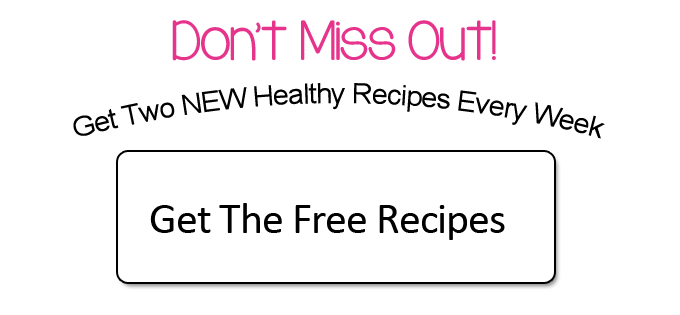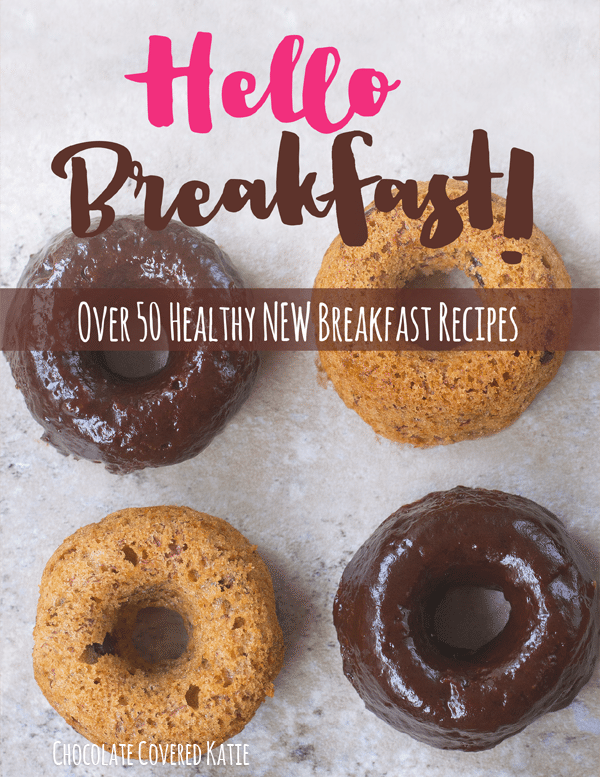 Currently Trending Recipes: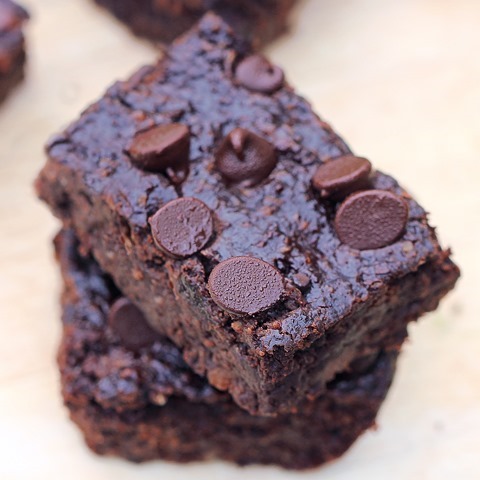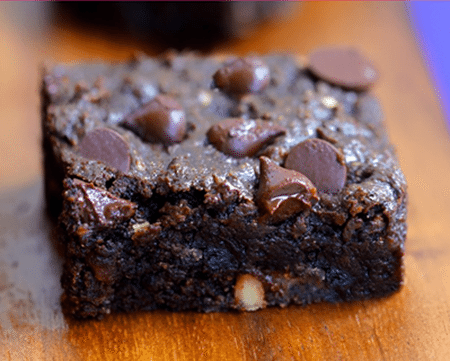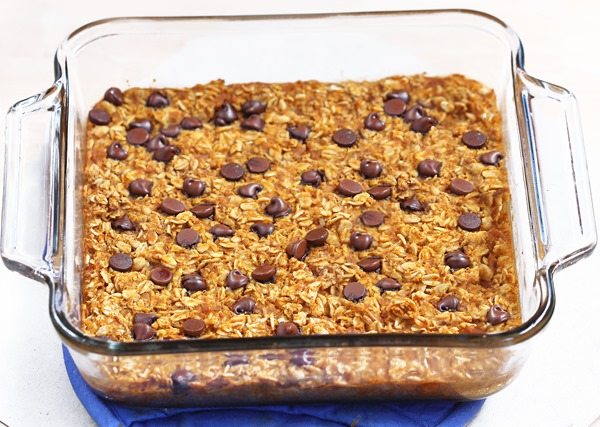 Pumpkin Chocolate Chip Baked Oatmeal