A simple vegan chocolate cake, made with basic ingredients and perfect for any occasion.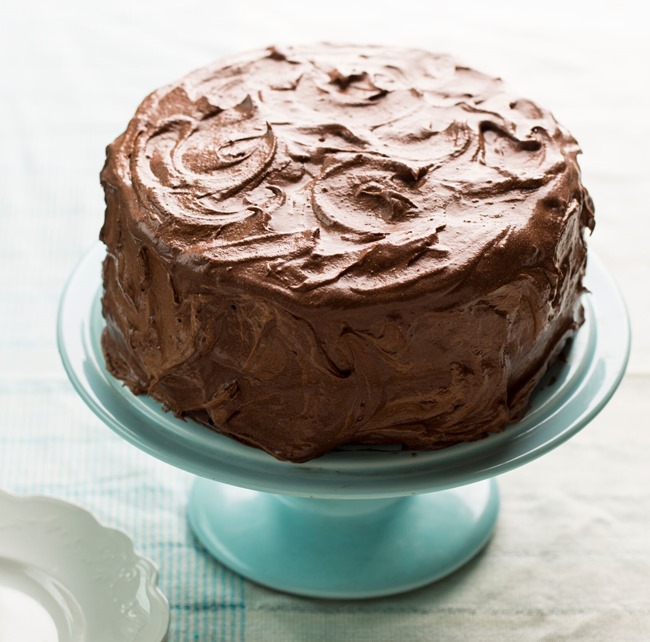 This vegan cake is a good recipe to have on hand any time you need to make a basic chocolate cake.
It will never let you down, can easily be customized for different flavors, and non-vegans love it too.
You May Also Like: Black Bean Brownies – NO Flour Required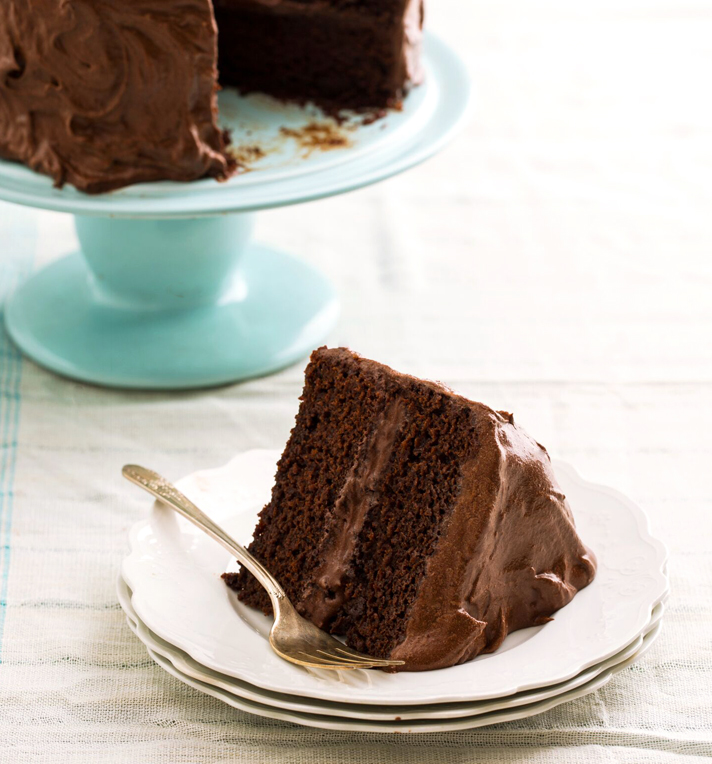 The cake is great for any of the following:
Birthdays
Barbecues
Potlucks
Graduations
Anniversaries
Baby Showers
Family Reunions
Sleepovers
Holidays
Dinner Parties
And any other type of gathering I might have forgotten!
Trending Right Now: How To Cook Sweet Potatoes – 3 Secret Tricks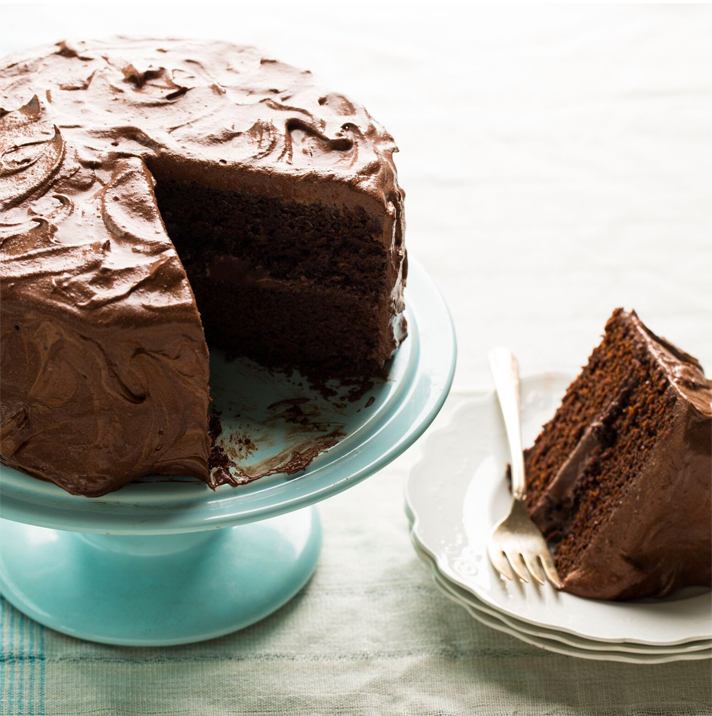 Vegan Chocolate Cake Flavors
Nutella Chocolate Cake: Frost with chocolate hazelnut butter or my Healthy Nutella between layers.
German Chocolate Cake: Add a caramel frosting mixed with pecans and toasted coconut.
Mounds Bar Cake: Frost each layer with coconut cream, and top with more shredded coconut.
Black Forest Vegan Chocolate Cake: Frost with whipped coconut cream or cashew cream and cherries or cherry jam.
Mocha Cake: Add a small spoonful of instant coffee to your favorite chocolate frosting or to my Chocolate Avocado Mousse.
The vegan cake uses just a few basic ingredients you might already have on hand – no flax or chia eggs required, and no unusual ingredients like avocado or black beans. Baking soda helps it rise, and applesauce binds the cake without eggs, also keeping it delightfully light and fluffy.
No one will ever suspect it's healthier and vegan, because it simply tastes like classic homemade chocolate cake!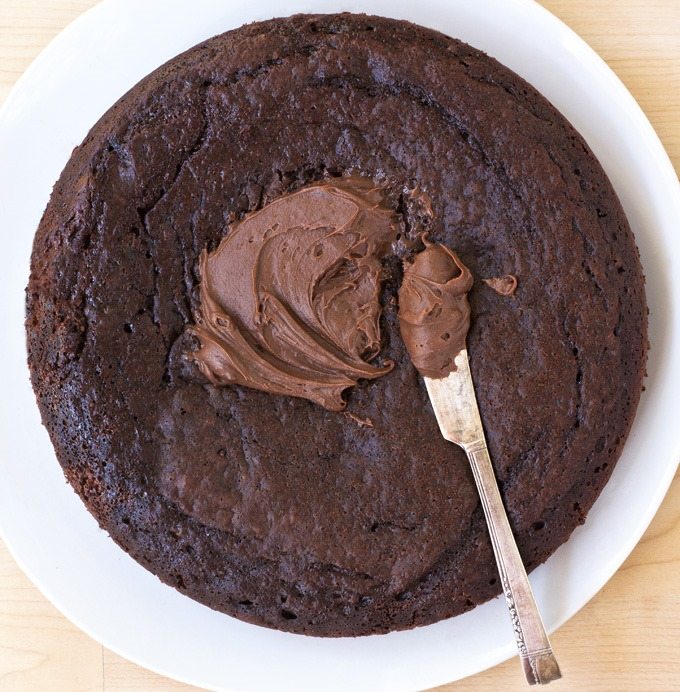 (Above – watch the video how to make vegan chocolate cake!)
The recipe can be dairy-free, egg-free, whole-grain, and even oil-free!
I highly recommend this shortening-free Vegan Chocolate Cream Cheese Frosting.
Make it as written if you want basic chocolate, or change things up by frosting each layer with any of my Healthy Frosting Recipes, or coconut frosting, peppermint frosting, or raspberry jam.

Vegan Chocolate Cake
For a keto version, try this Keto Cake Recipe
Vegan Chocolate Cake Recipe
Yield:
two cakes, or one double-layer cake
Print This Recipe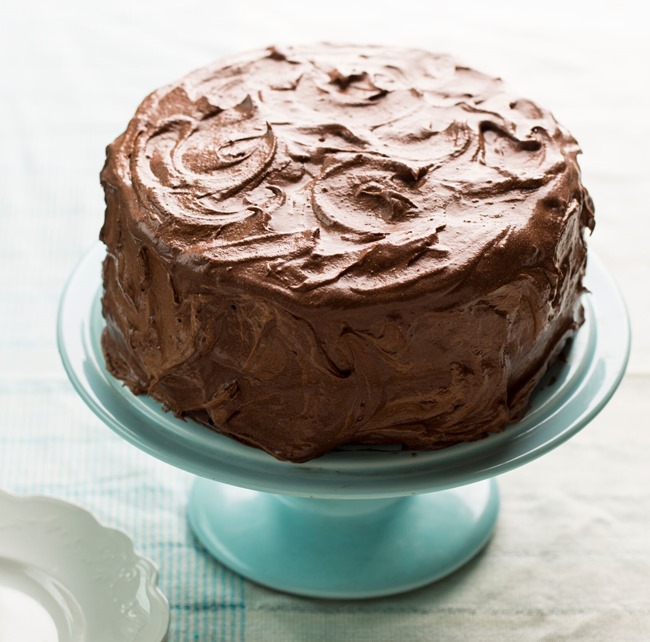 Ingredients
2 cups spelt or white flour
3/4 cup cocoa powder
1 tsp baking soda
1 tsp salt
1 cup mini chocolate chips, optional
1 1/2 cup sugar, or xylitol for sugar free
1/2 cup applesauce, banana, or yogurt of choice
1/2 cup oil, almond butter, or allergy-friendly sub
1 1/2 tbsp pure vanilla extract
1 1/2 cup water
Instructions
Preheat the oven to 350 F. Grease two 8-inch square or round pans. Set aside. Stir together the flour, cocoa powder, baking soda, salt, optional chips, and sweetener in a bowl. (If your nut butter is not stir-able, gently heat until it softens.) In a new bowl, whisk the oil or nut butter, applesauce or yogurt, water, and vanilla. Pour wet into dry and stir until just combined (don't over-mix). Pour into the pans.
Bake on the center rack for 25 minutes or until batter has risen and a toothpick inserted into the center of the cakes comes out mostly clean. (I like to take them out when still a little undercooked, let cool, then set in the fridge overnight. This prevents overcooking, and the cakes firm up nicely as they sit.) If you can wait, I highly recommend not tasting until the next day… this cake is so much richer and sweeter after sitting for a day! When ready to frost, go around the sides with a knife, then invert each cake onto a large plate. Frost separately, then place one cake on top of the other if a double-layer cake is desired. At this point you can also frost the sides if you wish. I linked a few of my favorite frosting recipes earlier in this post.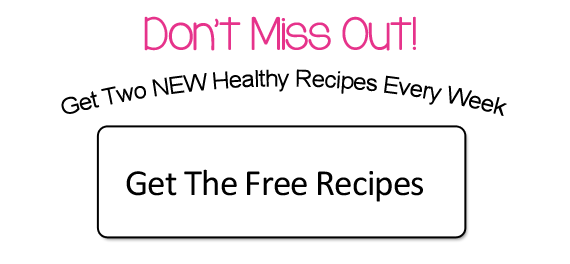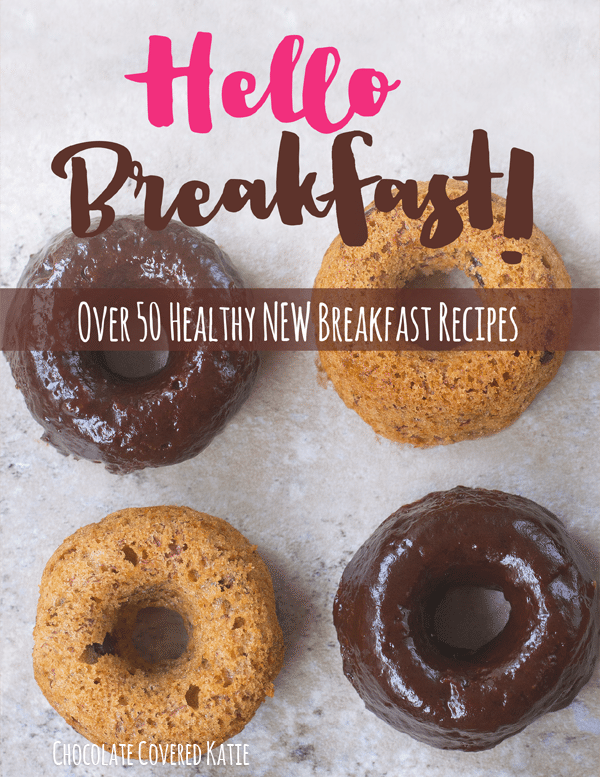 More Simple Vegan Recipes: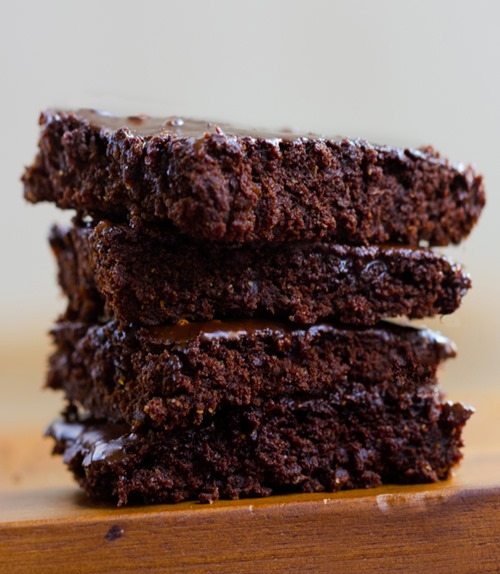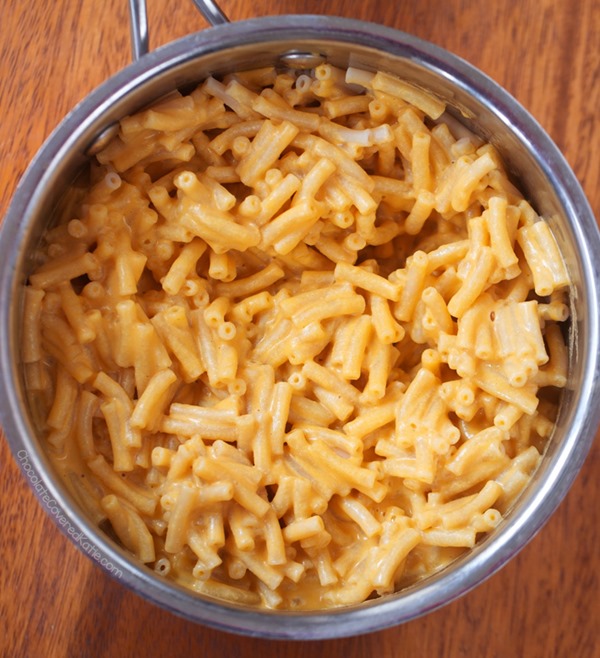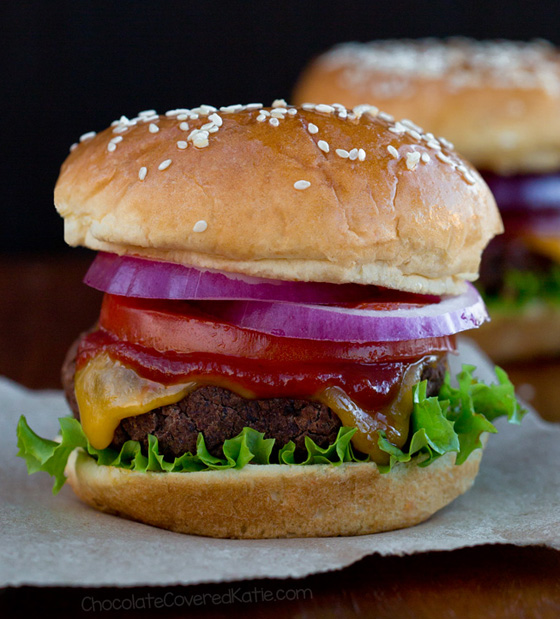 (Just 6 Ingredients)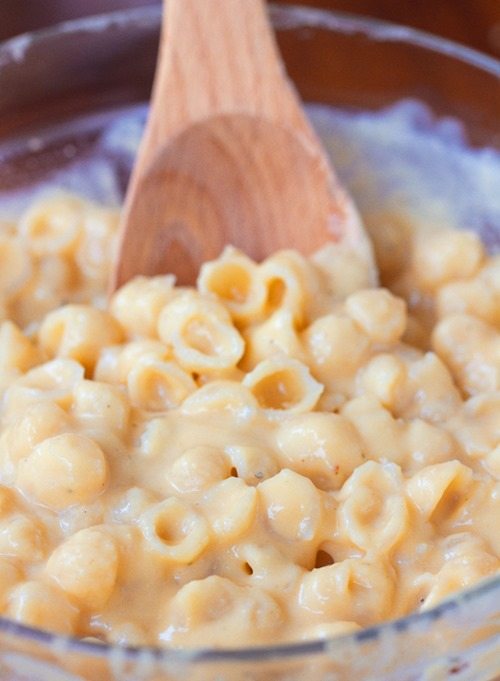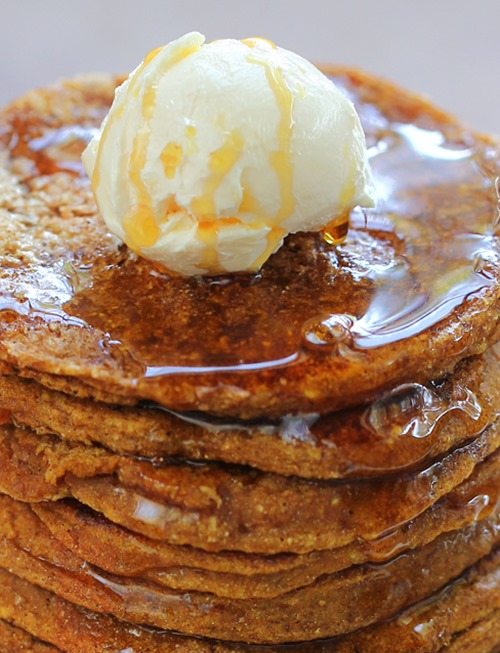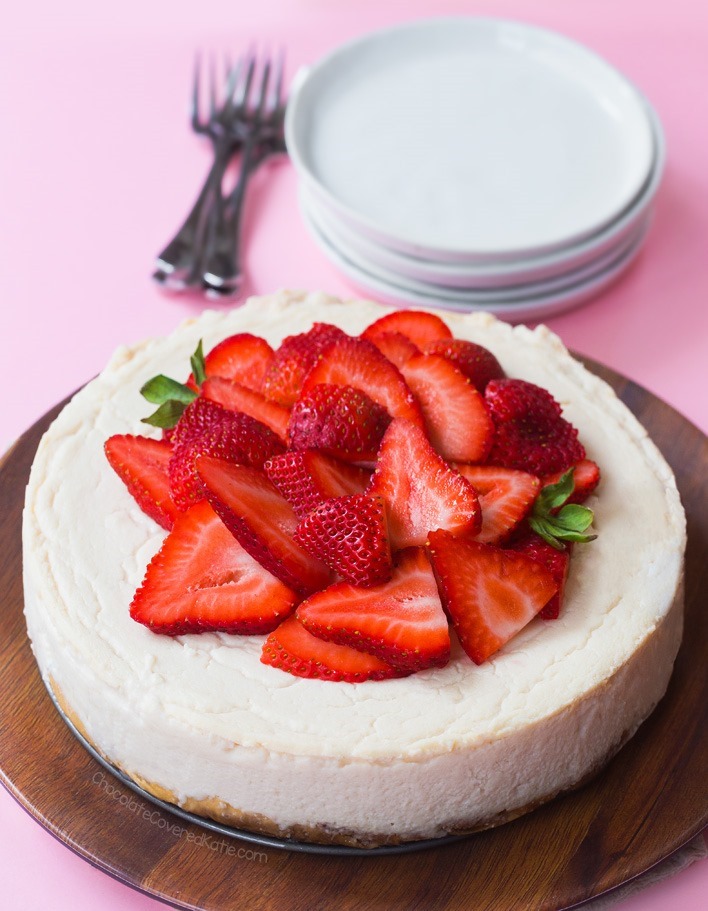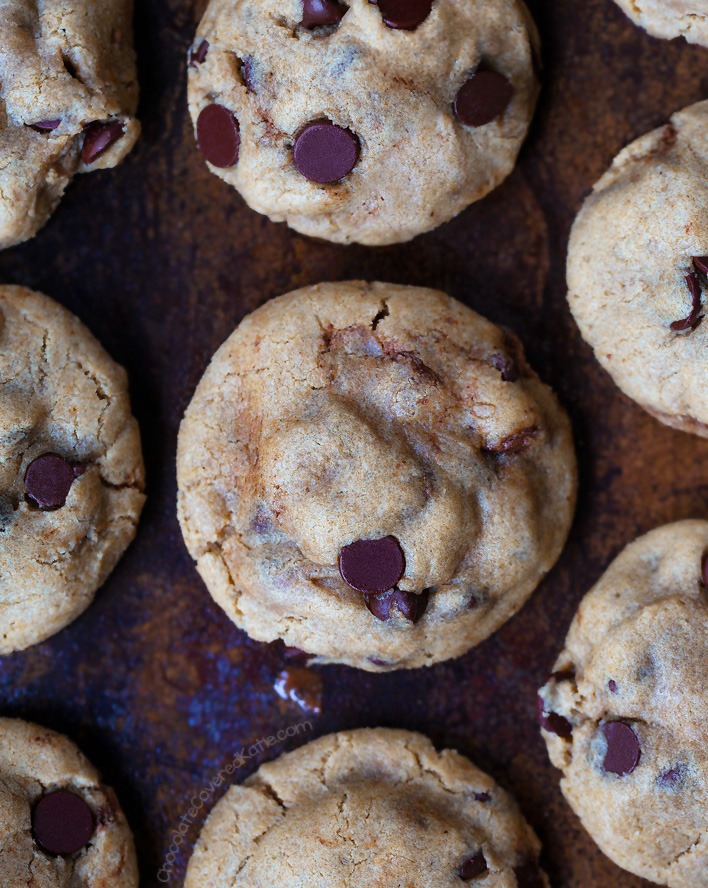 If you have any favorite vegan recipes, please feel free to mention them below in the comments for other readers to get inspired!