Sweet berries, flaky coconut, and gooey chocolate chips make these homemade magic squares every bit as magical as their name implies!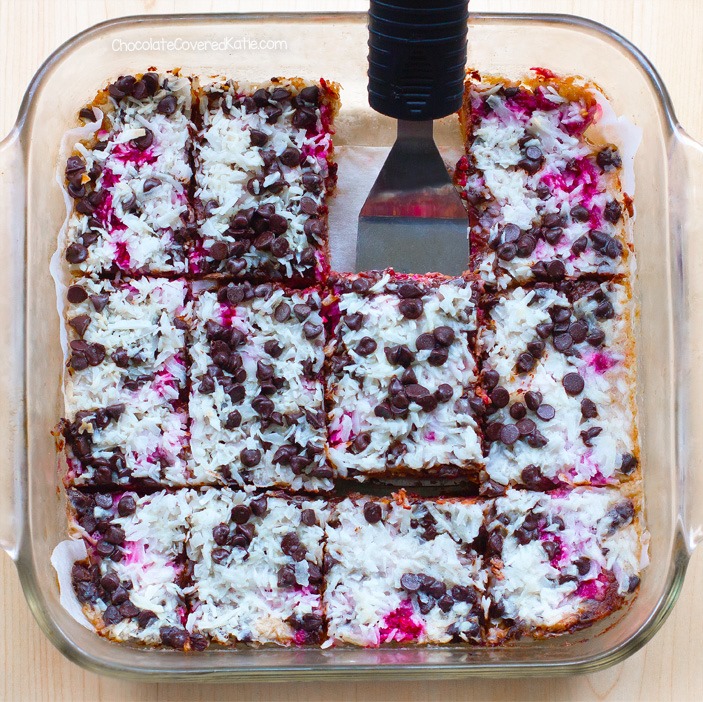 A Recipe Fit For A Princess!
With the royal wedding in three days, I wanted to post a recipe for the occasion, because I've never met a theme party I didn't love.
But since possibly no one reading this will actually be at the wedding, these stylish coconut magic squares are also perfect for any other occasion where you find yourself in need of a fancy and easy-to-make dessert.
Along with the Deep Dish Cookie Pie, the Black Bean Brownies, and the Healthy Cookie Dough Dip, magic bars are one of my go-to recipes for events where the guests aren't necessarily going to be interested in a vegan or healthy dessert.
The bars definitely don't taste healthy, so it's a great choice to serve to guests used to "normal" desserts.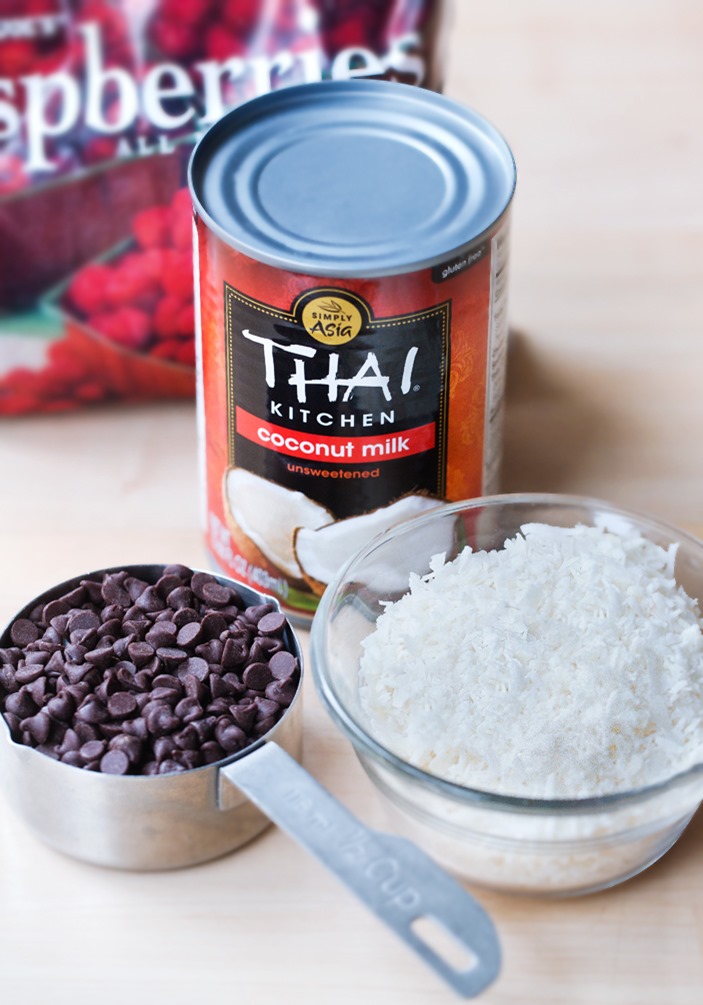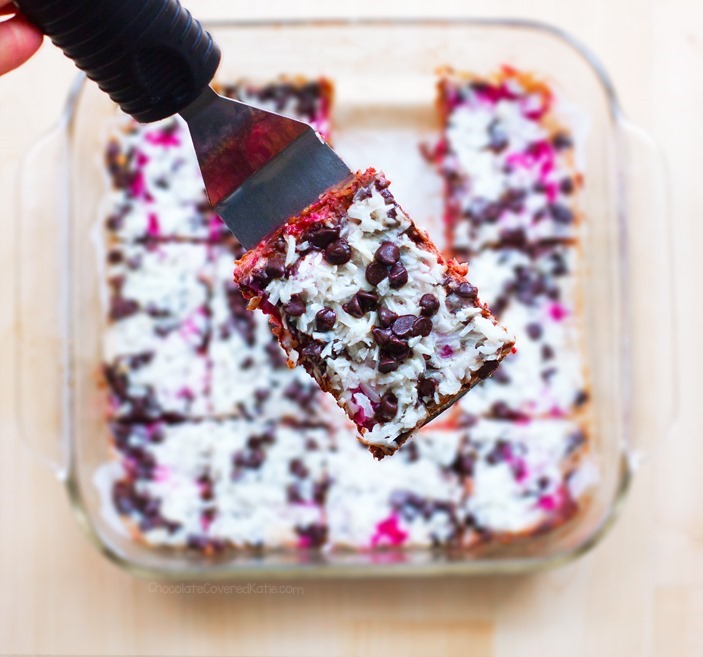 Since I know a lot of you love seeing behind-the-scenes "real life" pictures, here's an iphone photo I took of the bars before bringing them to a party last weekend.
Ultra gooey and delicious, these squares can be modified to accommodate many different diets or lifestyles, including vegan, keto, paleo, gluten free, sugar free, low calorie, and soy free.
Whip up a batch to serve at any birthday party, fancy tea party, Memorial Day barbecue, or perhaps even a watch party for the upcoming Royal Wedding on May 19th.
While I'd initially cut 12 bars, they are so rich that I ended up cutting them further before bringing them to the party, and that turned out to be the perfect size.
(View The Video, Above)
And I haven't tried it yet, but I don't see why it wouldn't work to switch out the raspberries for blueberries or strawberries… or WHAT ABOUT BANANA???
Okay, now I really need to try that.
*Runs to the kitchen to make more coconut magic bars*


Raspberry Chocolate Chip Magic Squares
Adapted from my Vegan Magic Bars
Raspberry Chocolate Chip Magic Squares
Print This Recipe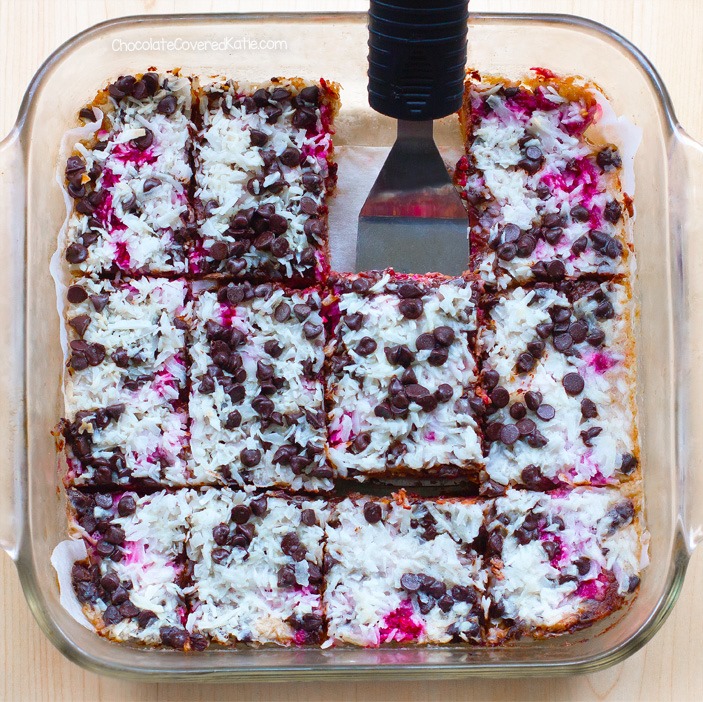 Ingredients
1 1/2 cups fine graham cracker crumbs (For keto, try these Keto Magic Bars)
pinch uncut stevia OR 2 tbsp pure maple syrup or sugar of choice
if using stevia, add 2 tbsp water
1 1/4 cup raspberries, or berries of choice
1/2 cup mini chocolate chips
2/3 cup full-fat shredded coconut, sweetened or unsweetened
1 1/4 cup full-fat canned coconut milk
3 tbsp oil or buttery spread, optional
Instructions
*Some of the readers who made the recipe have loved the bars as-is, but a few asked how to make the crust more like traditional Magic Square crust. If you want a crust that is less soft, just include the optional 3 tbsp oil or buttery spread with the graham cracker crumbs before pressing down.
Line an 8-inch square pan with parchment paper going a little up each side. Preheat oven to 350 F. In a bowl, toss the cracker crumbs with the sweetener and optional oil (and water if using stevia and no oil). Transfer evenly to the bottom of the pan. Press down. Mash the berries. Spread over top (see the video). Sprinkle on half the chocolate chips, then the coconut, then the remaining chips. Evenly pour the coconut milk over top. Place in the oven. Bake 33 minutes. Remove and let sit 15 minutes to firm up. Slice into bars, wiping the knife after each cut. (As mentioned in the post, I initially cut 12 bars but then we ended up making them into 20 bars for the party. So size is up to you!)
Currently Trending Recipes: