This homemade thin and crispy cookies recipe is perfect for any time you're craving a crispy chocolate chip cookie!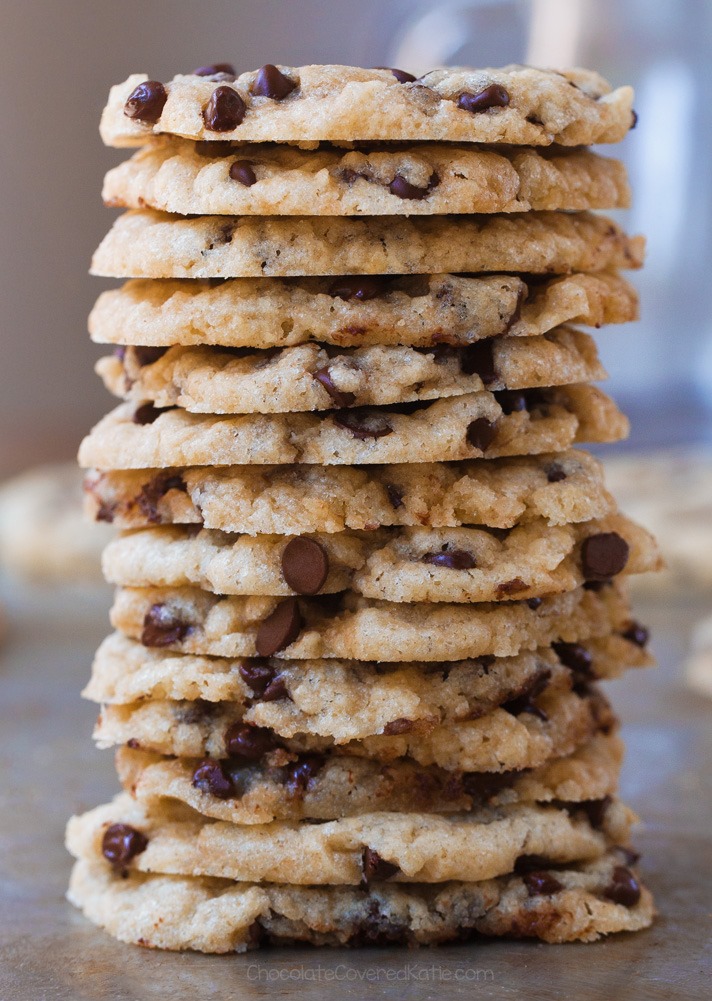 Crispy Chocolate Chip Cookies
When it comes to chocolate chip cookies, you fall into one of two categories: soft and chewy, or thin and crispy.
This is the recipe for anyone on Team Crispy – a classic chocolate chip cookie recipe with such alluringly delicious powers that it might just convert chewy chocolate chip cookie lovers too!!!
50 More Recipes: Healthy Cookies Recipes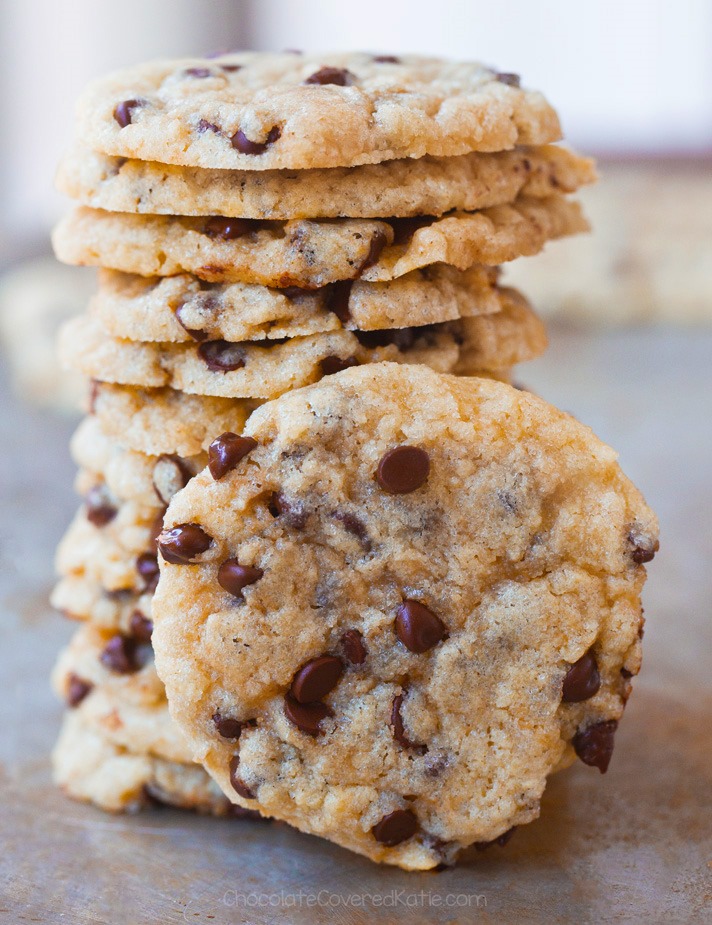 How To Make Crispy Cookies – The 3 Tricks
Trick #1: Don't Use Brown Sugar: It has more moisture than white and is also more acidic, meaning it reacts with baking soda to produce air that helps cookies to rise. Cookie recipes made without brown sugar will be harder, flatter, and crispier.
Trick #2: Lower your oven temperature. Baking at a lower temperature allows the cookies to spread before rising so they are even and crispy all around. I've lowered the oven temperature in this recipe to 310 degrees.
Trick #3: No Eggs. If you're vegan, you've already got this one covered! Eggs add structure and moisture to a recipe, which will detract from the crispiness of the finished cookie. Leave them out for the perfect crunchy chocolate chip cookies.
Other tricks to crispy cookies include using less flour, not chilling the dough before baking, storing in a cookie jar or glass instead of a plastic container, and making the recipe with all purpose flour because it has a higher protein content that helps with crisping and browning. (Substituting spelt or oat flour is fine to do in this recipe; the results will just be softer and chewier.)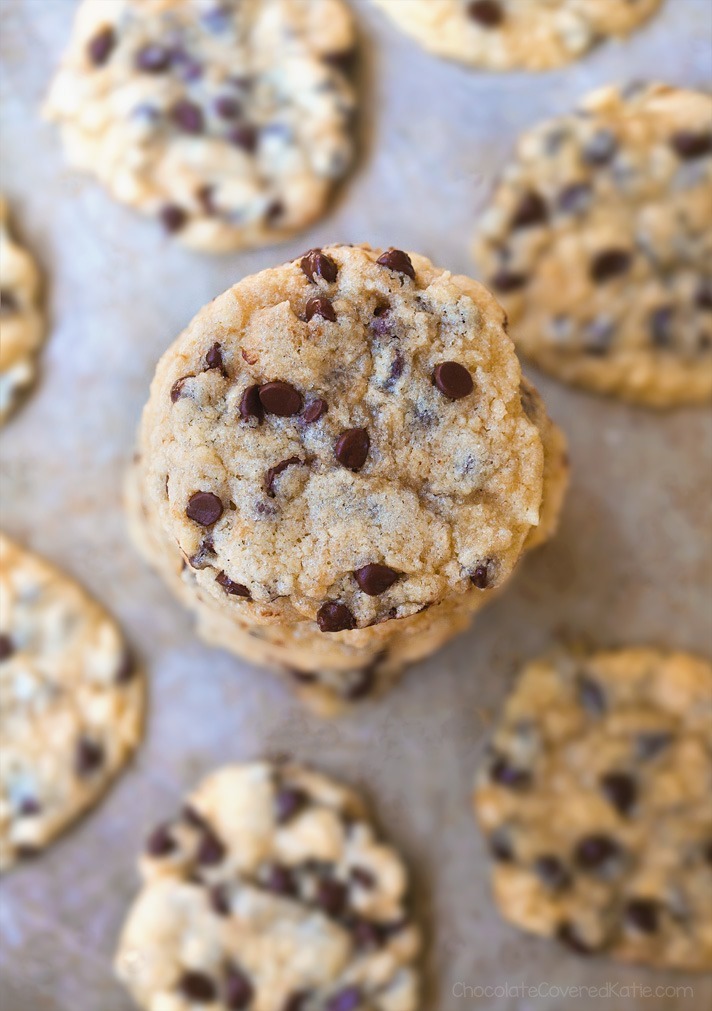 Crispy Thin Cookies
Many test batches of homemade chocolate chip cookies were devoured along the way to getting this crispy cookie recipe *just* right.
The first batch was too soft, the second too chewy – baking experiments are the best kind, because you get to eat all of the results! Treating it as a true science experiment, I would only change one thing about the recipe each time. (Why didn't we get to bake cookies in science class in school?? It would have been my favorite subject for sure.)
The final results reminded my tasters of the popular Tate's Bake Shop cookies, with a thin and crispy texture, and chocolate in each delicious bite. The cookies get even crispier as they sit, so don't eat them all straight from the oven… if you can resist!


Crispy Cookies
Adapted from these Healthy Chocolate Chip Cookies
Crispy Cookies – Three Tricks How To Make Them!
Print This Recipe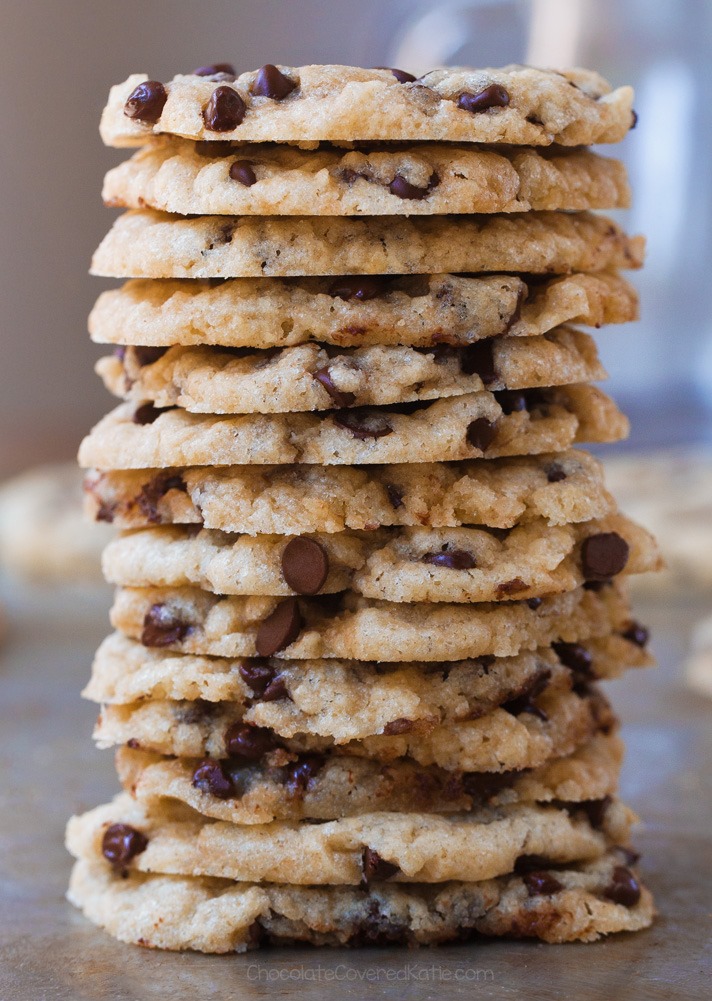 Ingredients
1 cup minus 1 tbsp flour
1/2 tsp baking soda
1/4 tsp salt
1/2 cup sugar (for sugar free chocolate chip cookies, try these breakfast cookies)
1/4 cup mini chocolate chips
2 1/2 tbsp milk of choice
2 tbsp oil
1/4 tsp pure vanilla extract
Instructions
*The easiest way to measure the flour is to add a full cup to the mixing bowl, then remove 1 tbsp from the bowl. All purpose flour will yield the crispiest results, but spelt or oat flour also work.
Preheat oven to 310 F. Grease a cookie sheet. Combine first 5 ingredients in a large bowl. Stir in remaining ingredients to form a dough – it will be very dry at first, so keep stirring and breaking up clumps until it turns into cookie dough. You should not need more liquid. Roll balls. Place on the greased tray, then press down to flatten. (I rolled 16 balls, which turned into the cookies in the photos. They expand a lot as they cook, so leave room between cookies.) Bake 15 minutes, then let cool 10 minutes before removing from the tray. They also get crispier as they sit. As a general rule, crispy cookies are best stored in a cookie jar or glass container instead of plastic. If you try the recipe, be sure to leave a comment or rate it below!
More Chocolate Chip Cookie Recipes: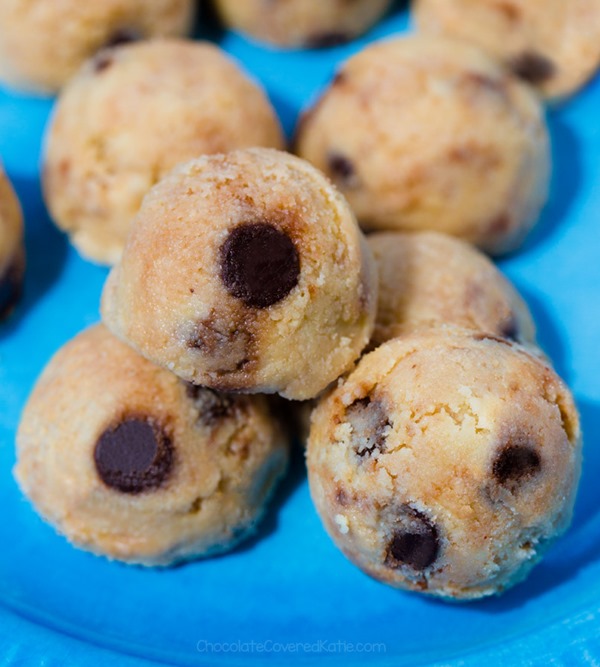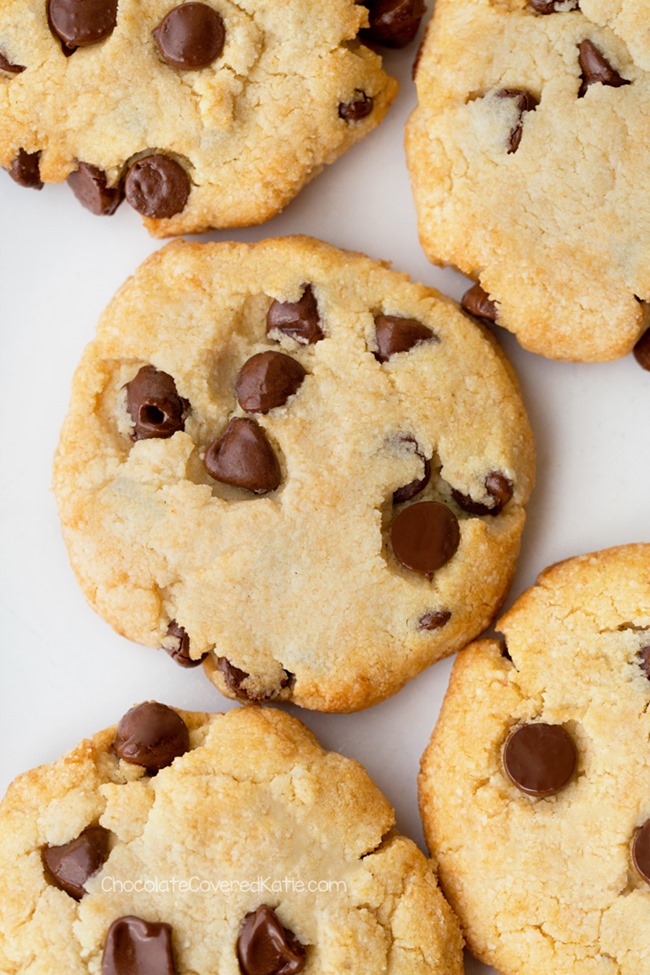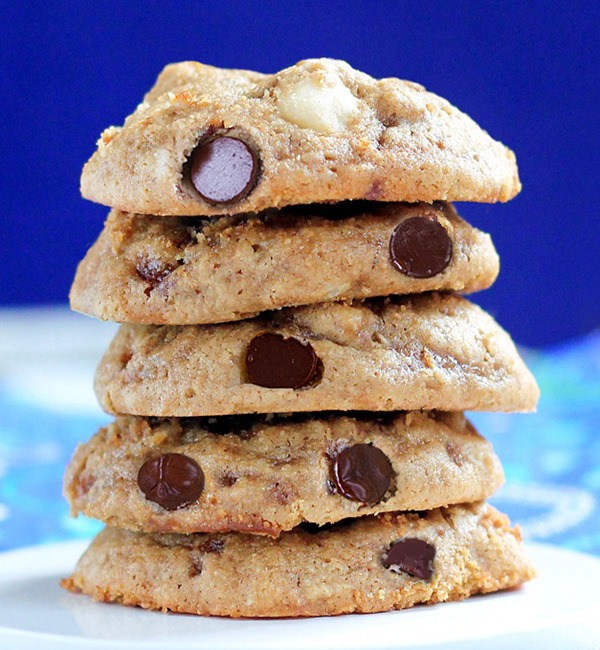 Healthy Chocolate Chip Cookies