For the past few years, I've been volunteering as a dog-walker at a local shelter. Sadly, due to a time conflict this semester, I've given up that job.  But I feel incomplete if I'm not helping out somewhere.  Therefore, last week, I signed up to volunteer at a nursing home for an hour each week.  It's not much, but I'm a big believer in the idea that every little bit– and every little person– can make a HUGE difference in this world.
On my first day, I didn't want to show up empty-handed; I thought I'd bring along a baked-good.    It's no secret that the elderly loooooooove sweets!  But many have diabetes or another condition that makes eating sugar a no-no.   I remember a giant jar of Sweet-and-Low being a permanent fixture on the kitchen table at my grandparents' house.  And my grandpa, with his raging sweet-tooth, ate sugar-free Jello every night, grumbling that it was a sorry replacement for the ice cream he once loved.
I don't think that the nursing-home staff would've been too thrilled with me had I brought along these:
Hey, at least they're healthy sugar cookies.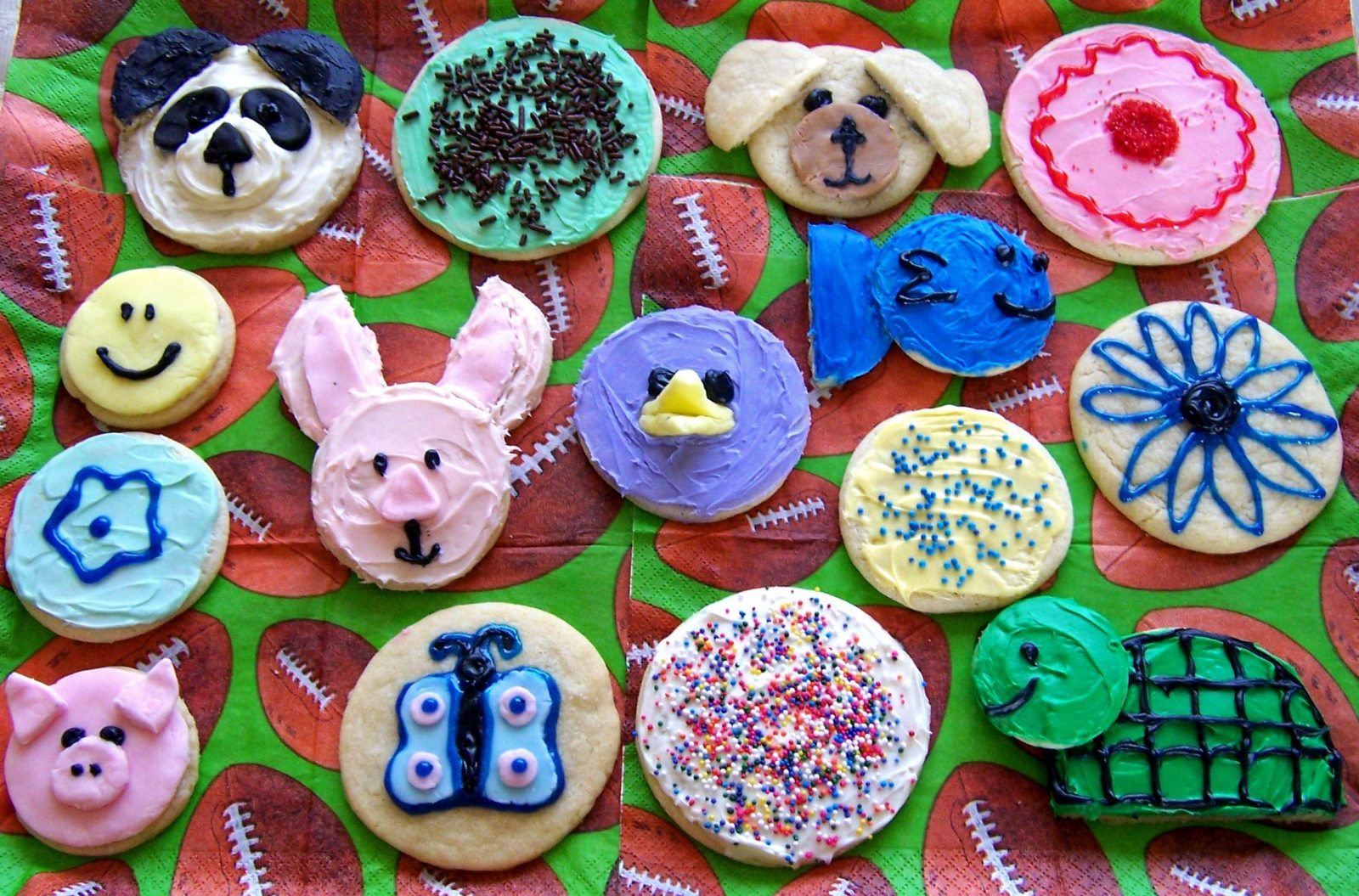 Hello sugar overload!
But I was hesitant to use Sweet-n-Low or Splenda in my baked-goods, because I don't trust the stuff; I don't know if I believe that something with so many chemicals can truly be safe to consume. Instead, I used stevia, and the results were terrific!
In an Easter-y mood, I decided that carrot cake muffins were in order.  Wanting to create my own recipe (I hate following recipes), I basically threw a bunch of yummy-sounding ingredients into a bowl and hoped for the best!  The first "tester" batch didn't rise very well, but adding more egg replacer fixed that right up.  All the subsequent batches came out of the oven boasting muffins that were plump, moist, and aromatic (made the house smell like Christmas!).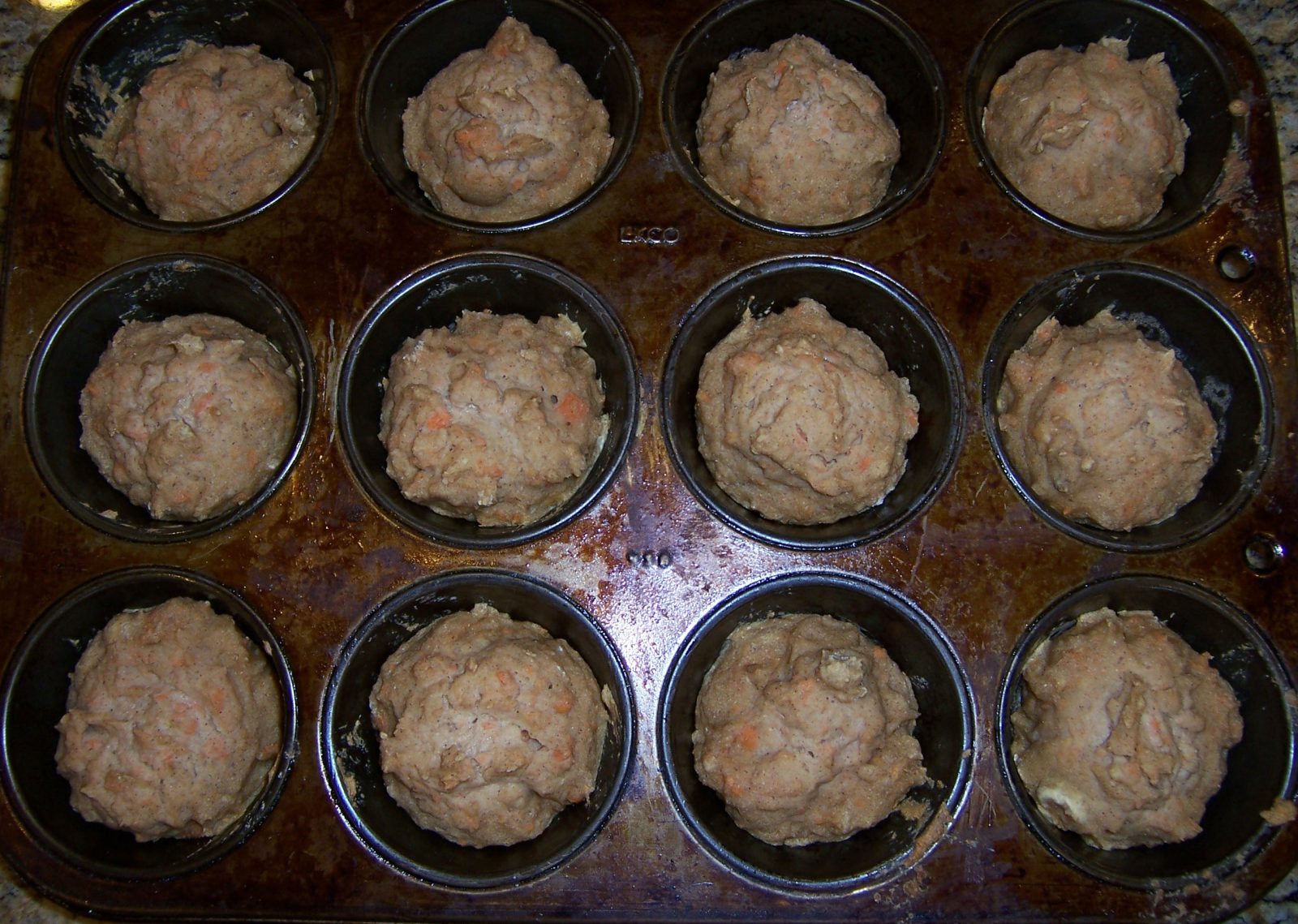 24-Carrot Cake Muffins
(Makes 9 regular muffins or 12 small)
180 grams whole wheat pastry flour (others have said plain whole wheat works) (about 1 and 1/2 cups)
100 grams shredded carrot (about 1/2 cup)
1 teaspoon Ener-G egg replacer (for one egg) (or use a flax "egg")
1/2 teaspoon salt
1 and 2/3 containers applesauce (the 1/2-cup containers), or about 160 grams
1/2 teaspoon vanilla extract
1/4 cup plus 2 tablespoons liquid (I actually just used water, because I was too lazy, at the moment, to open a new milk LOL)
Up to 1/2 cup sugar or around 1/4 cup agave (As stated in the above commentary, I used stevia, which is stronger, so I used less. I used 5, but I'd recommend 8-10 NuNaturals packets.)
1 teaspoon cinnamon
1 and 1/4 teaspoons baking powder
Optional add-ins: raisins, shredded coconut, walnuts, pineapple tidbits (If you add pineapple, you'll probably want to decrease the applesauce or liquid a bit.)
Procedure:
Preheat the oven to 350F.
Mix dry ingredients, then add the carrot and wet ingredients.
Mix again, until just combined (with muffin batter, it's important to not overmix).
Bake for about 10-12 minutes (depending on your oven and on how soft you like your muffins.  I'm silly and like mine a little undercooked and gooey!)
Eat up!  Whatever I'm not planning on eating within two days, I like to freeze.  That way the muffins stay fresh.
These muffins tasted delicious!  The nursing-home residents absolutely loved them, and my family, roommate, and I have been devouring the leftovers (I made extra batches and froze them).
Nutrition Information:
By (very!) popular request, I'm editing this post to include nutrition info.
Calories: 60
Protein: 1.5g
Fat: 0g
Double for single lady cakes, which are also double the size.
(Nutrition Info Disclaimer)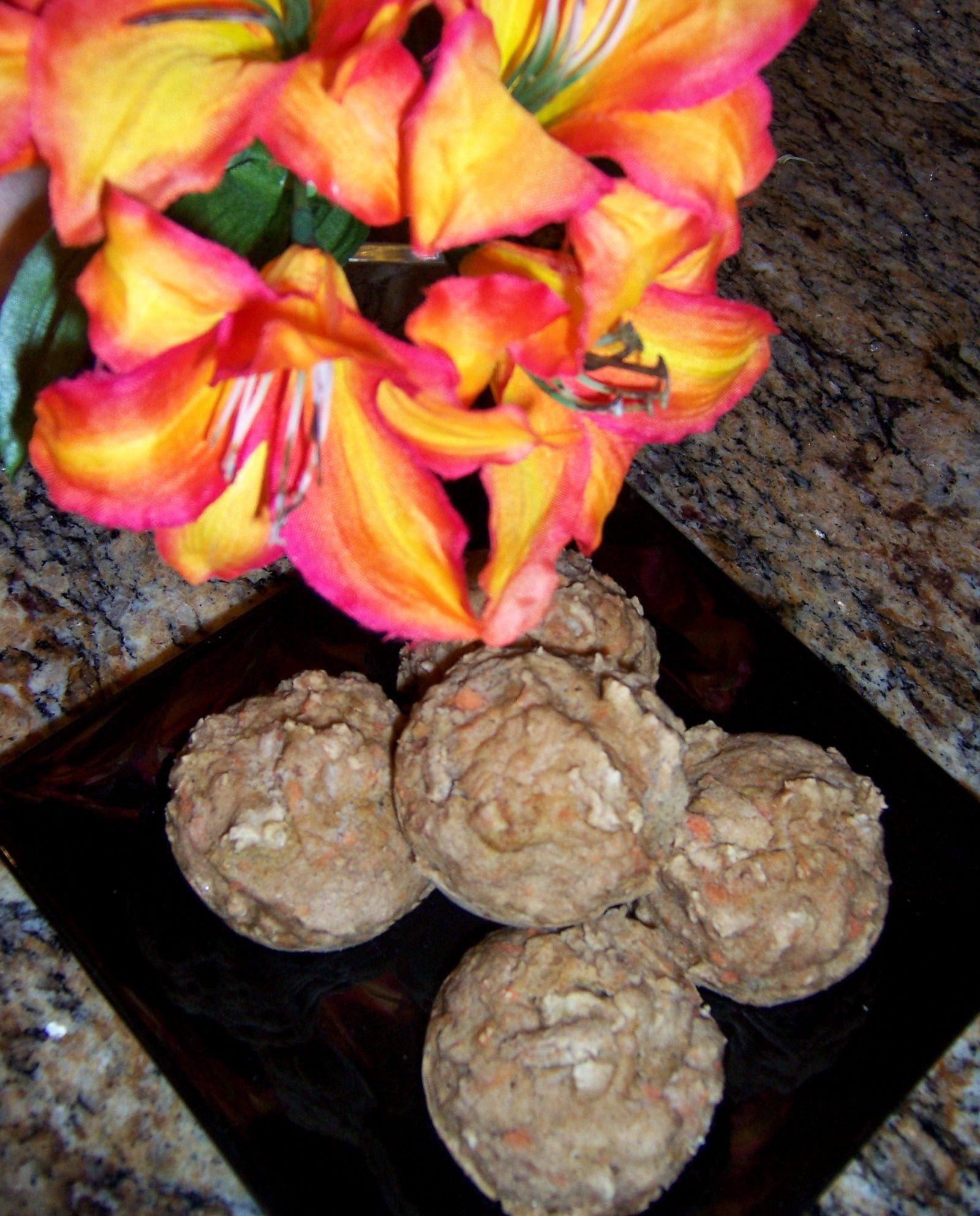 How to eat a Muffin:
Mommy Dearest likes to "ice" her muffins with vegan butter (Smart Balance Light)
The roommie tops her muffins with cream cheese (vegans can use Tofutti).
I think they taste superb as-is.
If you want to be really decadent, frost the muffins with vanilla or cream cheese frosting and call them "cupcakes"!
Top the muffins with Cheesecake Mousse!
.