This quick recipe for 3 ingredient peanut butter balls is almost too easy to make!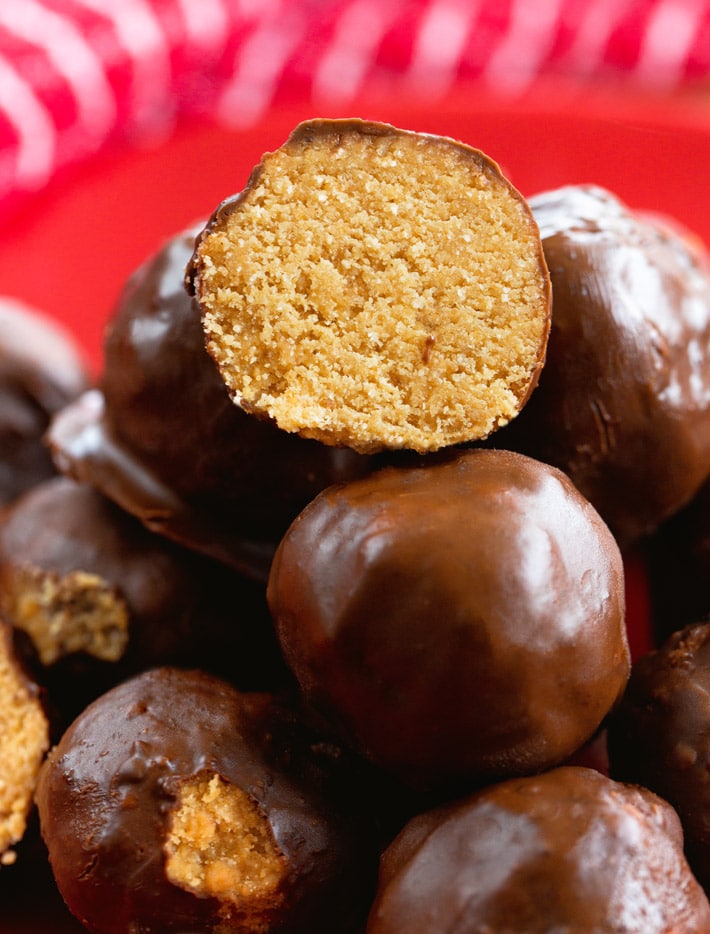 Homemade 3 ingredient peanut butter balls
Soft and fudgy bite sized peanut butter balls are perfect for a super fast and yummy healthy snack or dessert.
Kids love to help roll the dough into balls and dip them in melted chocolate.
And since there are no eggs or white flour, it is completely fine to eat the unbaked peanut butter cookie dough straight from the bowl!
Also make these Healthy Blueberry Muffins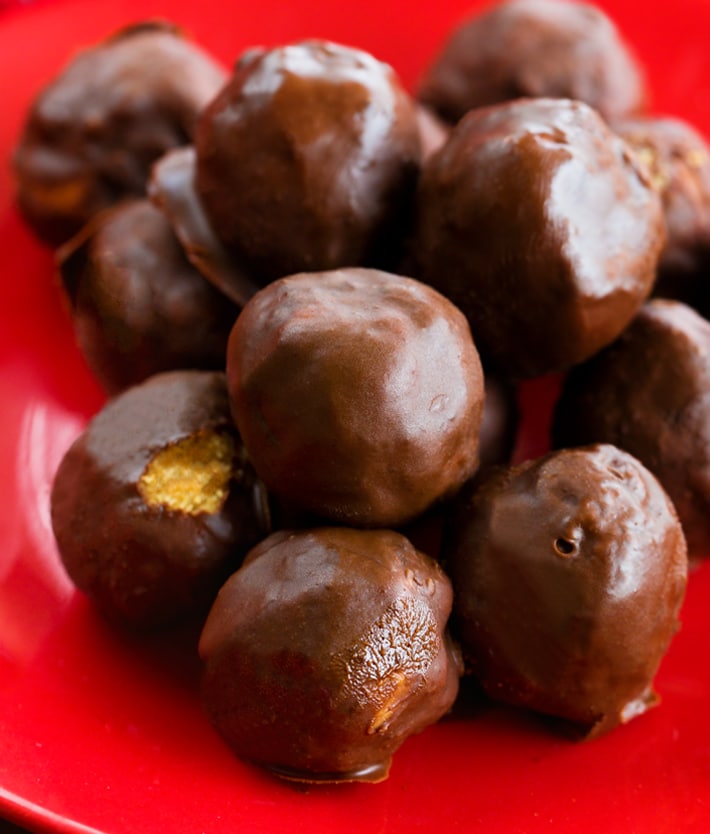 Easy peanut butter bite ingredients
The peanut butter balls can be made with just three basic ingredients.
Peanut Butter: I used creamy natural peanut butter here, but feel free to use crunchy peanut butter (with or without salt), almond butter, cashew butter, melted coconut butter, pecan butter, sunbutter, etc.
Sweetener: Just use your favorite all-purpose liquid sweetener here, such as pure maple syrup, agave, or honey (not for vegans). If you want to make keto or sugar free peanut butter balls, then this keto maple syrup works too.
Coconut Flour: This is not actually flour at all. It is simply dried coconut that has been finely ground until it resembles the texture of wheat flour. There is a coconut free option included in the recipe post below. Or oat flour also works if you prefer.
For high protein peanut butter balls, substitute your favorite protein powder for the coconut flour or oat flour.
Chocolate: It's optional, but if you want to dip the 3 ingredient peanut butter balls in melted chocolate chips (with or without a teaspoon of oil stirred in for a smoother sauce) like I did, do not let me stop you!
Leftover coconut flour? Make Coconut Flour Cookies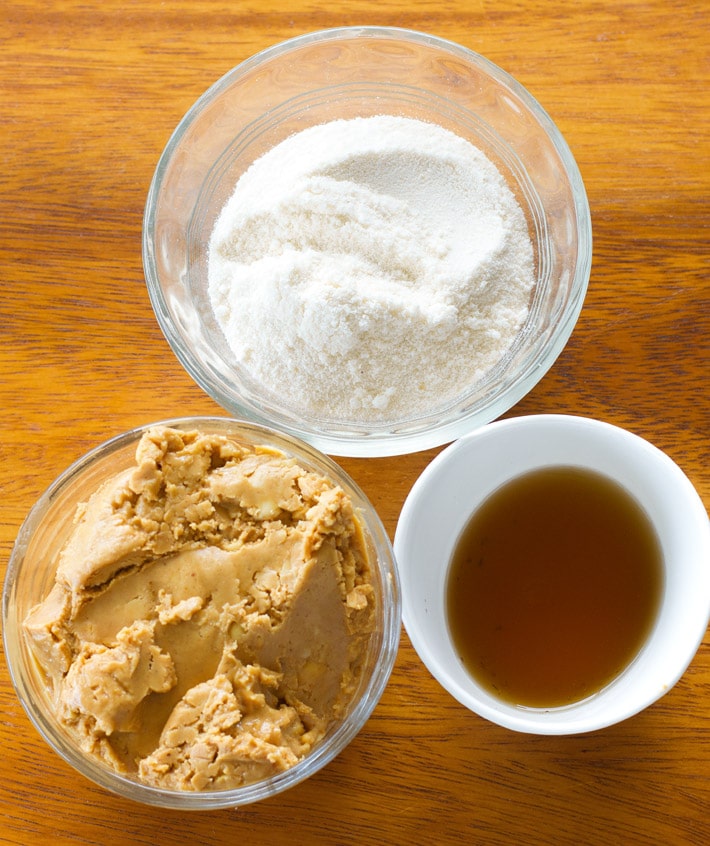 How to make 3 ingredient peanut butter balls
If you are using refrigerated or natural peanut butter, gently warm it up (either in the microwave or on the stovetop) to soften so the nut butter is easily stir-able.
Combine the three required ingredients together. I recommend using a high quality food processor for the best evenly blended dough. Stirring by hand technically does also work if you use a lot of arm strength and patience.
Blend the peanut butter, sweetener, and flour until it resembles cookie dough.
If your dough is too dry, add a little oil or liquid sweetener as needed. Or if it's too soft, add more flour until a cookie dough texture is achieved.
Roll into balls. I dipped my three ingredient peanut butter balls in melted chocolate chips because everything is better dipped in chocolate.
Place on a tray lined with wax paper or parchment paper, and refrigerate or freeze until firm. The peanut butter bites are shelf stable if not using chocolate and leftovers can be stored on the counter, in the fridge, or in the freezer.
Or you can ship leftover peanut butter balls to me and I'll store them for you.
You just might not get them back…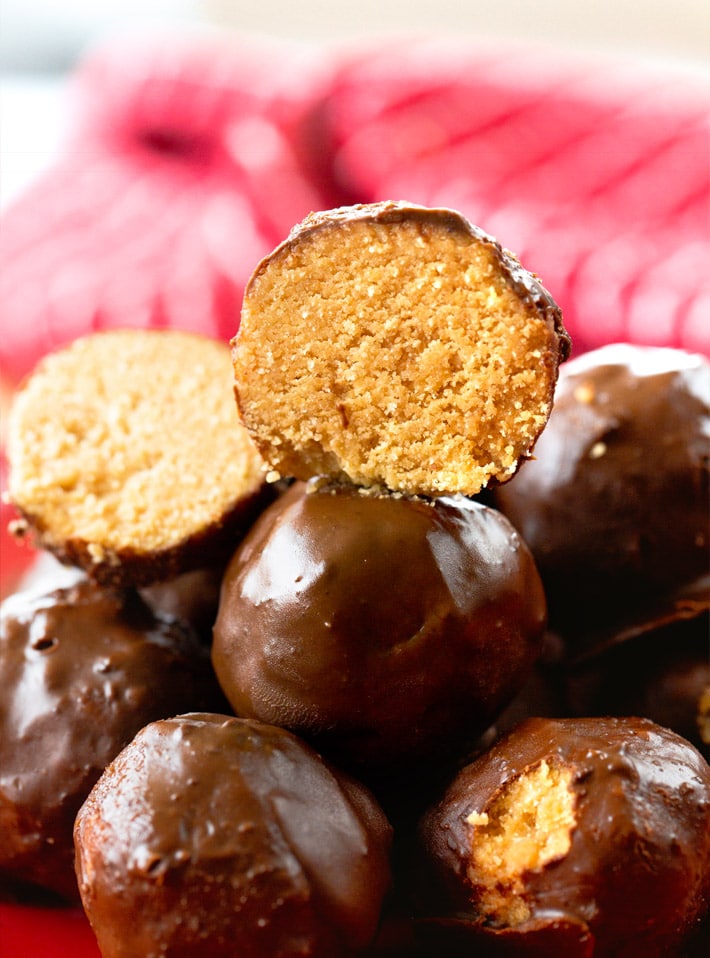 The peanut butter treats were inspired by the following two recipes:
Recipe video for healthy peanut butter balls
Above, watch the step by step peanut butter ball recipe video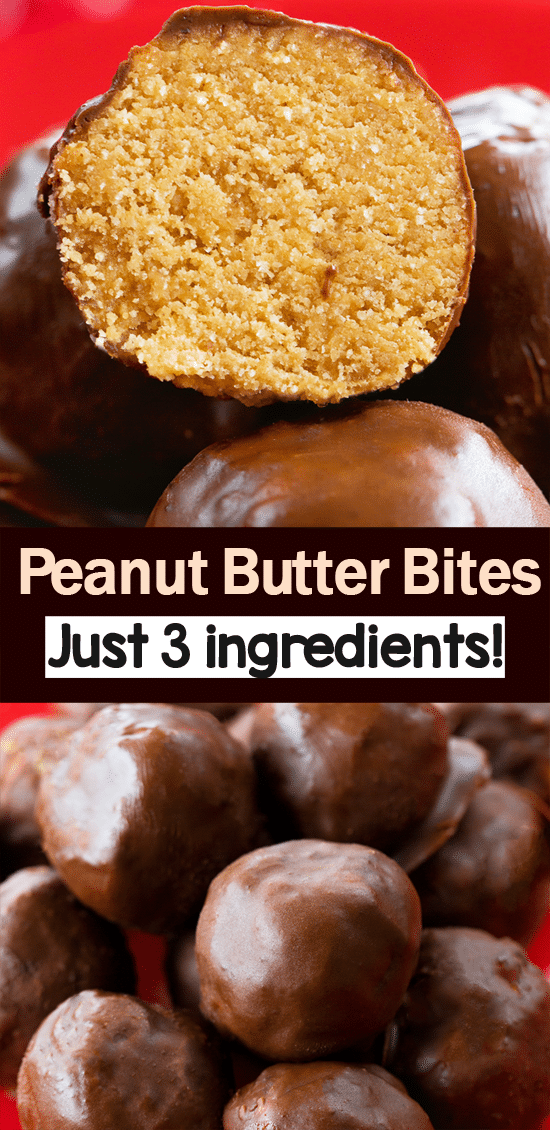 3 Ingredient Peanut Butter Balls
These healthy 3 ingredient peanut butter balls are almost too easy to make!
Ingredients
1

1/2 cup

peanut butter, or allergy friendly sub

2/3

cup

coconut flour, oat flour, or protein powder

(Here's a coconut-free version)

1/3

cup

liquid sweetener, such as pure maple syrup or keto syrup

optional 3 oz chocolate (melted with 3-4 tsp oil if desired for a smoother sauce)
Instructions
If not already soft, gently warm to soften the nut butter until easily stir-able. Combine all ingredients except optional chocolate – I found that using a food processor is much easier and yields more fully blended dough, but stirring by hand technically also works with a lot of arm strength. Blend until it resembles peanut butter cookie dough. (If using a dry nut butter, add a little oil or additional sweetener if needed to form a dough. Or if dough is too soft, add more oat flour.) Roll into balls. If desired, dip in melted chocolate, then place on a parchment or wax-lined tray and refrigerate or freeze to set. If not using chocolate, they do not need refrigeration.

View Nutrition Facts
More Healthy Snacks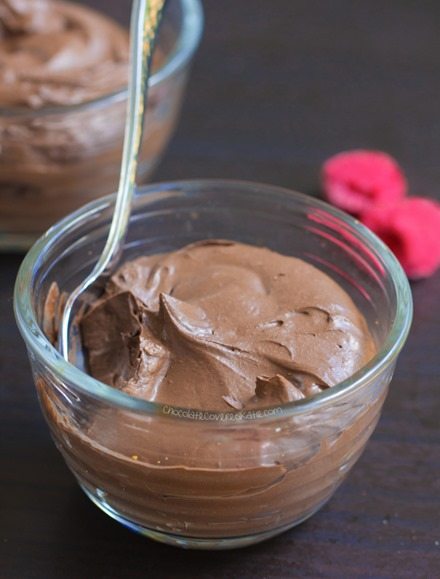 Healthy Chocolate Pudding Recipe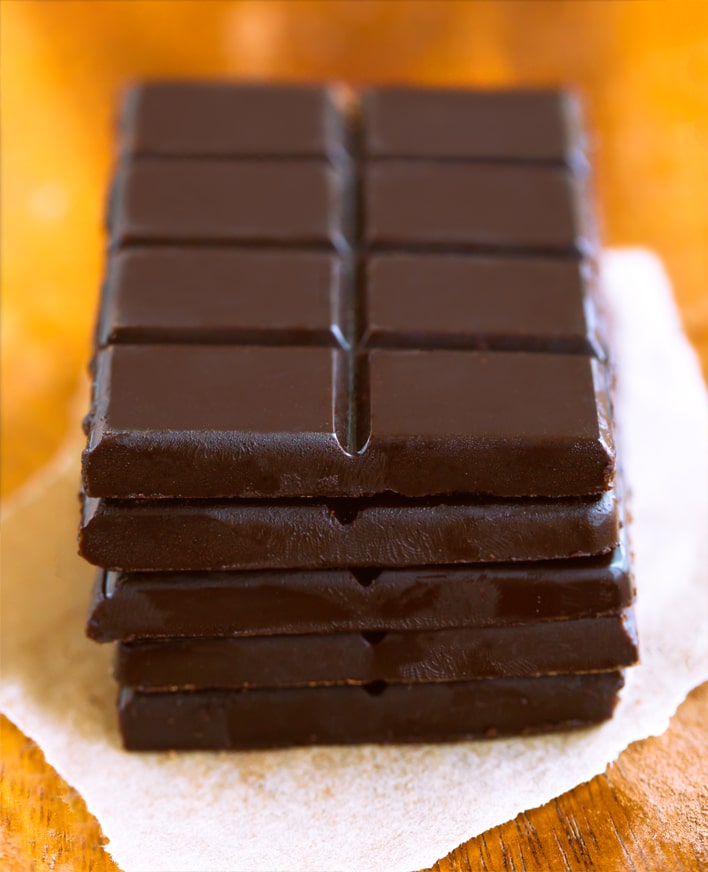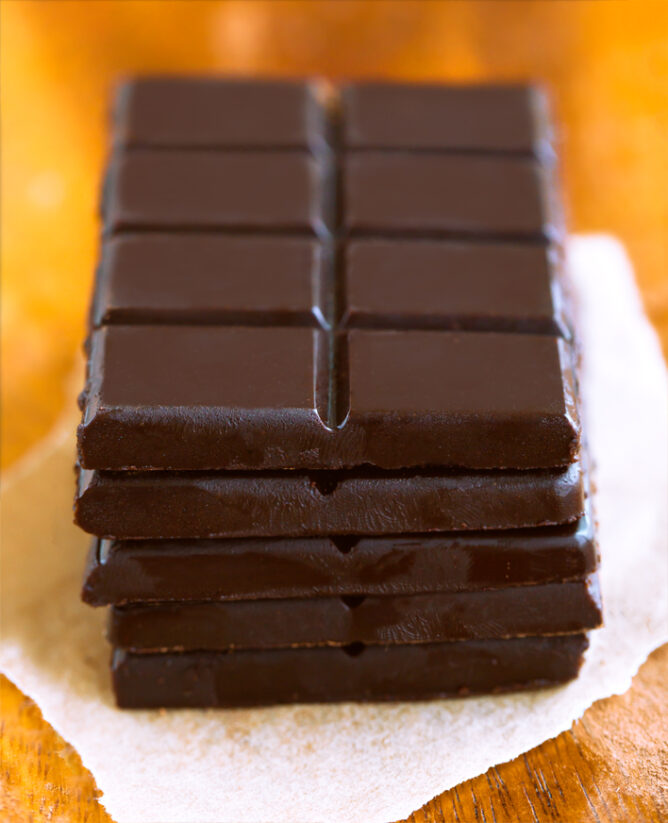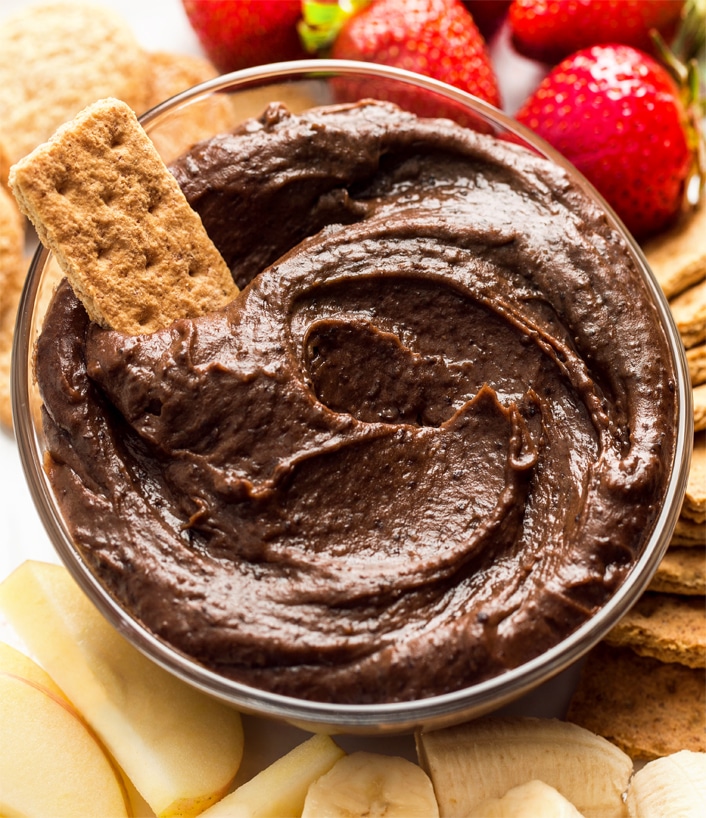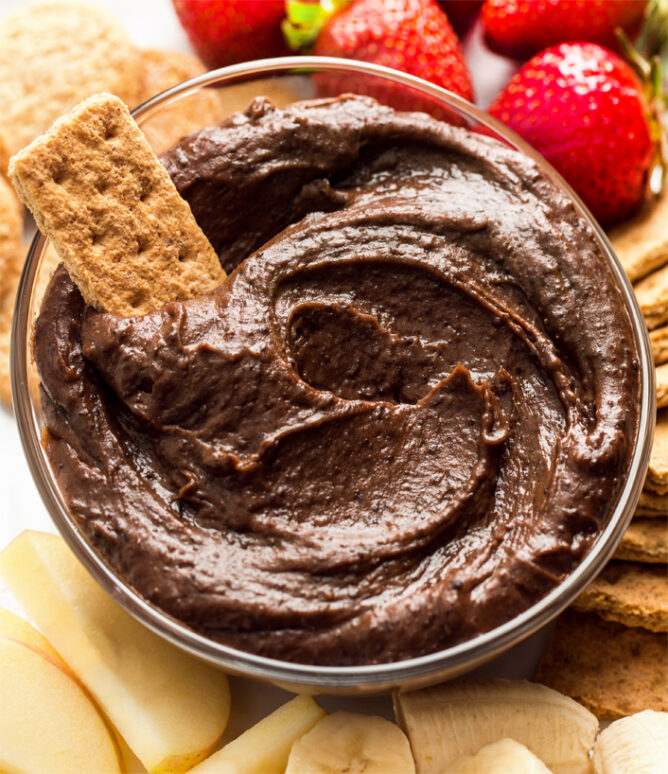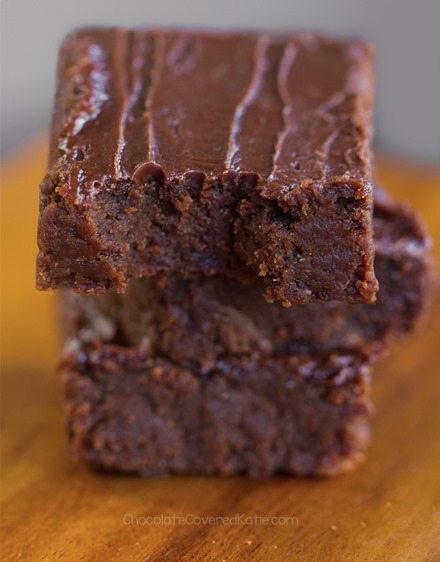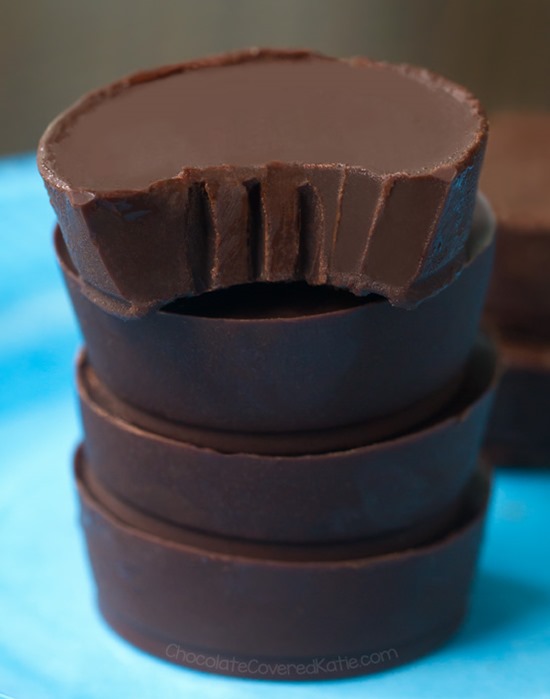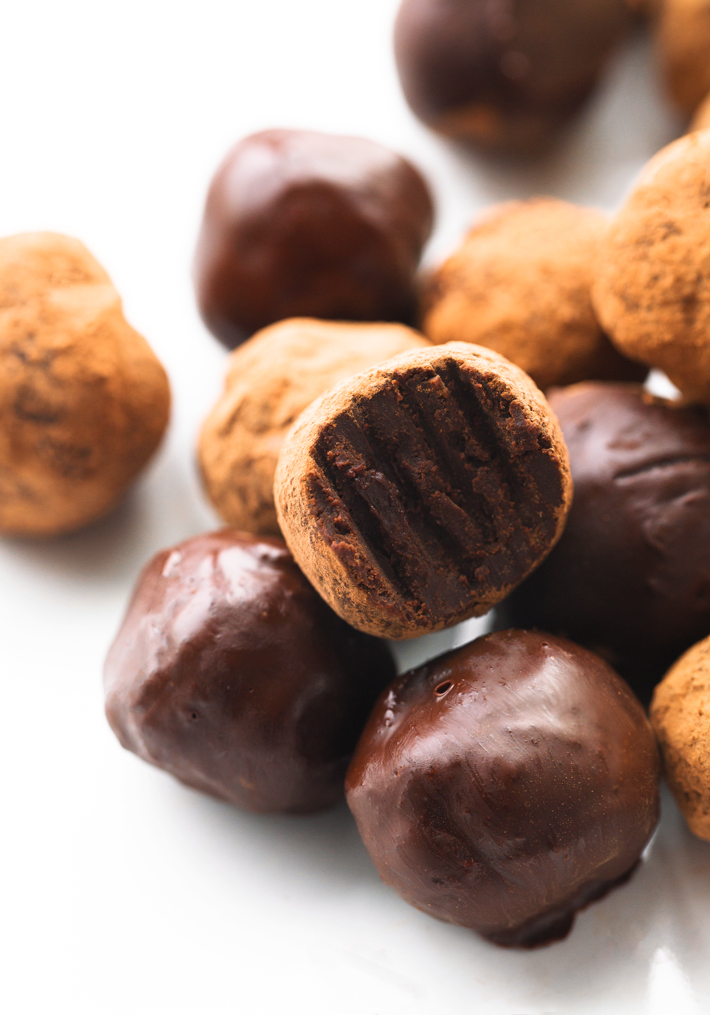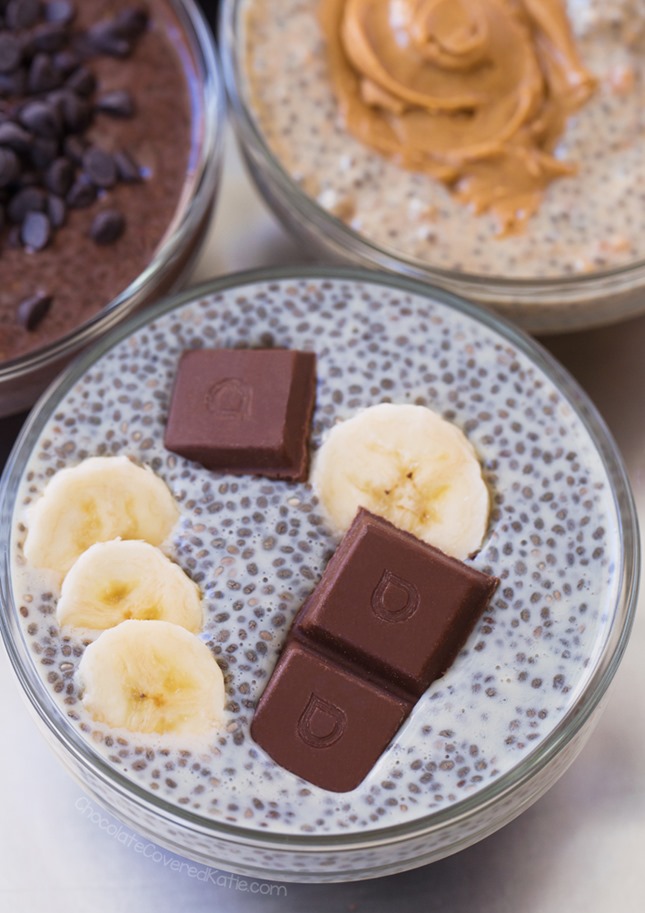 Chia Pudding – 5 Recipes