I've blogged before about my dad's penchant for making me pancakes.
And my own penchant for eating them in a very strange manner…
Back to the subject.  This Fathers' Day, I turned the tables: Instead of Daddy Dearestcooking me pancakes, I whipped some up for him.  But these weren't just any old pancakes.  Nope, I decided to put on my extra-special chef's hat thinking cap and have a little fun! (I didn't have a real chef's hat. Thank goodness for Photoshop.)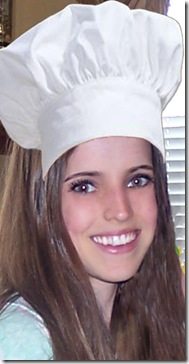 Uh-oh… this could be dangerous.  What's she going to create now?
German Chocolate Pancakes, that's what!  In the end, it was between that and Pina Colada Pancakes.  But German Chocolate eventually won out because– let's face it– chocolate always does.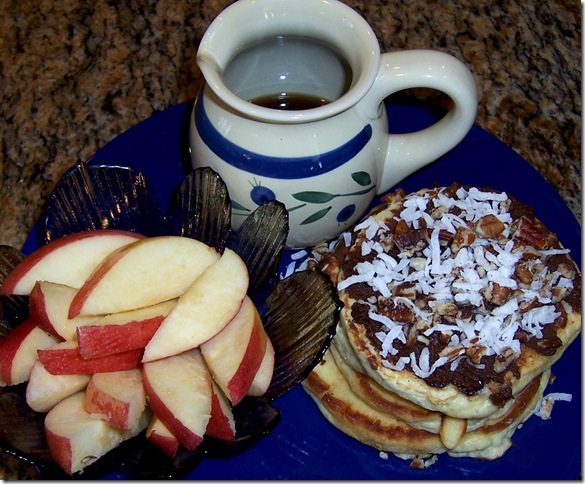 (Above, my Daddy's German Chocolate feast, accompanied by fresh apple slices and pure maple syrup)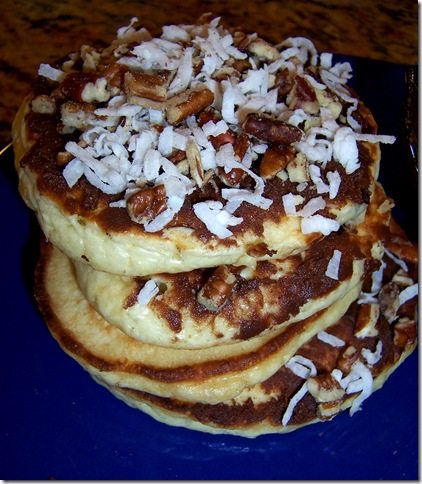 For the topping, I covered each pancake in chocolate coconut butter then sprinkled on chopped pecans and shredded coconut.
(Smothered in maple syrup, the way all German Chocolate pancakes should be)
I used my own whole-wheat vegan pancake recipe, which is my go-to recipe for perfect pancakes. I also added some maple syrup to the batter.  My dad's love of the stuff rivals Will Ferrel's!
Buddy the Elf: "We elves try to stick to the four main food groups: candy, candy canes, candy corns and syrup!" 🙂

Someday, I'm going to have to do something about those Pina Colada pancakes.  They're just begging to be made…