The other day, I walked into a local sporting-good store, intent on scouting out the Nike running gear. But when I chanced upon the clerk in the shoe department, said running-gear-scouting was forgotten.
We talked for over an hour—first about running (which, it turns out, we both love), and then about basically every other topic under the sun. In the end, I did buy a new running outfit… and got a date at the same time!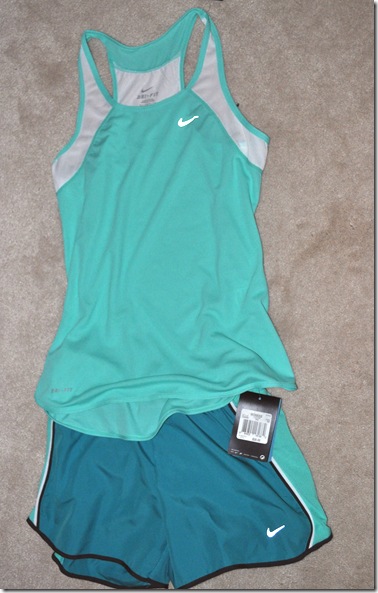 And I needed this new running outfit. No really, I did. Ok, so maybe I didn't. But when I got home and discovered I had a matching-colored sports bra…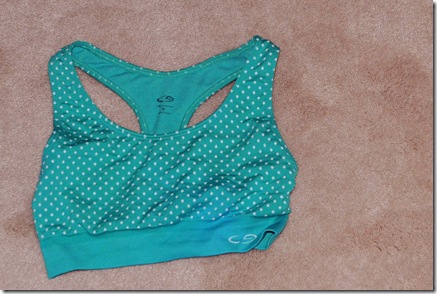 Well, let's just say I decided it was destiny that told me to buy the outfit.
EDIT: To answer a blog question from Runner Girl (a sweet blogger and reader): Were you nervous, or was it awkward, when you told [the boy] that you were a vegan?
Answer: As proud as I am to be a vegan, I will admit to sometimes feeling a little self-conscious telling people about it, due to how society views any ideas that deviate from the norm. When I first became a vegan, I definitely did shy away from telling people. But I've come to realize it doesn't really matter what others think of my diet. It certainly doesn't mean we can't be friends, agreeing to disagree. (In the few cases where someone can't respectfully "agree to disagree" about my diet, well… who wants to be friends with such a person anyway?)
Also, I feel so passionately about my love for animals and disgust at their treatment on factory farms. If I don't speak up, fewer people learn about the horrors that the meat industry hopes to keep quiet. So when I stay quiet, the animals suffer more because of my cowardice, and I am actually helping the meat industry.
When the subject came up, I was 100% candid with the boy. And he, in turn, was 100% cool with my veganism. In fact, he has two friends who are vegans. He's not a vegetarian, but does love animals (with a rescue pup at home), and he is interested in the "clean eating" mentality. Like many athletic guys, he's into the whole "protein" thing, and drinks a lot of protein shakes.
Question of the Day:
Do you ever feel awkward telling others about your healthy diet habits/quirks?
I used to worry that others would see my diet (and, by extension, me) as weird. But finally, I realized: This is who I am. Not everyone has to like it, as long as I am happy with my choices!
P.S. I'll keep you updated on the date!! 🙂