Or "What the Yankee Candle Factory would taste like if it were a food"
(I don't know about other Yankee stores, but the one near me always smells of cinnamon.)
Here's a summary of my post today: First, I am going to give you a recipe for a delicious Fall beverage. Next, I am going to introduce a magic ingredient that will transform said "Fall beverage" into a luscious pudding. Ready? Here goes!
Recipe #1:
Apple Pie in a Glass
Ingredients:
1 cup milk of choice

1 snack-sized container of applesauce (or 1/2 cup)

1/2 tsp cinnamon

Tiny dash salt

sweetener of choice, as desired
Mix everything in the blender (or use a hand blender). Serve either warm or cold.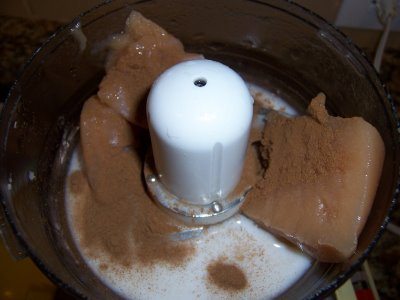 But wait! Let's backtrack a little, shall we? What if you didn't want to drink your apple pie, but eat it in pudding form? That's where Secret Agent Agar comes in.
Recipe #2:
Apple Pie Pudding
Serves 2
Ingredients:
1 and 1/3 cup milk of choice

2 containers applesauce

1 tsp cinnamon

1 tablespoon agar flakes

Tiny dash salt

sweetener of choice, as desired
Heat the milk and agar flakes in a small pot, stirring occasionally. Bring to a boil, then reduce to a simmer for about 5 more minutes, until the agar flakes are dissolved (mine never dissolve completely, but that's okay). Turn off the heat and add the applesauce, cinnamon, and sugar (if using), and stir until it's all mixed up. It's not supposed to be thick yet, so don't worry! Put the pot in the fridge and let it cool for at least three hours (You can let it sit for much longer if you want. I usually proceed the next day). The mixture should be gelatinous now. Using a hand blender, blend until creamy. (Note: You can halve the recipe to serve one, but it's easier to blend if you make two servings.) Serve and enjoy.