So… who went out shopping at 3AM?
Yeah, I said three. Apparently, five isn't crazy enough anymore. Stores such as JC Penney and Kohl's opened their doors at three in the morning. But Walmart had 'em beat: they opened a minute after midnight!
My own Black Friday has been super-lazy so far. I didn't even go out running today. Hey, I deserved a break, after persevering through yesterday's awful run: Weather.com said it would stay around 60 degrees. So I ventured outside in short-sleeves, shorts, and no gloves. Well, I don't what weather.com was smoking, because 1/2-way through my run, there was an extreme drop in temperature, and the wind picked up to 30mph. By the time I arrived home—bright red cheeks and burning hands—the updated weather conditions were "feels like 31" with gusting winds. My poor, uncovered arms never saw it coming. And it only got colder as the day went on.
I thought it'd be great to wear fleece sweatpants for Thanksgiving. Sadly, my personal stylist sister was horrified and forbade me to do so. Therefore, I waited until this morning to break out said sweatpants. So now I'm just hanging around in fleece, listening to Christmas music, and helping watching my sister hang Christmas garland around the house. Sorry little sister; this CCK is tired. She had a busy Thanksgiving: cleaning, decorating, and making vegan food. Twas the night before Thanksgiving…
The Mashed Potato Sister showed off her juggling skills.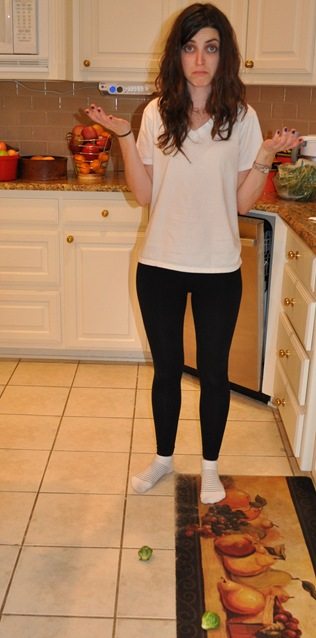 Or lack thereof.
Roast Veggie "Candy"
They're so sweet and melty that they could be candy.
Spices (I use oregano and rosemary)
raw veggies (I love brussels sprouts for this recipe)
unrefined coconut oil
optional, but highly recommended: cinnamon
Roast your veggies, with the first two spices, at 400 degrees (un-preheated) until they're soft. For my sprouts, it takes around 30-40 minutes. I like to roast them dry and put the coconut oil on right before eating them. But you can coat them in coconut oil first if you'd rather. Also right before eating, sprinkle with the cinnamon.
They're good warm, but I especially like these veggies straight from the fridge; that way the coconut oil hardens around the sprouts… kinda like a truffle. Candy for dinner! (Be sure to buy unrefined coconut oil. The refined stuff doesn't have that yummy "coconutty" taste.)
Above, two of the tables. There was also a third, "grown up" table in the dining room. My sister and I somehow always end up at the kids' table, even though we're both in our twenties. We like to joke that someday our own children will receive the elusive invitation to the adult table before we do! 😕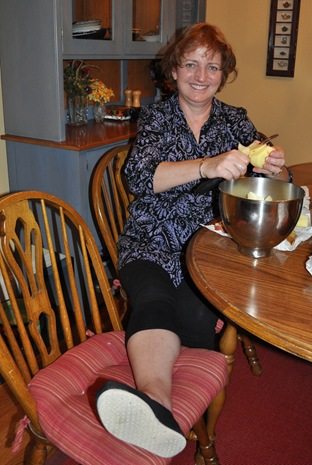 And here's my mom, working on this year's Apple Pie.
By the way, her broken knee is healing… but now she broke her toe as well! Seriously, poor Mom!! The doctor told her, "Try and stay off your feet as much as possible." So what did she do? She went and invited a houseful of company for Thanksgiving. Translation: very little "staying off [her] feet." In fact, the above photo might have been the only time she did sit down in the past two days. She really is superwoman.
I hope everyone had a delicious Thanksgiving, full of yummy food and (more importantly) great company. (Or, for non-American readers, I hope you had a great Thursday.) I'll recap my vegan Thanksgiving feast in one of my next posts. This one is getting too long!