Ya never saw it coming, did ya Borat?
It's the return of the Banana Hammocks! Remember those scary things?
This particular banana hammock uses Artisana Cashini Butter, the newest creation by the delicious folks over at Premier Organics. Basically, cashini butter is a blend of raw cashews, sesame seeds, and sea salt. Now, I've never been keen on tahini, so I searched for an unbiased source to give y'all an honest review.
Enter the incredibly-helpful Mr. Handsome Dinner Date, who also happens to like breakfast.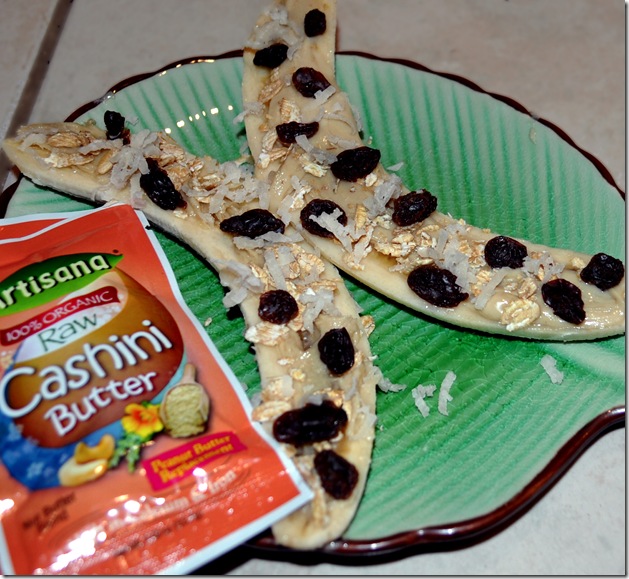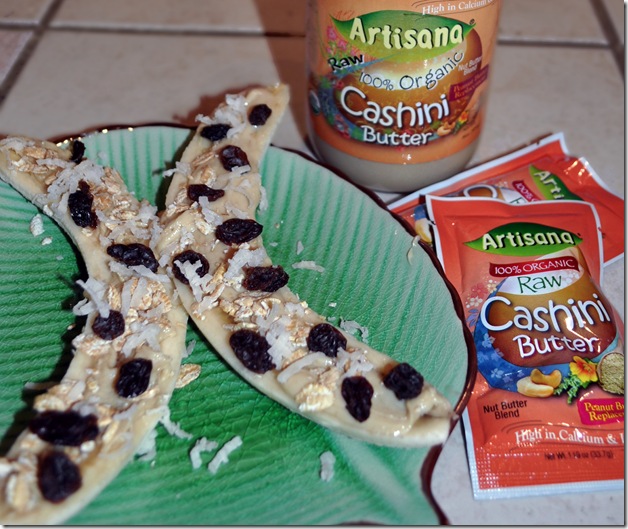 My dislike of tahini certainly wasn't helped any by the Tahini meatballs! 😕
Dearest dad is a former breakfast-skipper who mended his ways after mucho nagging by his well-meaning daughter. Having travelled the world, he's an extremely adventurous eater. Therefore, when I asked yesterday, he was more than happy to sample the cashini butter for me. So, I made up a Cashini banana hammock, topped with raisins, coconut, and kamut flakes. Daddy loved it; I guess that bodes well for the cashini butter. He did say, though, that he couldn't really taste a difference between this butter and regular tahini. Perhaps the cashews simply make the butter creamier, without adding anything to the actual flavor. (P.S. I also had a banana hammock, but mine was with regular cashew butter.)
As for the other Artisana flavors:
Cashew Butter

: Creamiest-ever cashew butter! It's good on its own, it's good with bananas, and—oh yeah—it's good in tomorrow's raw cheesecake recipe. Quite sticky, though. You literally cannot get it off the roof of your mouth.

Walnut Butter

: This is flavorful, but a bit boring. It tastes exactly like crushed walnuts, which isn't surprising, considering that's mostly what it is. The texture is neither smooth nor creamy. Not bad, but nothing in comparison to the cashew, macadamia, or coconut butters.

Pecan Butter

: See walnut butter. This is also ok, albeit a little too grainy (not creamy) for my liking.

Almond Butter

: Yumlicious, but pretty similar to other almond butters I've tried.

Macadamia Butter

: Squeal! Another favorite. But this is from the girl who loves those macadamia-filled Wild Bars. So it's no surprise I adore this flavor.

Tahini

: Official taste-tester man (Dad) says it tastes the same as the cashini.

Cacao Bliss

: Chocolate and coconut. Need I say more?

Coconut Oil

: Looooooooooooove this oil for making

Homemade Chocolate

🙂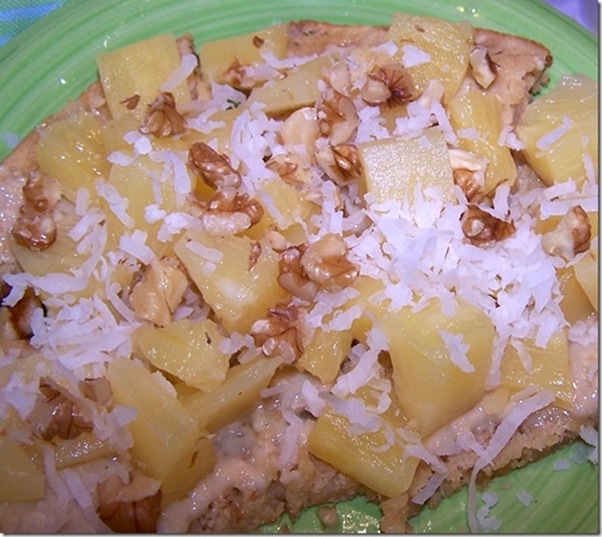 The macadamia nut butter made a previous appearance in the form of Piña Colada Breakfast Pie.
I haven't seen big jars of it, so I don't often use this butter. But I highly recommend it. The smoothness is off the charts! And now, going back to something that stemmed from yesterday's discussion: Do you think that, as a society, we're obsessed with others' lives?
I feel like, in many cases, our obsession with others' lives hinders how we live our own lives. People have forgotten how to think for themselves. (Do you really like those boots, or do you only want them because Kim Kardashian wears them?)
It's not just celebrities' lives we're obsessed with: Andrea's comment was spot on; people need to stop concerning themselves with things that aren't any of their business: the overweight woman who's eating cake, the underweight woman who's eating a salad, the working girl who's buying expensive clothing… you have no idea what's really going on in their lives, so who are you to judge? It's not your job to be the police. And the same thing goes for trying to eat, talk, dress, or be like someone else. If you're a cross-country runner, does it really make sense to try and tailor your diet to mimic your sedentary best friend's?
As Rihanna says, Live your life! And come back tomorrow for cheesecake. (No, Rihanna doesn't say that part.)