Whenever life gets hectic, my aunt (ever the free spirit) likes to say:
"It's time to get back to nature."
Twas a dark and stormy day… Sounds like the beginning of a ghost story, no?  But the vibrant, happy-go-lucky animals of this post hardly qualify as ghosts. Nestled into the Catskill Mountains of upstate New York, the Catskill Animal Sanctuary is a peaceful, loving haven for formerly abused animals.  It is a place where these warm-spirited creatures can finally experience cozy shelter, nourishing food, and tender care.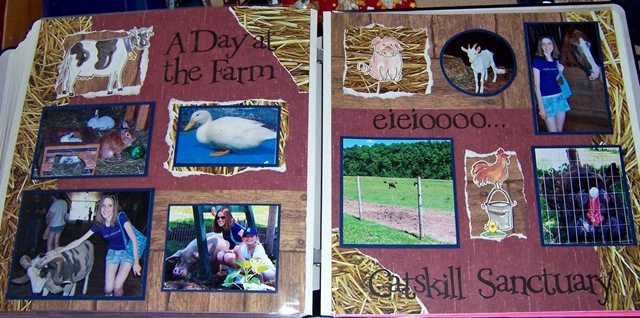 (Above, my scrapbook pages of the first time I visited Catskill Animal Sanctuary)
Luckily for me, my grandmother happens to live 10 minutes from this serene sanctuary.  So, during our stay at grandma's, my mom and I made a plan to visit CAS.  Unfortunately, on the chosen day, we awoke to gray skies and pouring rain; not ideal weather for visiting a farm!  But, being the crazies that we are, Mommy Dearest and I decided to go anyway.  I'm so glad we did!
Down on the Farm
The first animal to greet us was Rambo, the wild man!  This guy is one of Catskill Sanctuary's most famous critters, and I remembered his friendly face (and horns!) from my last visit.  (That's him in the bottom-left scrapbook picture, above.) When we encountered him, Rambo was interested in only one thing—a huge bale of hay (a.k.a. lunch).  But he kindly stopped chewing long enough to pose for the picture below:
(Soon after posing with me, Rambo rushed right back to the hay.  Must be some pretty good hay.)
After Rambo, we wandered on to meet the horses.  Catskill Animal Sanctuary is home to quite a few formerly-abused race horses, each with a story sadder than the next (but ultimately happy, because they ended up at the sanctuary!).  Below is one such beauty: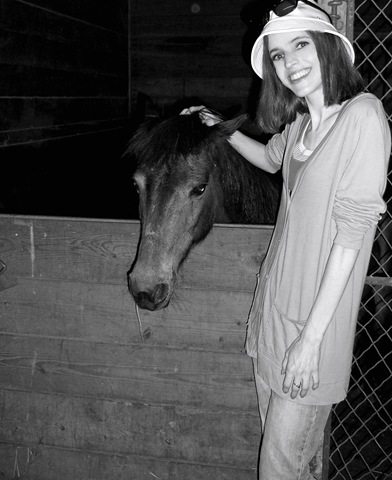 And then we met the chickens!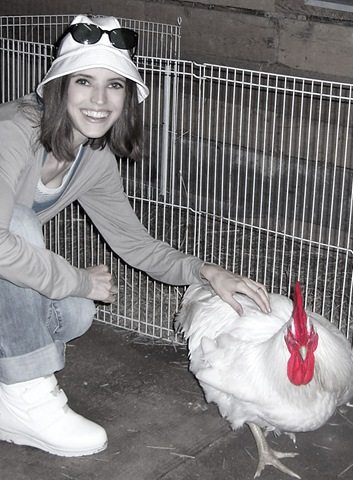 Heeeeeeeere's Paulie!  Paulie apparently has quite a love for pb&j sandwiches.  Sounds like we'd be good friends ;).  Meeting Paulie—and his adorable friend, Barbie—made my mom seriously question how she could eat such beautiful creatures.  After we left the sanctuary, she told me that when we got back to Texas, she was going to try vegetarianism out for a few days every week, because she really felt horrible that her dietary choices were supporting factory farms where sweet animals such as Paulie and Barbie are treated so atrociously.  These birds were so cute; they kept trailing after one of the workers.  Walt (our tour guide) told us that this was because that particular worker was in charge of feeding them.  Who says animals aren't smart?
We spent most of the afternoon under the shelter of the barn.  However, the piggies didn't seem to mind the rain (rain = mud!!), and so to meet them, we ventured outside.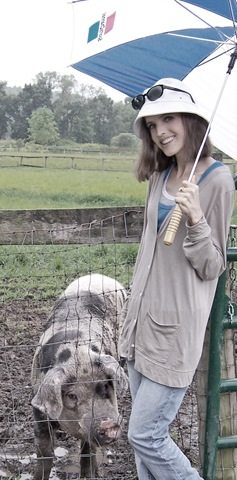 More cutie-pie animals:
(Sure, the health benefits of veganism are great.  But the faces below are the real reasons I gave up eating animals.)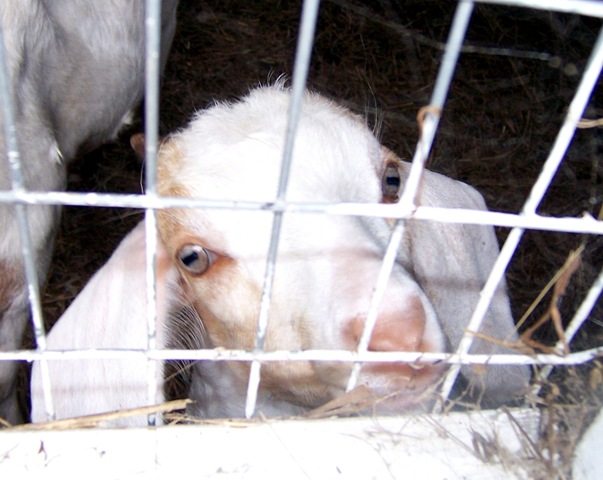 Van Goat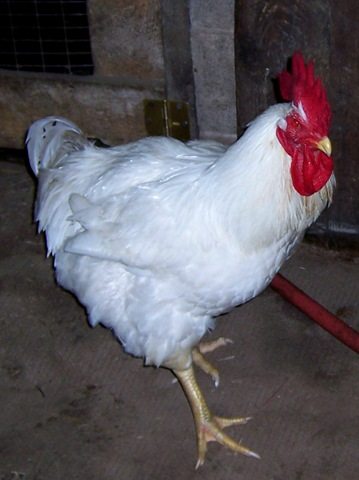 Barbie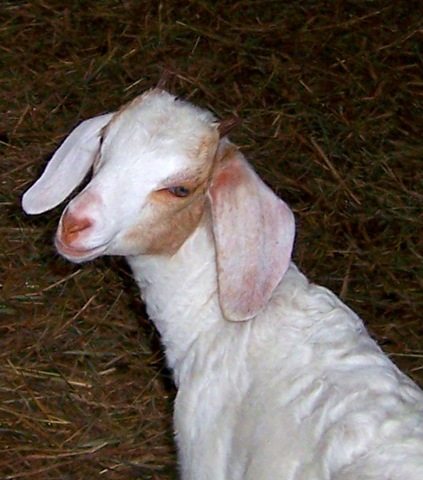 I don't know this guy's name, but he sure is a cutie.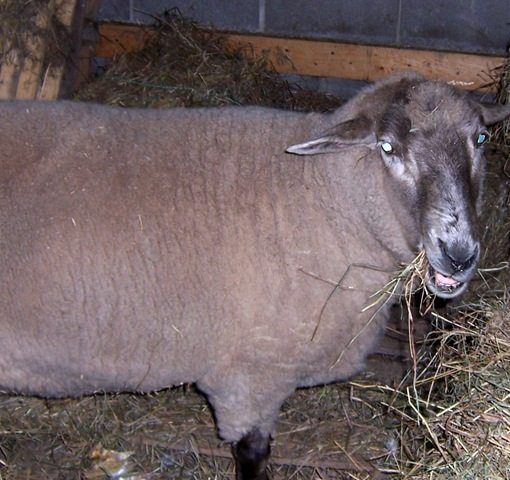 Above is Hannah.  She's best buds with Rambo.  Well, she thinks so, anyway.  Apparently, she won't leave his side.  Poor Rambo sometimes has to hide in order to get some peace and quiet!  And little Hannah will cry if she can't find her friend.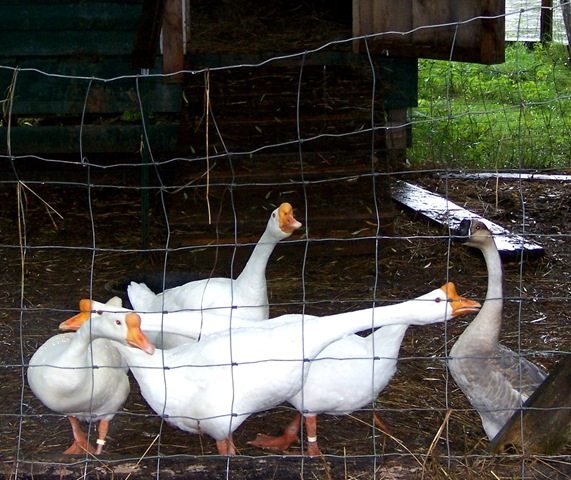 Singin' in the rain?  More like screeching in the rain.  These guys didn't let up.  It was hilarious!
This little piggie stayed inside: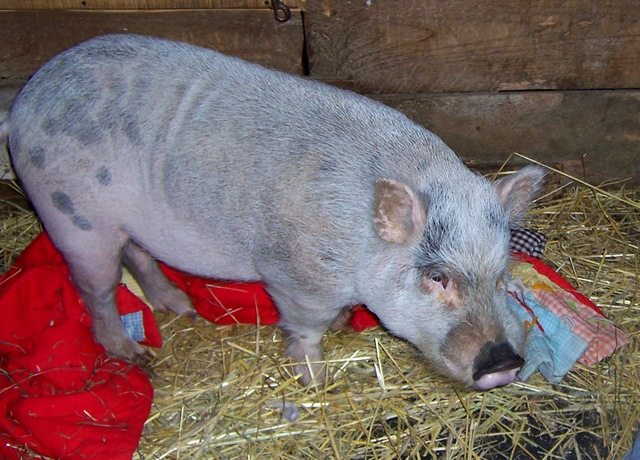 His name is Wilbur, and he's one of the newest additions to the animal sanctuary.  So he's gettin' acclimated to the loving atmosphere.  "What?  You mean there are kind people in this world???"  Poor Wilbur's still a little afraid of humans.  But he'll learn :).
If you are interested in reading some truly-uplifting stories of survival and second chances, check out the book written about the gorgeous guys at CAS: Where the Blind Horse Sings (blindhorsesings.com).  My grandma gave me a copy for Christmas a few years ago, and each story warmed my heart.