Sweet cherry frozen yogurt, swirled with dark chocolate.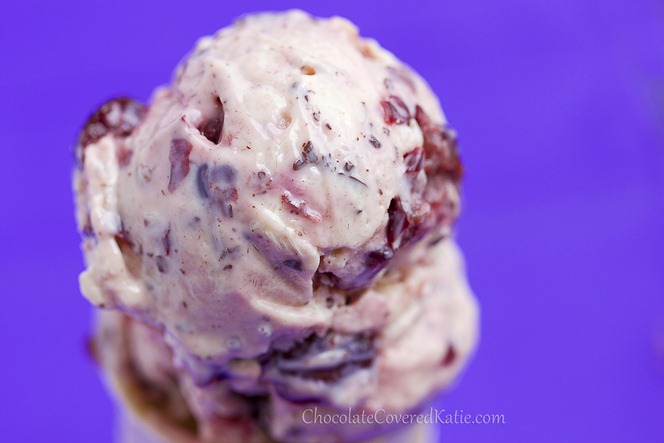 When I lived in Philadelphia, we often took summer road trips to New York, driving past the bustling city and later the crazy-gigantic mansions of the Hamptons, our eyes glued out the window in the hopes of spotting a celebrity. We'd keep driving until the road collided with the ocean at the easternmost tip of Long Island: Montauk Point. There, we would settle into our own crazy-gigantic mansion not-exactly-so-gigantic popup tent. No one was complaining… we had the beach right outside our door!
It was during one such summer at Montauk that I first encountered Ben & Jerry's Cherry Garcia frozen yogurt. I didn't actually order the flavor for myself; no self-respecting chocoholic would ever go for cherry frozen yogurt when Chocolate Fudge Brownie was on the menu.
Thankfully, my sister is not a chocoholic. And thankfully, she is willing to share her ice cream (unlike me – Katie doesn't share food!). It might be a younger sister thing… she got so used to me taking her candy/chocolate/cookies when we were really little that she gave up any protective instincts. Either that or she's just super nice.
In any case, as we sat on the dock eating our ice cream, I decided her Cherry Garcia cone might be better than my Chocolate Fudge Brownie one. (I blame the sea air for this moment of confusion; it was obviously messing with my young chocoholic mind.)
The next day when we went for ice cream (of course we went for ice cream every day… it was summer vacation!) I eschewed the chocolate and ordered Cherry Garcia instead.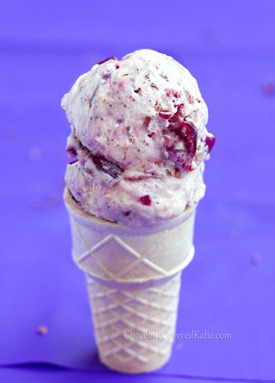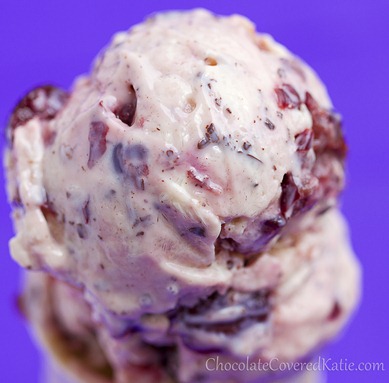 And no, I didn't share.
Homemade Cherry Garcia Frozen Yogurt
1 1/2 cups plain yogurt of choice (such as Wholesoy)
1/16 tsp salt
sweetener to taste, depending on your yogurt. For a plain, sweetened yogurt, try 2 tbsp sugar, 2 NuNaturals stevia packets, or 2 tbsp pure maple syrup
2 tbsp milk of choice (omit if using the maple syrup option above)
1/4 tsp pure vanilla extract
3/4 cup pitted cherries, diced (fresh or frozen) (120g)
3-4 tbsp shaved chocolate (I used a vegetable peeler to shave off pieces of a chocolate bar) (15-20g)
Frozen yogurt recipe: In either an ice cream machine or a large airtight container, combine the first 5 ingredients. (For optimal creaminess and best texture, use the ice cream machine. However, it does work—and still tastes delicious—if you don't have a machine.) Once churned (or simply stirred in the container), add the cherries and shaved chocolate. Stir (and transfer to an airtight container if it's not already there). Seal the lid and freeze. If not using an ice cream machine, stir the contents every hour for up to three hours. Otherwise, eat immediately or freeze up to an hour for a firmer texture.
Store leftovers, in the airtight container, for up to a month, and thaw 15-30 minutes before eating.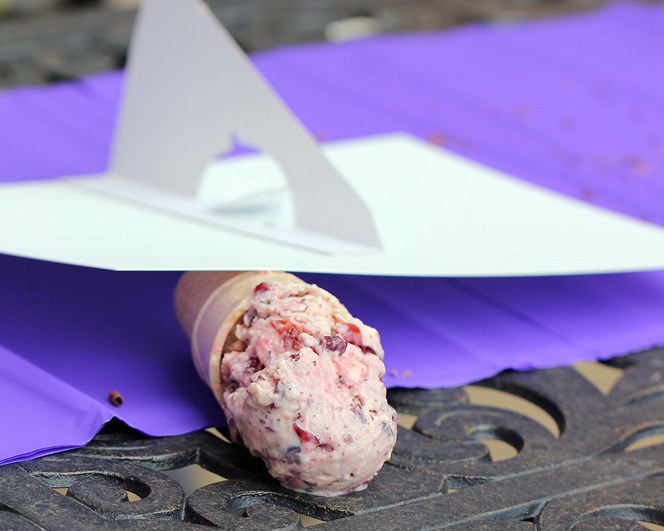 Since you all seemed to really enjoy my Food Photography Bloopers post from a few weeks ago, maybe the above photo will amuse you more than it amused me. Darn wind; that was my snack!
Link of the Day: 36 Healthy Cookie Recipes