Afraid of sounding spoiled or show-off-y, I wasn't planning on writing a post about what presents I got for Christmas. But then Caroline had a good point: it's fun to see what others receive, because—if you're anything like me—you have a hard time thinking of gift ideas!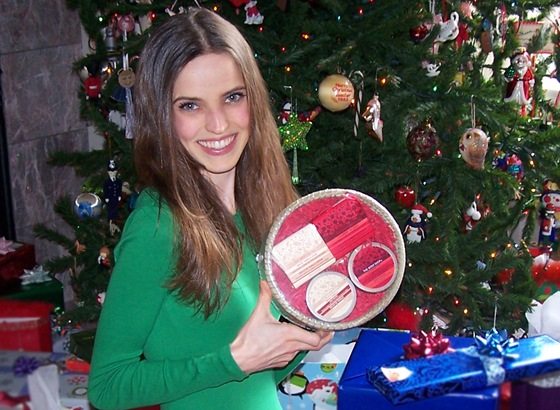 My favorite part of gift-getting is seeing how well my friends and family know me. Even if I don't actually need the present they've picked out, I'm always touched at the meaning behind the gift. Although nothing can compare to the best present ever :).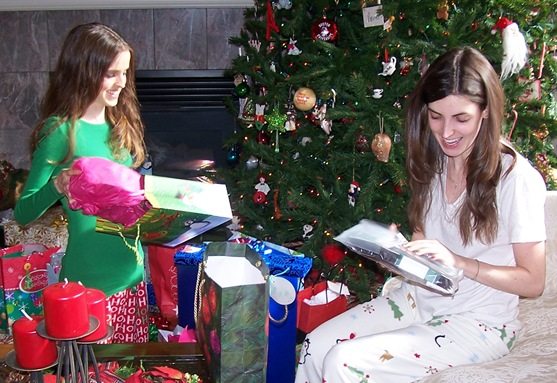 Other Gift Ideas:
clothes, makeup, fuzzy socks, and warm sweaters
Silhouette digital cutting machine (for scrapbooking)
a new camera and a baby tri-pod
reusable bamboo utentil set made out of recycled plastic (See? They know me so well!)
a donation made in my name to the Catskill Animal Sanctuary
A new pair of my favorite running shoes 🙂
and the tiniest ipod ever that I can hook to my pants when I run.
Money can't buy happiness
As cheesy/sappy as it sounds, the real gift was spending time with my family, watching their faces as they opened what I'd picked out for them. At the end of the day, stuff is just that: stuff. Yeah, I'm lucky that my family can afford it. But does that really make me lucky? I feel much luckier to be surrounded by love than by things.
You needn't go far to see that wealth and happiness don't always go hand in hand. Just look at the drugs, suicides, and scandal surrounding some of America's wealthiest families. When my mom asks what I want for Christmas or my birthday, I often tell her—very seriously—not to buy a thing, because there's really nothing I need. However, she says that would make her unhappy; she enjoys giving us gifts even more than we enjoy getting them. Have you ever experienced this, where you wait excitedly, screaming, "Open mine! Open mine!" as a loved one opens gifts?
One year, whilst living in China, we did receive very little, in terms of material presents. (We were moving soon, and thus didn't want to cart things back. Plus, China lacks such American-teenage staples as J.Crew and Abercrombie. Oh the horrors lol.) Yet that Christmas was just as merry and bright as any other. We laughed so much, that year, opening package after package of socks—my mom's attempt at trying to provide her usual crazy number of wrapped boxes under the tree.
Like Cindy Lou Who, I'd be fine giving all the stuff up. Well… maybe not all of it. I'd have a hard time parting with that mini ipod! 😉
Question of the Day:
Best holiday gift you received this year?