Since I started blogging, I've received quite a few emails like this recent one, below:
Hey Katie! I'm a new reader and a new vegan too. And I have a question for you. Your meals always look amazing and so well put together. So my question is how do you decide what to eat? Do you plan your meals in advance?
My response: I have a great friend who tells me exactly what to eat: Mr. Stomach!
Okay, lame jokes aside, I actually don't plan in advance anymore. For a while, I tried planning my meals out the day before. But then, when the time would come to eat said meals, I often found I was craving something else, so I'd have to change the plan anyway.
That being said, there is some planning that goes into my meals. I make different things up in advance and keep a rough list on hand of what's available. That way, come mealtime, I can choose what I want to eat.  So in reality, I "plan but don't plan."
Chocolate-Covered Meal of the Day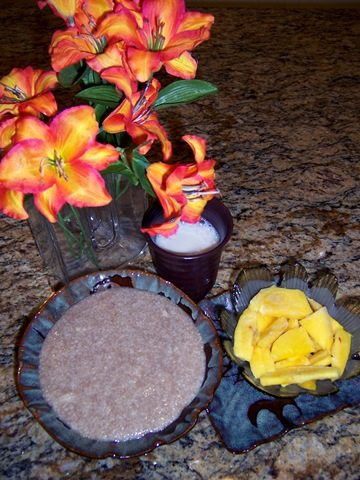 Almond milk, frozen mango, and Snickerdoodle Oat Bran.
An example of my "plan-but-don't-plan" idea: I made up the oat bran the night before but didn't decide to snickerdoodle it (Like my verb?) until the morning.