.
Tiramisu Babies
(Makes about 3 Larabar-sized bars)
90 grams dates, which is about 1/2 c (as usual, see

this post

if you're unsure as to what type of dates to use)
30 grams cashews
20 grams macadamia butter (a bit more than a tablespoon) (If you don't have macadamia butter: you can probably use the real nuts. Or see version 2.)
1/2 tsp vanilla extract
1/2 tsp instant coffee powder, or a bit less (depending on how much of a coffee flavor you want)
2-3 tiny drops almond extract (watch out; this stuff is strong!)
1 tsp cocoa powder, or a bit more (I use Hershey's Special Dark)
Blend all the ingredients in your food processor (I use the Magic Bullet short cup).  Form into bars, balls, or cookie-cuttered shapes.  (If the dough is too soft, fridge or freeze before shaping.)
.
Version 2
Use the recipe for Hot Chocolate fudge babies, cutting the amount of cocoa in half.  Then add the extracts and coffee powder from the above recipe. 
These taste AMAZING straight out of the freezer.
.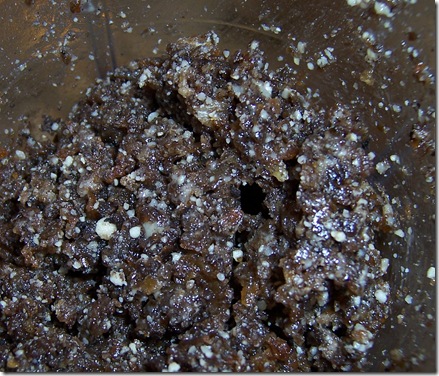 Tiramisu Dough. ZOMG!
.
Optional ideas:
1. Add a splash of rum
2. Add melted chocolate
3. Form into bars and spread cheesecake mousse on the tops
Or… use this as the crust, fill with cheesecake mousse, and you have a super-simple Vegan Tiramisu Pie! 🙂