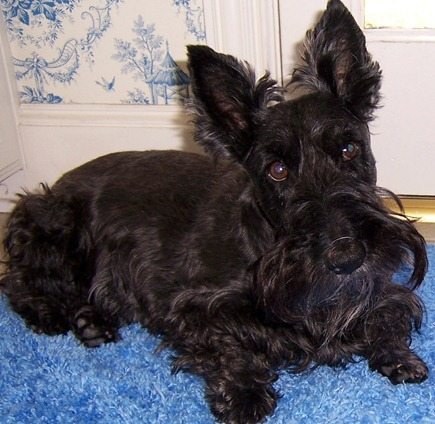 On Thursday night, we had to put my beautiful Molly to sleep. It all happened so quickly. Except for drinking a lot of water, she seemed perfectly healthy last week. We took her to the vet, fearing she might have Diabetes, but luckily they said she didn't. Then three days ago, Molly suddenly was lethargic, shaking, and wouldn't touch her food (Molly normally would never refuse food!). We brought her to the vet again, and this time they referred her to a specialist vet.
The specialist vet kept Molly over night and ran some tests. They found so much wrong in the poor little dog: failing liver, pancreatitis, and cancer spreading throughout her body. Apparently it's common for senior dogs' health to deteriorate this rapidly, but it completely blindsighted me. She was fine a few days ago!
Basically, they gave us no real options. Antibiotics and pain killers might treat the pancreatitis. But there was still the cancer. At almost thirteen, even if Molly did survive the highly-invasive, highly-painful surgeries, she'd probably not be strong enough to endure the post-surgery recovery. (And there was only a 25% chance the surgeries would even work.) What they were telling us was, "Your dog is going to die, and there is nothing you can do to stop it."
More than anything, I wanted to pick her up and run out of the vet's office. I wanted my dog home in her own bed, surrounded by her own family, to die on her own terms. But that was what I wanted, not what she wanted. Molly was obviously in a lot of pain (even with pain killers). Her breathing was labored, she could barely lift her head, and her tummy was so swollen. As much as I wished she could go home, I knew it would just prolong her pain. And that wasn't fair to such an incredible dog.
My Molly
After our first dog, Harris, died, I said I never wanted another dog. But then Molly came along, and she pushed her little nose into my face. And into my heart.
This is pretty much what she did to everyone. Everyone loved Molly, even people who didn't like dogs. She was good with kids, good with grown-ups, even good with the mailman ;).
Molly had the most incredible, energetic and happy-go-lucky personality. She watched television, played soccer, sang, talked back… someone forgot to tell her she wasn't a human! This little dog also didn't realize her small size; she counted among her friends a chocolate lab and a golden retriever.
She loved to play. Tug-of-war was a favorite, and she'd hold onto her end with a fierce tenacity. You could literally lift her off the floor, and she still would not let go. Molly also liked to hide her bones. It was adorable: every few seconds, she'd turn her head to make sure you weren't following. And if you were, she'd move her prize to a new location. We often found dog bones under pillows, couches, and even inside shoes. Speaking of which, Molly also loved shoes. But only the expensive ones. In 7th grade, I proudly showed off my new Doc Martens to my friends… complete with a Molly bite mark!
Luckily, Molly quickly grew out of the shoe-chewing phase. She really was such a well-behaved dog, never biting anyone or barking incessantly (unless we were in the pool. Molly believed it was her job to be lifeguard, and she'd bark non-stop whenever someone made a splash.)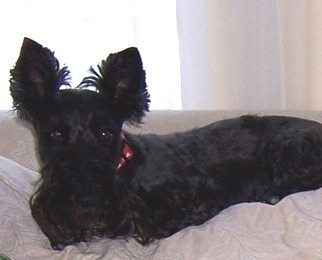 Molly was just so loyal and loveable and smart and perfect. We were so lucky to have her in our lives; she made us laugh and smile every single day. I can only guess that God cut her life short at twelve (the lower end of a dog's average lifespan) because he needed her up in Heaven. Right now, she's probably very busy, hiding dog bones amidst the clouds.
I'm so sorry for not answering recent comments, tweets, etc…
I just don't feel like blogging right now. If it's a question to which you really need an answer, please feel free to ask me again tomorrow. Hopefully by then I'll have pulled myself together somewhat.
Also, please don't leave a comment saying, "Get over it; she's just a dog." Molly was not just a dog. She was a beloved member of our family, and I miss her so much. And now I'm crying again :(.