I always feel so strange on New Year's Eve because I'm just getting ready to go out around the time I normally am ready for bed.
This year, before leaving for a party, I ate a healthy dinner, making sure to incorporate at least one "lucky" food: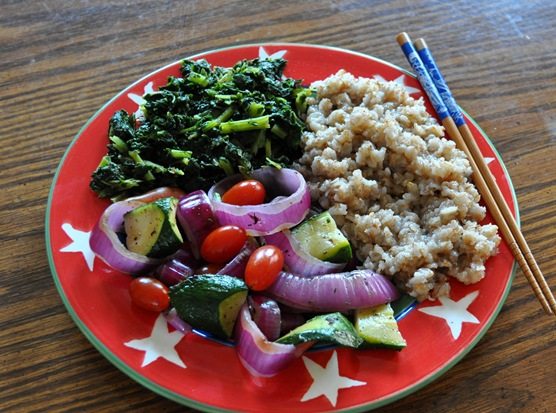 The "lucky" food was my Ginger-Cashew Kale.
And yes, I did also make the gumbo I wrote about a few days ago, but that was part of my New-Year's-Day lucky dinner. One can never have too much luck.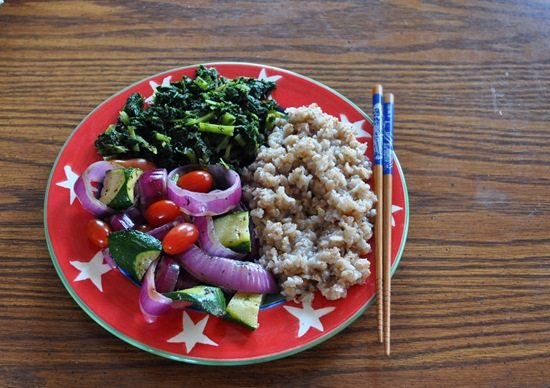 Also eaten: grilled veggies, cherry tomatoes, and my favorite Home Alone Pilaf.
At around 9PM, I set off to start the night, which included lots of noise and dancing. I was super-tired by the time I climbed into bed around 2:30AM, but it was so worth it. And I was the designated driver, which meant no hangover!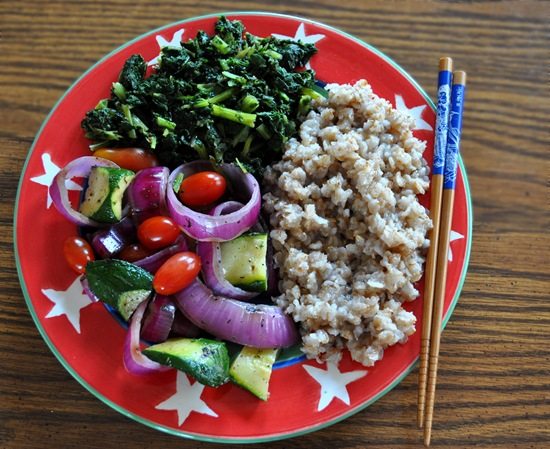 Ginger Cashew Kale
(serves 1)
1 and 1/2 cups cooked or frozen kale (120g)
1-2 tbsp sesame ginger salad dressing (such as Newman's Own)
Raw or roasted cashews, sliced
grated fresh ginger, optional
If the kale is frozen, microwave the kale for 2 minutes, then add the salad dressing and stir. Throw in some cashews and the ginger, if using. I usually like this cold, but it's good hot, too.
How did you spend your New Year's Eve?
Did you eat anything off the List of Lucky New Year Foods?