This morning I made a wrong turn on my run. Have you ever made a wrong turn—either on a run or in the car—and just kept going, thinking: "Maybe this is right, even though it doesn't look familiar" or "If I just keep going a little further, maybe I'll end up in the right place"? That's the predicament in which I found myself today. Finally, I gave up and said, "This is ridiculous. I keep getting farther and farther from the path I know will take me home. It's time to cut my losses and go back!"
All in all, it was only about a 20-minute's-extra detour. And at least I got to see some fun new scenery on the wrong path. In the afternoon, we went onto my aunt and uncle's boat, equipped with munchies.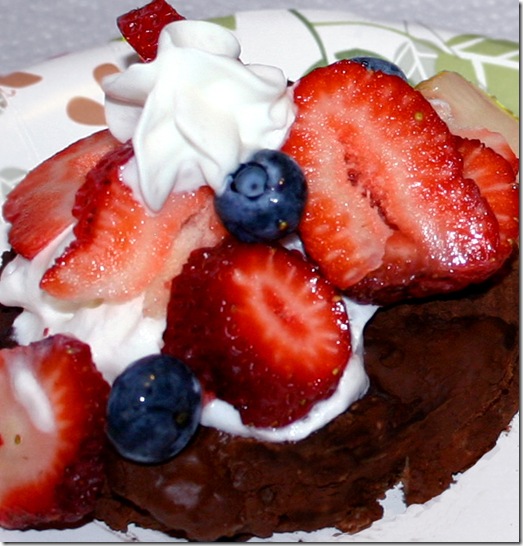 Red, white, blue, and high-protein chocolate cake.
My mom picked up a non-vegan cake from Stop-n-Shop. So I tried to be similar, bringing along my own chocolate cake. That way, when everyone ate their store-bought cake with sliced berries and Cool Whip, I joined in the fun. (My whip is Soyatoo.) Couldn't let them indulge in chocolate without me!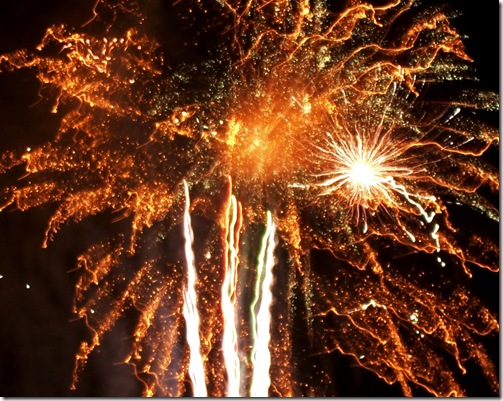 At night, we moseyed on down to the docks for some firework action. (I left the tv on for Henry, because I've read that it helps drown out the scary firework noise. Having been formerly abused, Henry's afraid of quite a lot.)  The day might have begun in a strange way, but it ended perfectly… with a BANG!
Question of the Day:
Do you ever try to eat vegetarian versions (or healthier versions) of the "normal" foods your family/friends are eating at the same time? I sometimes do, just because I think it's fun to show that I can… and every now and then, my family/friends are shocked to discover that my "weirdo" food tastes just as good or better than what they're eating!