The two things don't really have much to do with each other, except that they both happened yesterday.
In the afternoon, while on my weekly trip to Whole Foods, a guy hit on me in the bulk aisle… We ended up having like a 20-minute conversation, and then he asked me for my phone number. Why am I telling you this random story? Because it got me thinking: Maybe I should be looking for guys in health-food stores.  Just Kidding!  But seriously, I'd probably have a good chance of finding someone with similar interests to mine! So everyone, go hit up your local health-food store! 😉
Edit: In later blog entries, I refer to the guy as Whole Foods Boy.
Anyways… on to the food.
Something got into my teachers (perhaps the recent cold spell here in Dallas?) because I had no homework last night! With so much extra time on my hands, I decided to be rebellious and NOT invite my friend, Mr. Microwave, to dinner. Instead, I cooked up a wonderful Fall comfort meal: mushroom stroganoff.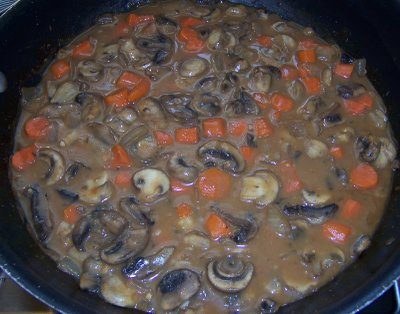 As I'v said many times before, I'm not very good at following a recipe to a T. My creative gene gets the better of me, every time. Last night was no different; I ended up using a combination of two different stroganoff recipes, mixed with some of my own panache. The result:
I ate the mushroom stroganoff over a serving of whole-wheat pasta, with some steamed bok choy on the side. It tasted just as amazing as it looks.
Mushroom porn: